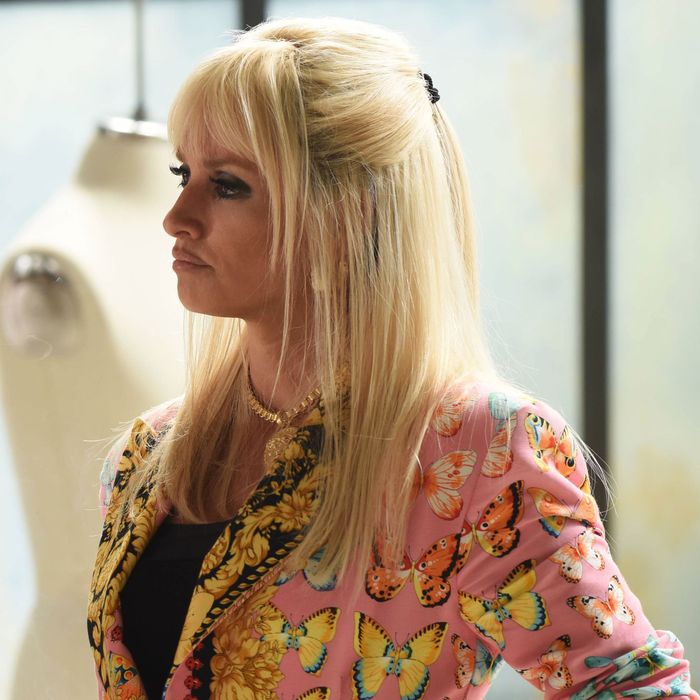 The second season of Ryan Murphy's American Crime Story anthology series, titled The Assassination of Gianni Versace, explores the titular designer's brutal 1997 murder at the hands of serial killer Andrew Cunanan. We're walking through all nine episodes with Miami Herald editorial board member Luisa Yanez — who reported on the crime and its aftermath over several years for the Sun-Sentinel's Miami bureau — in an effort to identify what ACS: Versace handles with care versus when it deviates from documented fact and common perception. The intention here is less to debunk an explicitly dramatized version of true events than to help viewers piece together a holistic picture of the circumstances surrounding Versace's murder. In other words, these weekly digests are best considered supplements to each episode rather than counterarguments. Below are Yanez's insights — as well as our independent research — into the veracity and potency of events and characterizations presented in episode five, "Don't Ask Don't Tell."
What They Got Right
Cunanan's animus toward Jeff Trail
"It all begins with Trail," Yanez asserts. "Whatever Trail did to him or whatever he felt, he really hated him."
Donatella Versace's media wariness
"She didn't speak to the media here," confirms Yanez while reflecting on scenes depicting Donatella's concerns about bad PR. "We knew that she was around. She was very private. She didn't make statements." Yanez isn't aware of whether Donatella was opposed to her brother being publicly out, though in a recent Vogue interview, she does share that the best advice Gianni ever gave her was, "Be true to yourself."
The public perception of Antonio D'Amico
Yanez says that if Donatella was dismissive of Antonio, she wasn't alone. She and her colleagues' perception of him at the time "was not very respectful," she says. "We saw him like Donatella sees him, as just a boyfriend."
Trail's CBS interview
It was with Richard Schlesinger for 48 Hours, and he was in silhouette speaking bravely about the military and federal government's shortsightedness, his Naval officer cap visible in the foreground. In a blog post last year, Schlesinger wrote that Trail's brutal death left him and his colleagues "stunned and saddened" and feeling a "connection to the horror that Cunanan had created."
The encounter at Flicks
Although the Sun-Sentinel sent reporters to San Diego, Yanez admits that "the bar scene became background" to their coverage of Cunanan. It's difficult to corroborate the exact time and location of Jeff and Andrew's first encounter, but Trail's friend Michael Williams told the San Diego Reader at the time that Andrew was a regular at Flicks nightclub. Flicks' owner seconded as much to the New York Times.
What They Took Liberties With
The Advocate interview
In August 1995, The Advocate did publish an exclusive interview with Gianni authored by Brendan Lemon. Antonio did sit in on the interview, and Gianni wasn't shy about referencing him as his "companion" of 13 years. The article, cited by Ryan Murphy as inspirational, unabashedly linked the designer to his orientation as a gay man, although it also was upfront about the fact that Gianni had never really "shirked homosexuality." He and Lemon had in fact sat down to promote Versace's book, Men Without Ties, and so the depiction of their exchange in "Don't Ask Don't Tell" as a platform for his coming out is somewhat romanticized. When Vulture reached out to FX to confirm that this particular Advocate interview inspired the story line, executive producer Brad Simpson replied in an email, "In 1995, Versace sat with The Advocate. He had Antonio sit in on the interview as depicted in the show. He allowed The Advocate to be open about his homosexuality, identifying Antonio as his companion and collaborator, and allowing himself to be described as 'out.'" But one detail the show definitely took license with? Antonio's hair. It was, as Lemon describes, styled as more of an era-familiar Caesar cut.
Gianni Versace's virtuous reputation
Versace was largely regarded as a kind and big-hearted man. But both ACS on the whole and "Don't Ask Don't Tell" in particular portray him as almost preternaturally compassionate and even-keeled. "In the time before [his murder], he kind of became a bad guy on the beach," recalls Yanez. "When he bought that property, there was an old hotel next door where a lot of low-income people lived. So you had this mansion he built, and next door this fleabag kind of thing. There came a chance to buy that hotel, and he immediately bought it and had everybody evicted, knocked that hotel down, and expanded his mansion. So he became this rich baron. There was a cost of that to other people, his quest for beauty."
Cunanan's closet collage
Earlier this season, Cunanan's Normandy Plaza room décor included a slapdash shrine of sorts to Gianni comprised of various Versace clippings. Ditto his San Diego closet in this episode, which is partly covered by a makeshift mural featuring the Advocate piece. Neither Yanez nor anyone else can testify to how Andrew adorned the walls of his final West Coast haunt. She was, however, intimate with how he left his last room at the Normandy, and says, "In fact, [police] went through every detail in that room, and it was mostly fashion magazines and books. We detailed everything in that room, but there was no serial-killer shrine hidden. There was no trace of Versace there, nothing that would say, 'Oh, he was stalking Versace.'"
The Trail family
Like the episode prior, "Don't Ask Don't Tell" opts for a fairly dramatic conclusion, this time overlapping the moment of Trail's murder with the birth of his niece. But as Jeff's older sister Candace told People back in 1997, their sister Linda had delivered her baby the day prior. And while Jeff enthuses, "I'm going to enjoy being an uncle so much," he'd already been: It was Linda's third child.
Cunanan and Madson's night out
Andrew and David did hit the town two nights before Andrew began his killing spree. And they did dine at popular Minneapolis spot Nye's, per police. And Nye's was a legendary polka hall (and piano bar) that was recently revitalized. But police elaborated that after their meal, the pair went dancing at known gay hotspot the Gay 90's, the same club where — tragically — Trail's boyfriend Jon waited in vain for Jeff the night he was murdered. And while Maureen Orth's reporting circa fall '97 claims that Madson's friend Monique Salvetti met up with David and Andrew at Nye's, a Daily News article from earlier that year reports that while Madson was confiding in Salvetti, an anonymous co-worker joined the pair Friday evening at a separate café. This somewhat jibes with an Los Angeles Times account tracking the duo's movements from Caffe Solo to the Gay 90's, though they place them there on Saturday night, less than 24 hours before Trail's murder. Meanwhile, both the Star-Tribune and the New York Times support the episode's version that Cunanan spent Saturday in Trail's apartment. Then there's the FBI file, which reports that Salvetti was out with David and Andrew on Friday at Nye's, and that Madson and Cunanan had dinner the following night at Monte Carlo Restaurant, capped off by dancing at the Gay 90's before Andrew crashed at Jeff's place. The only thing all parties agree on is that no one fully anticipated the bloodshed to come.
The postcard
Andrew absolutely sent romantic, over-the-top postcards to his lovers. He sent dozens to David Madson, of which his sister kept copies. (The FBI has the originals.) But whether he effectively outed Jeff by mistakenly sending one to his father Stan is, like much of Trail's life as documented in "Don't Ask Don't Tell," hard to pin down.