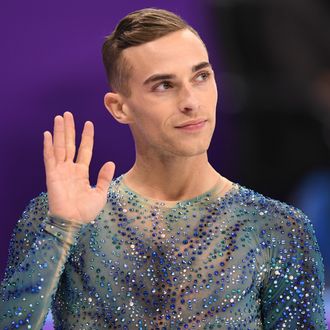 Rippon.
Photo: Harry How/Getty Images
Figure skater Adam Rippon will sadly not be covering the rest of the Winter Games as an NBC correspondent like you'd already begun dreaming about. While the network tweeted the news from their Pyeongchang 2018 account in a since-deleted tweet, the bronze medal-winning figure skater has opted to not take the gig after all. According to USA Today, should Rippon work as a news correspondent, he'd have to forfeit the right to march in the Olympics closing ceremony, as well as "relinquish his official Olympic standing, give up his Olympic credential" and "move out of Team USA Housing." In the end, your boy decided it wasn't worth it.
On Sunday evening, Rippon tweeted out his regrets and thanks for the offer. "I love being on Team USA and representing our country. My teammates were there for me during my events, and now I NEED to be there for them," he explained in part. While he's not getting paid for it, at least Rippon knows he still has his current part-time gig: being America's Olympic sweetheart.