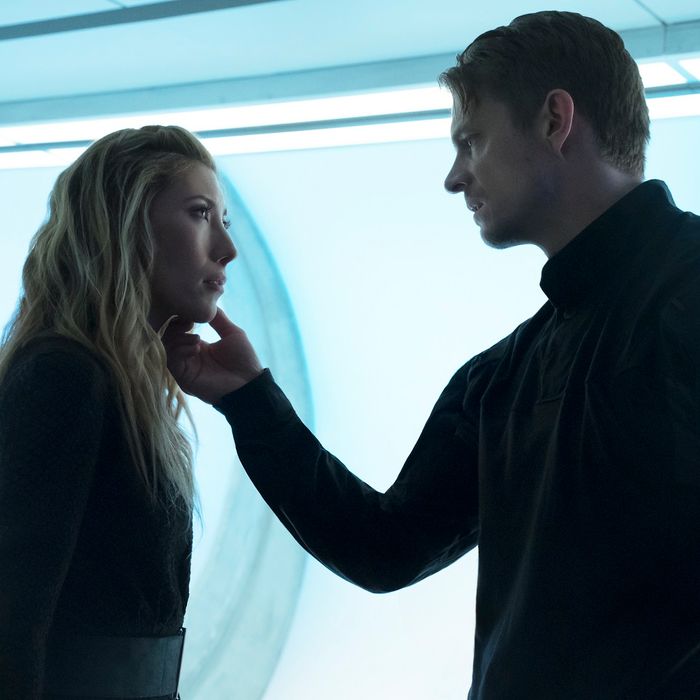 The first season of Netflix's Altered Carbon comes to a close with a showdown in the clouds and a burning question: Who will make it out alive? Then again, on Altered Carbon, death is only temporary.
"The Killers" opens with a fake-out, showing us Officer Kristin Ortega coming home to find her murdered family. Of course, we know she's still captive in Rei's torture chamber at Head in the Clouds, and this is just a virtual-reality simulation. Over and over again, the assassin known as the Ghost Walker makes Ortega come home to find her murdered family and then kills her too. She screams, "Let me out!"
Little does she know what's happening near her actual body, where the guards have rushed in to save Reileen from Kovacs and Vernon. Rei claims to have the only gun on the ship and it's aimed right at Vernon, while the guards have stack-frying wands on her brother. She's going to destroy Kovacs's "fireflies" and make him watch her do it. "It ends here," she says.
Back in Bay City, the Ghost Walker comes to retrieve the rest of Kovacs's Scooby Gang. The turrets at the Raven don't deploy, and suddenly things look very bad for the kindly AI modeled after Edgar Allen Poe. The Ghost Walker uses an "electron destabilizer" on him, and Poe rushes into the system to try and save Lizzie before they get their hands on her too. She refuses to run. She wants to be sent to Head in the Clouds. Meanwhile, Mickey gets shot through his stack (we hardly knew you, Mick!) just before Lizzie is "sent" to Head in the Clouds. Poe dies, cleverly quoting his namesake's "Annabel Lee."
Lizzie gets to the satellite of sin, ready to kick some ass. As she preps herself for an assault, Ortega is pulled out of VR by Kovacs. Rei wants make her brother choose who dies first. She speaks of evolving as if playing God is the natural evolution of man. "Embrace that power," she says. "Be on the winning side." Kovacs holds the gun to his throat. He pulls the trigger, but she gave him an unloaded weapon. He offers to stay if she'll let his friends go.
While Lizzie enacts righteous vengeance on the horrible people who pay to kill sex workers at Head in the Clouds, Rei monologues a bit about their mother. She says their mom was weak and deserved to die. She also mentions how she killed the little girl she once was to become something stronger. The cut here to Lizzie is intentional, as she also has turned her trauma into strength, however she's using that strength for good — and that good entails some pretty bad-ass action in the hallway. After she spots the people taking away Ortega and her parents, a fight ensues. Ava Elliot isn't sure how to even respond to the fact that her daughter is now a breathing, killing machine.
Freed by Lizzie, Ortega goes back to save Kovacs. She hurls a knife at a guard and Kovacs joins the fight, too. It's time for showdowns! It's Rei vs. Kovacs in one room and Ortega vs. the Ghost Walker in another. Meanwhile, the Elliots work together to take down the entire ship. They pull switches, draining the power and sending it plummeting to Bay City. While it looks like Ghost Walker has the advantage in his fight, Rei and Kovacs reveal some awesome sword-fighting skills. Ortega super-arms her enemy while Kovacs and Rei stab each other at the same time. They look into each other's eyes in pain. Ortega gets her advantage just as Tanaka arrives, but she lets her kill her enemy. "Are you a believer, motherfucker?" she asks, and then stacks him. He's gone. It's a bit odd to even include Tanaka in the climax, but perhaps that character needed a little redemption.
Rei pulls a gun and asks for her brother's help one last time before playing her trump card: She backed up Quell, Kovacs's love, before she died. "Help me and I'll give you back Quell," she says. Quell didn't even know that she could return with one flip of a switch. Kovacs looks torn, but he knows what the leader of the Envoys would insist. He gets the gun and points it at Rei's stack. She just stares right back at him. Can he kill his sister? "I'll never stop," she promises. And those are the final words of Reileen Kawahara. The ship starts to plummet, and Kovacs says good-bye to Ortega through a closed door. He's going to stay with Rei to the bitter end. The ship crashes into the water as Kovacs' vision of Quell tells a story about "the death of love."
Of course, we know that Takeshi Kovacs was double-sleeved. And it turns out that they even save the stack from the crashed Head in the Clouds too. So now, one of those sleeves has to "die." There's an interesting consideration here: Do you keep the memory of your sister's death or erase it? It appears that Kovacs chooses the former, as he tells Ortega that he's the one who said good-bye to her.
With the big mayhem settled, there are still some loose ends to tie up at the Bancroft mansion. Kovacs heads there as the truth is revealed via Rei's confession on the news, and he fills in the plot holes. First, Laurens realizes that he real-deathed a girl, and actually did kill himself. Second, he learns the truth about Miriam: Lizzie was impregnated by Laurens and came to the Bancroft house for help, and Miriam beat her so badly that she lost the baby. Then she sent her to the Wei Clinic and almost destroyed her forever. The Wei Clinic is run by Rei, so she was owed a favor. That's why Miriam dosed her husband, setting everything in motion. "We have ruined each other," Laurens says. Can you live so long and become so rich that you lose your conscience forever?
As the season closes, they get Ava back in her real body and the Elliots seem happy again. Finally, Takeshi Kovacs has to turn his sleeve in. It's not Elias Ryker's fault that he was framed. Where will Kovacs go? What will he do? He knows Quellcrist Falconer is still alive, at least in stack form, somewhere. And the last line of the season hints at a potential future for this wildly inventive show: "He will find her."
Other Notes
• We got the first full credits this episode since the premiere. It's a truly excellent sequence and I wish they had kept it every chapter, but we're firmly stuck in in the "skip intro" era of Netflix.
• Two cool music cues this episode: "Future Starts Slow" by The Kills plays during Lizzie's awakening in the clouds and (kind of) becomes her theme song. Also, Renée Elise Goldsberry, a.k.a. the actress who plays Quell, sings "Ain't No Grave" over the closing credits.
• My final sci-fi movie recommendation has to be the biggest influence on this show overall, and arguably the most influential non-Lucas genre pic of all time: Blade Runner.
• So, do you want a second season of Altered Carbon? If so, which stories do you want see developed? This world certainly seems deep enough, and the show's creator has hinted that season two could be very different. I'm ready for it. How about you?