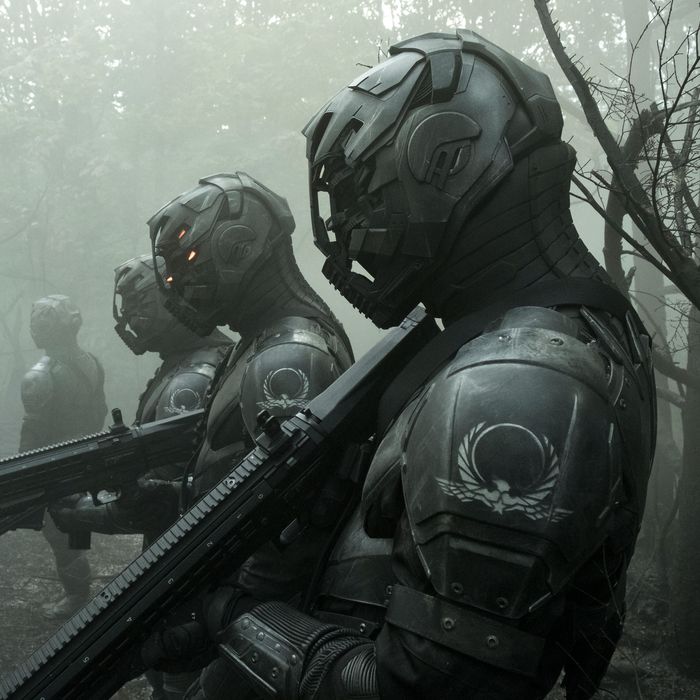 Photo: Katie Yu / Netflix
In a sense, "Nora Inu" plays out similarly to the controversial seventh episode of Stranger Things 2. Sure, this one isn't a trip to Pittsburgh inspired by The Warriors, but it is a lengthy flashback episode that fills in the gaps of our knowledge of the backgrounds of Takeshi Kovacs, his sister Reileen, and his mentor/lover Quellcrist Falconer. We learn how Kovacs went from a CTAC soldier to an envoy, and how his sister Rei survived the ship explosion that Takeshi assumed killed her. It's an interesting episode that deviates from the main narrative, but like many of these Netflix shows, it's a bit too long. (Sixty-six minutes!) By the end, most fans are probably eager to get back to Poe, Vernon, Ortega, and Bancroft.
At the end of last episode, Ortega and Kovacs were saved by the sudden arrival of his sister Rei, in full assassin mode. That's basically the lead-in for an extended flashback about how Takeshi Kovacs went from a child hiding in his closet to a soldier to a revolutionary warrior. It starts with the day that a boy killed his abusive father, blowing his stack out in front of his sister. No wonder the modern Kovacs knows a thing or two about patricide in the Bancroft case.
We then learn how a young Kovacs was recruited into the Colonial Tactical Assault Core (CTAC), and how he was promised that Rei would be kept safe. "You have my word," his recruiter says. Of course, it's a lie. Takashi will go to train on different worlds in different sleeves and become the killing machine that he is today.
After a quick scene in which we learn that Kovacs nearly died in the Fight Drome and Dichen Lachman adds some nice energy to the proceedings — she's warm and human in a show that needs some emotional layering — we go back to Kovacs in the skin in which we first met him. He goes on a mission that's a bit video gamey (think Deus Ex, Halo, or even the futuristic Call of Duty games), and Kovacs discovers that Rei was sold to the Yakuza. CTAC lied about taking care of her.
Of course, this means that Kovacs and his sister have to kill everyone and head out on their own. They team up and go to the forest where they used to believe the Patchwork Man lived. Here's where this episode really starts taking its time, especially given its usually-hectic pace. The Envoys find them wandering in the woods and enlist them in their crew, although it's hesitantly. These scenes have a very different energy just by spending so much time in Mother Nature — green trees, snow-covered mountains, blue skies — it feels like a very different world than Bay City. There are long scenes between Falconer and Kovacs that feel very Marvel-ish too. Flashbacks that call to mind Iron Fist's origin story aren't necessarily a good thing.
Cut to a training montage that feels like Netflix first-season requirement, and then we see some ties back to the scenes in the woods with Falconer. She speaks about the sleeve being a tool and how the person within it is the weapon. From there, it's time for some long teaching sequences as rivalries blossom with a guy named Desoto. We also learn that Falconer created a program that will force everyone's stack to last only 100 years. Death will no longer be optional. But it's a suicide mission. Tak volunteers and gets caught after being separated from the group. He's tortured a bit, until Falconer and the team rescue him.
Kovacs ends up caught between the two ladies in his life: Rei wants to leave to survive, but he's clearly a follower of Falconer. She admits to him that she's the person who actually developed stacks in the first place. She became a rebel to destroy her creation. They kiss and make love under the moonlight and by the fire. And then Rei finds them together the next morning. Uh-oh.
While Kovacs is looking for Rei, there's an uprising at camp. Actually, it's more like a viral mutiny. Kovacs comes back to a horror show. The spirit tree from the Bancroft home is covered in ash — no wonder Kovacs looked at it so poignantly in the first episode. He finds a survivor who shoots another trainee. It's ugly. He tracks down Desoto, who has cut out his own eye. The CTAC soldiers come in and the stronghold is burning. Everyone is dead. Kovacs communicates with Falconer and Rei, who are up on the bridge, and tells them to flee. He'll provide cover as they escape. And he watches their ship goes up in flames. No wonder he thought Rei was dead.
Back in the present day, Kovacs has some questions. He stumbles into another room and finds clones of the ultra-wealthy, including Hemmingway. Why is he here? Is Rei working with the puppet masters of Bay City? We flash back to the spaceship above the stronghold before it exploded. Rei has claimed she doesn't remember what happened. She pulls a knife and fights with Falconer. The ship explodes, and Kovacs realizes that Rei was backed up before it happened — that's why she doesn't remember. (Technically, this means no one could have had that flashback, but now I'm getting picky.) Kovacs looks confused and betrayed as she tells him the truth: "I did it all for you."
Other Notes
• If you're wondering where you've seen Will Yun Lee, he starred in Hawaii Five-0 and True Blood on TV and appeared in dozens of films, including The Wolverine, San Andreas, Total Recall, and Red Dawn. He's got a background in Tae Kwon Do, and he's got some serious action skills.
• It's a little strange for a show to expand so much from episode to episode, as "Man With My Fact" was the shortest so far and "Nora Inu" is the longest, almost 20 minutes longer. That's almost a whole sitcom!
• The title translates from Japanese as "Stray Dog," which is the name of a 1949 Akira Kurosawa film about a rookie cop trying to find a stolen gun.
• This episode's director, Andy Goddard, is a Netflix Marvel regular, helming episodes of Daredevil, Luke Cage, Iron Fist, and The Punisher.
• Let's go a little high-concept with this episode's sci-fi movie recommendation, given this chapter's themes about identity and loyalty: Mike Cahill and Brit Marling's Another Earth.