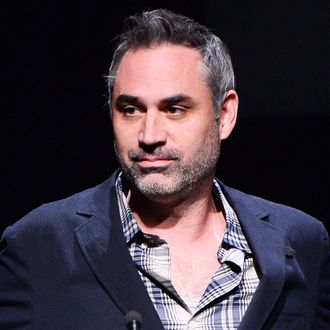 Garland.
Photo: George Pimentel/Getty Images for Paramount Pictures
Annihilation writer and director Alex Garland has given his first response to accusations of whitewashing the lead characters in his upcoming movie. "This is an awkward problem for me, because I think whitewashing is a serious and real issue, and I fully support the groups drawing attention to it," Garland said in a statement, according to Deadline. "But the characters in the novel I read and adapted were not given names or ethnicities. I cast the film reacting only to the actors I met in the casting process, or actors I had worked with before. There was no studio pressure to cast white. The casting choices were entirely mine."
The characters at issue are Natalie Portman's Lena and Jennifer Jason Leigh's Dr. Ventress. In Annihilation, the first book in author Jeff VanderMeer's Southern Reach trilogy, no physical descriptions are given for the characters, and they are only ever referred to by their positions, instead of being given names. It's not until the second book, Authority, that "Lena" (a name written in by Garland) is described as having Asian heritage on one side of her family, and "Dr. Ventress" is designated as half Native American. Earlier this week, though, the groups Media Action Network for Asian Americans and American Indians in Film and Television both criticized Garland and the movie for enlisting white actresses to play women of color. Portman and Leigh said they only just learned about the literary descriptions of their characters through recent backlash. Both did acknowledge however that, yes, it is a problem for them to be playing Asian and Native American characters, and called for greater inclusivity going forward.
Garland concluded his reaction to the controversy by saying, "As a middle-aged white man, I can believe I might at times be guilty of unconscious racism, in the way that potentially we all are. But there was nothing cynical or conspiratorial about the way I cast this movie."