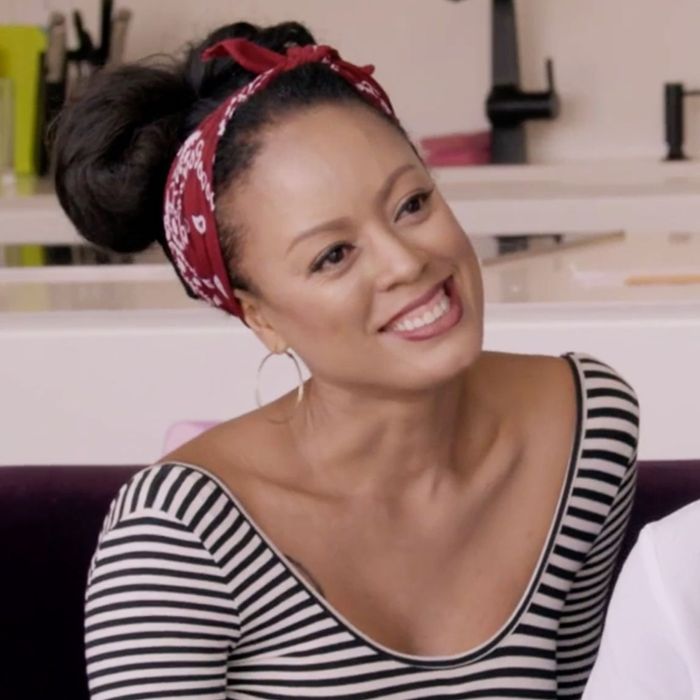 In any reality-competition program of renown, it's usually around the five-episode mark that a front-runner emerges. We begin to feel we know the contestants on an intimate level, by which we mean that each one of them has probably had that two-minute block of personal air time in which their baby picture has been featured. Well, Intoxibellas (that's a Tyra deep-cut for you), we've reached that very juncture in this cycle of America's Next Top Model, and as the opening credits play against the familiar "Na na na nas" we've heard and loved for two dozen cycles, we can firmly land on our favorite: Rio.
But then the rest of the episode happens and, come on, we can't stan for Rio anymore. Is it bad if we say we like Liberty? Maybe politically she can be saved if we give her a copy of Gender Trouble by Judith Butler? Sigh. Guys, we don't like Liberty. We're just confused.
Hitting her stride as a distressed contestant by way of a stampeding Inner Saboteur (at the same time as Thorgy Thor over in RuPaul's Drag Race–land), it seems that Rio is coming undone. Contestants with actual, real-life issues are now out of the picture, and we can turn our focus to the more frivolous conflicts that erupt between two beautiful girls when one of them thinks the other is even more beautiful or has had it easier in life, goddammit! With that, we've summed up the one-sided and petty conflict between Rio and Sandra. Rio loses the mini-challenge, which is to pair up and shoot a beauty vlog using unconventional materials with YouTube sensation Patrick Starrr, but wins an all-expense paid trip to Not a Good Lookville and cashes in immediately.
Social-media-savvy Sandra takes the win aided by a charm offensive from Shanice, who unleashes a "Sha-nasty" persona just in time. For those keeping track at home, Shanice claims to have several different personalities in a cute display of dissociative identity. There is a "Sha-nice" (pronounced like the word "nice"), a "Sha-mean," and a "Sha-nasty." How Sha-mean and Sha-nasty differ is a topic that will be pathologized in future episodes, we hope. After Sandra and Sha-nasty dab a saggy condom "blender" on their faces, Patrick is very pleased and rewards them by promising to upload the video of it onto the internet.
It's also worth noting that Erin, who for some reason must constantly remind the viewer that she is much older than some of these girls, is like, "They're all social-media-crazed! What's that all about?" as if she doesn't live in a world where Cher has disproven any correlation between youth and social media know-how. Erin does fine in the challenge, by the way, which is her other "thing" besides being older. Doing fine.
Post Sandra-victory, Rio is pressed. We're gonna go ahead and assume that all of you watching this show are, like us, not models. So did it bother everyone as much as it did us that Rio has to stop everything and rain on the only non-frozen dinner Kyla has had in weeks, all because of her jealousy issues toward Sandra? We understand where it's coming from, as even Sandra admits earlier in the episode that, being genetically gifted, she can't necessarily relate to the roundtable discussion that Ashley Graham moderates on unconventional beauty during a drop-in at the house. Still, there's something unnecessary about the whole fight that may or may not have to do with Rio repeatedly screaming about missing her sister's graduation. Rio is a great model and we wish she'd continue being just that, because targeting someone in a group and projecting all of your insecurities on them without self-awareness is not #NextLevelFierce from a personality perspective. It feels more like browbeating with no clear endgame.
Luckily for her, Rio is memorable in both the beauty vlog challenge and the main challenge, a makeup-campaign-inspired shoot that asks the girls to stack their faces on top of another in groups of three and … look pretty. Drew barges into the house to tell everyone that this is known as a "beauty sandwich," which only sounds credible coming from Drew and no one else. As nondescript as the challenge is, there are some easily understood victors. Beautiful boring twins Sandra and Kyla, who are not actually twins but are actually beautiful and boring, earn the opportunity and "big advantage" to take this photo alongside Ashley Graham because of Sandra's mini-challenge win, and they combine their already-commercial looks with Graham's coaching to bring home the praise during judging. Also succeeding is the alabaster trio of Brendi, Liberty, and Khrystyana, who does us a consistent favor by keeping the spirit of Liz alive throughout this episode. That is to say, her behavior is a little bigger and wilder than it should be, but we ain't mad. It's also a treat to hear Liberty constructively instructed to close her mouth. More of this, please. Partnered with Rio, Jeana and Coura receive opposite feedback; the former is praised, as is her custom, while the latter is judged harshly. Both of these critiques seem to be eye-based, since Rio and Jeana successfully smize while Coura shows just a little bit of teeth. It's not enough teeth to be considered a full gaping smile, but it is more than enough to spell trouble ahead. Don't these girls know that teeth and beauty do not mix?
Also in trouble is Christina, and not just because her makeover is whack. Seriously, this has not aged well in the two episodes since its sanctioning, especially if Shanice can work a zinger in front of the judges about how Christina's hair looks like lettuce. We'll go ahead and give Shanice the MVP award for the week for labeling her trio/sandwich as "the Baconator" and showing even more dimension in the process. This was a Sha-funny joke, her fourth personality …
Shanice does land in fourth place after Rio rakes in a well-earned win. Tyra calls over Coura and Christina and gives us her first detailed shakedown of the cycle (with her templatized "The two of you stand before me for two very different reasons" opener), because we've reached that five-episode mark, after all. Coura, whom Tyra calls a "newbie alien," is eliminated while Christina gets thrown back in the crisping drawer with her lettuce hair. Five episodes deep and an early favorite leaves the competition, while we're still left with no clear front-runner. But seriously, though, we can't root for Rio in good conscience.