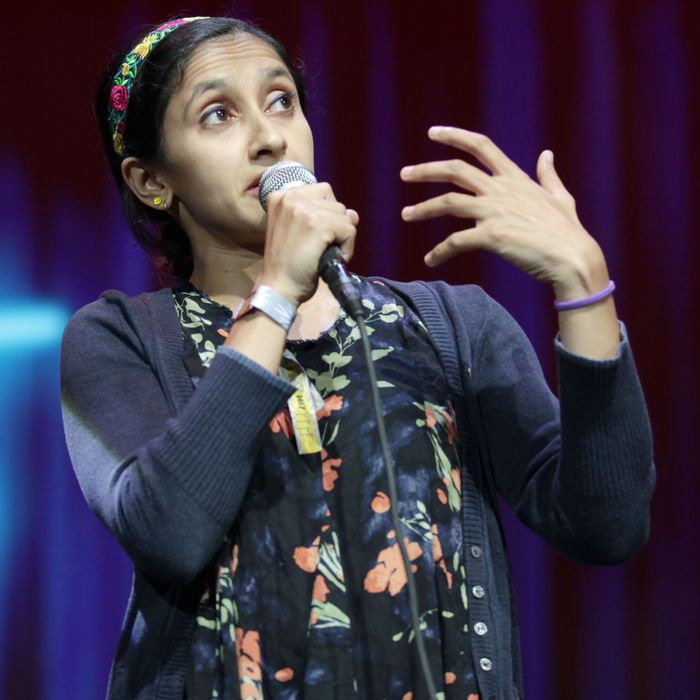 Photo: FilmMagic/FilmMagic
When life gives her low-key anxiety, Aparna Nancherla makes lemonade. As a comedian and actor she has molded a successful career from her anxiety, depression, and general weirdness, gaining popularity by just being herself, neuroses and all. 2018 is shaping up to be a big year for Nancherla, who can currently be seen on Comedy Central's Corporate, HBO's Crashing, as well as in the upcoming season of The Standups on Netflix. We talked recently about the effect that acting is having on her comedy, making art with friends, and how she approaches the horrors of the world from the inside out.
With all of the acting work you've been doing lately, have you found it difficult to keep up with standup?
I feel like it's been fairly manageable to do both. A lot of the stuff that I shot last year is coming out now, so right now I can primarily focus on standup. Generally my schedule has been flexible enough to allow for both. This year I'm touring less to work on new material after having taped a bunch of it. For the most part I've been lucky that my acting gigs haven't been so time-consuming or location-specific that I don't have the chance to do standup.
You've had small parts in shows like Inside Amy Schumer, Master of None, and Crashing, but in Corporate you have a pretty sizable role and you have more stuff coming up where you're co-starring and maybe even creating a project of your own, right?
I'm sort of working on the development side to create my own project, but yeah, in the meantime it's been popping up on shows that I like. It was really fun to get to do BoJack and dive into more voiceover stuff. I've gotten the chance to do little guest parts in shows coming out, like High Maintenance, where I have a small part in too.
I think you're at a point where you're going to have less pop-up and cameo parts and more established roles. Corporate could be the thing that pushes you further in that direction. I know Jake (Weisman) and Matt (Ingebretson) have talked about how they wanted to use comics they've worked with for acting parts in the series. What was your experience working on that show?
I think it definitely helped that we go back a number of years and first met in the standup scene. I lived in LA briefly before moving to New York and that's how I met Matt, Jake, and Pat (Bishop). We've been friends for a number of years and we've always appreciated each other's sensibilities and comedy. I think that helped me get the role to begin with – just having that comfort and chemistry, playing a character on the show who isn't as necessarily at odds with them as much as kind of their friend/someone they don't necessarily despise or are afraid of. Having someone who they had a natural chemistry with was important to them, because all three of us come from the standup world more than the acting world. Some of the people on the show are more trained actors, so I think it all sort of contributed to more of a natural rapport between the three of us.
Has doing more acting informed your standup at all?
I would dare to say that most of the characters I've played in all of my acting parts have had elements of myself and elements from my standup, whether that's a dryer delivery or more understated character. But having gotten the chance to act more has made me more aware of how to make different characters more unique. It's something I think about in terms of presentation overall and tone, affect, and energy level. Those are things I've been thinking about and more aware of.
Do you think there is a noticeable difference in your current standup compared to before you were acting? Do you think people will start noticing a difference onstage?
I don't think it's created a shift or delivery in my persona, but I do think it's created more comfort in exploring it and digging deeper into being looser and more comfortable onstage. It feels a little less controlled.
Do you find a freedom in being less controlled onstage?
For me, I've definitely struggled with the push and pull of being pretty writerly and wanting the words to come out a specific way, but then also wanting to be in the moment and be open to finding new corners of jokes or aspects of things I might not have seen before by being willing to experiment with them more. It's an ongoing process for me. I'm always trying to find ways to push myself out of that comfort zone.
Do you get nervous when you're performing?
Generally, I've always had performance anxiety. I have a natural low-key anxiety that is part of my approach to performing. I don't think it will go away anytime soon. I've found better ways to manage it, but sometimes it can kind of run away with itself.
I think that is something that a lot of people connect with. I'm sure there are a lot of people who had never heard a voice in comedy like yours and a perspective like yours in the way that you address anxiety and existential dread. You have a way of talking about those bigger themes through little things that happened in your life. I think a lot of people that have anxiety can relate to that. It's not always the threat of nuclear war or our terrible president that triggers anxiety. Sometimes it's smaller things, and you've been able to use those things as a metaphor for the bigger feeling.
Yeah, I think that even now when I talk about the bigger political climate that is so hard to escape, it always starts from the inside out. It's always easier for me to check in with how I'm doing internally and then blowing that out to how it filters out into the rest of the world. It feels like the easiest way for me to write.
The last time we talked was in New Orleans when you were getting ready to tape your Comedy Central half hour. Your album came out that year (2016) as well. Now, just a couple of months ago you recorded another half hour for Netflix.
Yeah, I taped that in November.
Is there another album in the works?
Cumulatively I have a chunk of material I can put on the new album, but I'm trying to build up some newer stuff that I'm more excited about before doing another full recording.
I saw that you're going to be in the upcoming Paul Feig movie A Simple Favor. Can you tell me more about that project?
It's funny because it's not as hard of a comedy as his previous stuff that he's known for, like Bridesmaids or Ghostbusters. It's kind of a take on the whole Gone Girl genre, that sort of thriller/mystery thing. It's not really a parody. It's a thriller/mystery with comedic elements in some of the characters. It takes place in Connecticut among these posh mothers of small children. I, Andrew Rannells from Girls, and another actress Kelly McCormack play three of the mothers in the community. We're almost a Greek chorus where we're commenting on different scenes in the movie as they're happening. It has a little Statler and Waldorf quality to it, but the movie itself isn't a hard comedy. It's fun to see him doing something different than what you normally see.
Photo by Robyn Von Swank.