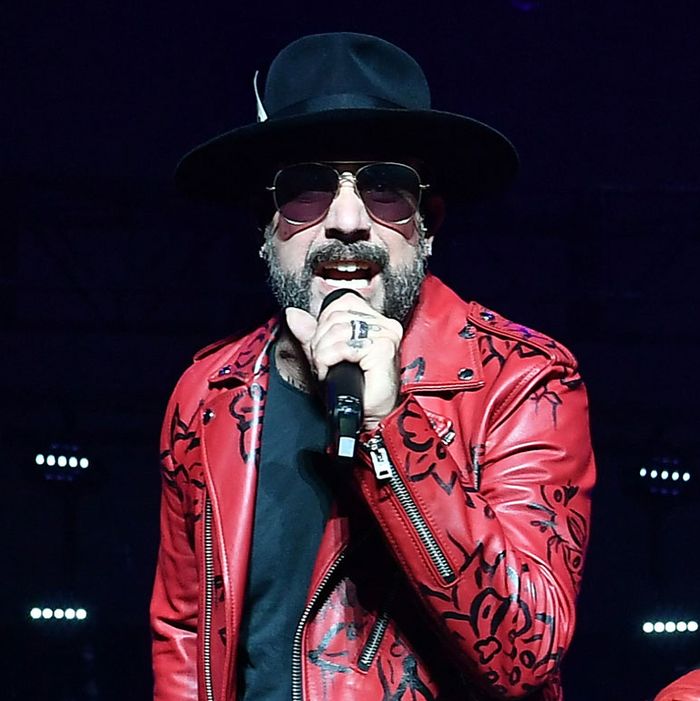 Photo: Dia Dipasupil/Getty Images for iHeart Media
Britney Spears might've closed the door on her Las Vegas chapter, but she's left it wide open for another cornerstone of the late '90s bubblegum-pop mania to have its turn. Following the success of a brief trial run last year, the Backstreet Boys have announced an extended stay, adding more than 20 new dates to their Larger Than Life residency at the AXIS Theater at Planet Hollywood. They join what's become a growing hotbed of talent making live music on the Strip appealing to the under-50 crowd, rather than a graveyard for artists ready to call it a career.
The last few years have seen Britney, Jennifer Lopez, Céline Dion, Bruno Mars — and soon, Lady Gaga — call Las Vegas home for long-term, hugely profitable residences at venues that once prioritized attractions for boomers over the just-turned-21 crowd. Backstreet Boys are hoping to be the latest act that narrows the generational gap in Sin City while continuing to show other artists that there can be plenty of life left in a career after Vegas. Vulture spoke to BSB's Howie D. and Kevin Richardson ahead of the announcement about what brought them to Vegas, their next album, the problem with next-gen boy bands, and the *NSYNC songs they wish were theirs.
I was watching an interview with Justin Timberlake where he said the idea of a Vegas residency scared him because it feels like "planning your retirement." What got you onboard and convinced you that it wouldn't be the end?
Howie: Vegas was something we always thought would be on the plate somewhere, we just didn't think it would be this soon. If you asked me 10 or 15 years ago, I would've said that's where we're going when we decide we're gonna retire. Walk into the sunset, you know? But then people like Céline Dion, Britney, and J.Lo have made Vegas a happening spot where most artists want to go to. We got asked a little over a year ago to finally be in a place that's both a hot spot but also somewhere where it's easier to do a big show. Businesswise, it makes a lot of sense. Physically, for us and our health, being in one location is better. It's also easier on our families.
Kevin: The convenience of it is attractive. It's something you can schedule around other things, so we're also in the middle of recording an album. We've also been doing spot dates around the world. It allows us the ability to pop in and out, as well as be husbands and fathers. We never thought of it as a retirement. All the current hot DJs and producers who are killing it on the charts right now are here, doing sporadic residencies. There's even Bruno Mars.
How do you meet the challenge of making the show relevant for both older fans and a younger generation who didn't grow up with you?
Howie: Vegas is one of the hottest destinations, especially for bachelorette/bachelor parties, birthdays, and weddings. So a lot of our fans have grown since the early days and are at that point in their lives where they'll be coming to Vegas for these milestones. It makes a lot of sense that we're there. We made a show that should appeal to all ages. When we look out into the audience, on some nights, there's up to four different generations out there. Also a lot of guys are even coming to the show. They're cool enough in their skin to be able to admit that it's okay to have liked the Backstreet Boys. They're singing every word to our songs. We wanted to make a show that our dedicated fans would come to, but also a show that people who maybe weren't into the BSB, but they have a night off in Vegas and are looking for something to do, would still find entertaining. The people who think they'll only recognize a couple of our songs end up singing half the show. They don't even know how many songs of ours from the past that they know. I guess we're doing something right.
The BSB were always one of the more physical groups when it came to choreography. Current boy bands mostly avoid dancing if they can help it. Do you plan on incorporating some of the old routines from music videos?
Howie: Thank God for YouTube because it's been able to help us find some of the old moves we forgot about. Between the fans and videos, we've been able to dust off the cobwebs and bring them back because we wanted to make it an iconic, memory-lane show. I think people thought that, at our age, we wouldn't be dancing as much anymore. But we're dancing just as much, if not more, as the old days. We're may have to wear knee and ankle braces and take ibuprofen here and there, but we're doing it. We're going full speed.
Was it muscle memory once you watched the videos or have you really had to rehearse and retrain your bodies?
Howie: Some of it was definitely muscle memories, others definitely caused a few arguments among ourselves because we couldn't remember every step. Again, thank God for YouTube. But we've put in the time, we've had about six to eight weeks of rehearsals and we're working with some new choreographers, too. Some of our dancers are in their young 20s and they're definitely giving us a run for our money, but they're keeping us light on our feet. The first month of rehearsal was the hardest, but once you get it in your body, it's there. It's like getting back on a bicycle.
As someone who grew up on boy bands and lived through that genre's peak, it often feels like a moment that can't be replicated. It existed before the internet and never quite knew how to adapt, with One Direction being the extreme Western exception; meanwhile K-pop bands have almost rewritten the formula. What is the new generation of boy bands getting wrong?
Howie: When the term "boy band" kept on going past us and there were new groups coming around, it was weird. Because the name "boy band" was attached to us, it came with us. Before us, "boy bands" were never named that, but we got slapped with the name over in Europe and it somehow came across over here with us. At first, we weren't excited about the name because we thought, why does it have to be labeled? It sounded like we could only be teenybopper-ish. Boys, to us, always just meant that we're boys, we're homies. We never thought it would transcend to mean a group for young girls. Now it's funny because we're still called a boy band, but we'll take it. We're always trying to remain as youthful as we can.
But now this new generation, it's definitely not the same. The look is maybe four or five guys and they're up there singing, but we came from a generation of performers. We were showmen. We looked at Boyz II Men, New Edition, the Temptations, and the doo-wop groups that really had the whole shebang. So when this new form came around, we weren't too sure how to take it. But we have to realize that it can't stay the same. The music industry is not the same anymore. The internet and downloading did a real number on us. Back in the day, you would never think of somebody being discovered, voted for on a TV show, and them becoming a huge star. Now artists are begging and pleading for that. You have to evolve.
K-pop bands at least seem to have done their homework.
Howie: I know some producers, like Steve Aoki, who've worked with BTS and, you know, these Korean and J-pop boy bands, we saw them coming. We've been doing our thing out there for the last ten years and they're no joke. They're something to be reckoned with, and they're probably the closest to our style and what we came from. I think they modeled themselves after groups like us and all the European boy bands back in the day that did this kind of performance. We're so happy for them. And, to this day, the Asian market is still one of our biggest markets. They have some loyal, hard-core fans. They will find you in the earliest days and support you for a lifetime.
The shelf life on so many of these newer boy bands has been extremely short. Now we're seeing them struggle to find their groove as they go solo. What's your advice?
Howie: It's hard to give advice because I don't know if they would take it. I wouldn't have at that age. Music has to be the first priority. You have to make music that will be timeless, but you also have to create a bond in the early days. Because once success does come, it's very easy to get pulled in different directions. People get jaded and lose sight of reality. You're only as strong as your weakest link as a group, so you need a strong foundation and core. But also, enjoy it. People get too caught up not living in the moment. If you have a little bit of success, that's a blessing these days.
Kevin: One Direction, if they wanted to, could continue. If they decided to get back together tomorrow, it would blow out. Trust me on that. But the way the industry has changed recently, there's so much new content available and so much exposure through every form of online media. People's attentions spans have gotten a little shorter, which I do think changes, but not necessarily raises, the bar creatively for everybody. People don't have the patience like they used to, so the industry and the artists have to adapt to that challenge. You do that by keep creating content, though some artists choose quality over content. Take Sade — every ten years she drops an album, it blows up, and then disappears again. She can do that for the rest of her life. But the way labels, streaming, and radio works nowadays, it's harder for a new artist to get people's attention.
Kevin, what specifically brought you back to the group after you left, and what has kept you committed ever since?
Kevin: At the end of 2006, I just wasn't feeling inspired. I was burnt out and my wife and I wanted to start a family. I also wanted to explore some other passions of mine, so I walked away. While I was away, we had our first child and I got to do some theater. But then I started sitting in with a buddy of mine's band and singing again. I realized how much I love music. While I was gone, there was never an issue with me and the guys. I just didn't wanna do it anymore; there was no joy in it for me. And that's not fair to the fans of the guys. Then, all of a sudden, I felt like I got the passion back. When I commit to something, I commit 100 percent. It's always been that way. So I felt like I had the fire back and called the guys when they were just wrapping up their tour with New Kids on the Block. They brought me out at one of the shows, then we started talking more, and our 20th anniversary came up. So the timing was right. Now that I'm older, I see things differently.
Having been in this business through some intense periods of transition, what have you learned?
Howie: There have been ups and downs. So many things we didn't want to get out in the public, but it made us who we are. I wish I'd had more insight in the early days to get a good team around to really look at contracts, have a legal team to really protect you. In hindsight, that would've saved us the heartache. But we've been blessed so much that it's hard for me to really look back with regret.
Kevin: I've learned that you do great work and create great art and you can't control anything else. And keep good people around you who you trust and love, and everything else will take care of itself.
Another potential turning point for the industry right now is the fallout from what Recording Academy president Neil Portnow said after the Grammys about women needing to "step up" to get ahead. How can this industry be better about inclusion?
Kevin: I think the media jumped on that and are making something out of nothing. If you look last year at the Grammys, you had Beyoncé give an incredible performance. You had Katy Perry, Adele. It's an unfair statement because this industry is cyclical. Every year is different. Maybe one year the guys are gonna have more content out in the marketplace, and sometimes females are gonna have more content out. It fluctuates year to year. I also thought Kesha had a beautiful moment with her performance.
I think the point is better consistency.
Kevin: Still, some years you have more releases from women.
We've reached this point of nostalgia for late-'90s, early-aughts pop where even TRL has been rebooted. Did you ever think that cycle would come around this fast?
Howie: TRL was definitely a part of making us who we are in America. I remember when we were younger, we only had one song barely charting and we couldn't get our music played in America to save our lives. But then we went over to Europe, brought the success we had there over to Canada, and little by little the border states started playing our music. Fans were constantly calling MTV to play our videos, but the network didn't wanna touch us with a ten-foot pole. Then, finally, they created TRL. Because of that and Carson Daly, our lives were created around that show and the fans made us. They ended up having to make a show to retire our songs because they were staying up there too long. It was also great to have this rivalry with NSYNC that TRL created. That show established a lot of our careers, and not just pop. Blink-182, Eminem, Korn, Limp Bizkit all came up because of TRL. I'm glad it's making its way back and that there's excitement around it. It makes a lot of sense.
Is there an NSYNC song that you all wish was yours?
Howie: There are so many because we had a lot of the same producers. They did a remake of Christopher Cross's "Sailing" that was a great song. What's that video where they're in the straitjackets and they're psychotically in love with a girl? Not "God Must Have Spent."
"I Drive Myself Crazy"?
Howie: That's the one! Also that song they had out with Nelly, "Girlfriend." We always have fun, though. I see Joey [Fatone] all the time; he's always in my backyard here in Florida. We text here and there. And I see Lance whenever I'm in L.A. And me and Chris [Kirkpatrick] went to college together, we were in the choir together, so indirectly that's part of the reason why that group was formed. We know all those guys, even the guys from 98 Degrees. Back in those days, the media tried creating more of a rivalry than we actually had among ourselves with each other.
Do you plan on sticking to the same set list every night, or switching it up?
Howie: We want the show to be something that people can come back to and expect something different. We're already talking about making changes. We're doing a song called "Undone," which was off the This Is Us record, which Kevin wasn't on. But we still do it in the show because it's one of his favorite songs of ours. Ryan Tedder wrote it. It's not one of the big hits, but it's definitely a crowd-pleaser and a highlight of the show. We like throwing in a fan favorite. We may even do deeper cuts or covers.
Kevin: We put out a greatest-hits album and it's understood that fans wanna hear those songs. So the debates were finding spots to put our favorite songs in, and we went back and forth with a few of them. We had a couple songs, "I'd Go Anywhere for You" and "Darling," that were in the show up until a few weeks ago. Ultimately, it's about the energy and flow of the show.
We talked about this residency not being the end of the road, so what does the rest of it look like for you guys?
Howie: We're in the studio right now! We just signed a deal with RCA Records and we have a lot of our previous team helping us put this record together. We're six or seven songs in, hoping to put out a single in the first quarter of this year with the album to follow. That single will definitely get added to the show.
This interview has been edited and condensed from two separate conversations.