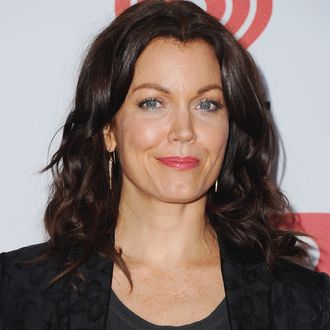 Bellamy Young.
Photo: Jon Kopaloff/FilmMagic
Scandal's Bellamy Young has issued an apology to Ryan Seacrest for suggesting that the television host "step aside" from his Oscars red-carpet duties. Young made her initial Seacrest comments yesterday on the red carpet for the A Wrinkle in Time premiere. She was speaking in response to a Variety article detailing former E! hairstylist Suzie Hardy's accusations of sexual misconduct perpetrated by Seacrest — an article Young claims she only knew through secondhand information. "I apologize to Ryan Seacrest," Young said in a statement to Vulture. "He has been exonerated from the allegations I was told about on the carpet, so my opinion is different now."
Seacrest has denied all allegations. Earlier this month, E! announced that after a lengthy investigation conducted by a third party, the network found insufficient evidence of wrongdoing and Hardy's claims could not be substantiated.
Young explained to THR that she called for E! to pull Seacrest from the Academy Awards ceremony without knowing the full story. "On Monday night on the red carpet, I spoke on record about something I had no first hand knowledge of," the actress said. "I trusted that the information that the journalist provided me with was complete, and I gave my general opinion based on the information he provided." Read the full statement below.
"I have an apology to make. On Monday night on the red carpet, I spoke on record about something I had no first-hand knowledge of. I trusted that the information that the journalist provided me with was complete, and I gave my general opinion based on the information he provided. 




The world is changing quickly right now, and many of us have been affected by this issue: I spoke up because I feel deeply that the secrecy of shame plays a significant part in what has kept this shift from happening before now. But never has there been a more urgent time to make sure our voices are used for truth, and I failed in that regard Monday night. 




Our words matter. Our word matters. 




I apologize to Ryan Seacrest. He has been exonerated from the allegations I was told about on the carpet, so my opinion is different now. I just want to clarify that anyone who uses my quote going forward is using the quote of an uninformed person and fanning the flames of a non-story by making use of an unwitting accomplice. 




I've learned that 'I don't know' can be a complete answer. 




I will do better next time. "