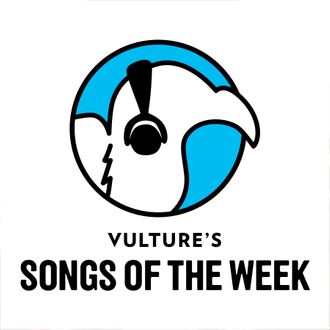 Every week Vulture highlights the best new music. If the song is worthy of your ears and attention, you will find it here. Read our picks below, share yours in the comments, and subscribe to the Vulture Playlist for a comprehensive guide to the year's best music.
Beach House, "Lemon Glow"
Conventional wisdom says that if you're trying to make a real go of this whole being in a band thing, it'd be smart to drastically tweak the formula that made you popular in the first place. It's rare that you'll come across an artist who has succeeded because they did the same thing over and over and over again. The Baltimore duo Beach House are one of the few who've found a formula and stuck to it with success. In 2015, though, they released two albums, Depression Cherry and Thank Your Lucky Stars. Both were solid, but didn't reach the same dusky, romantic heights of their previous four releases. Now, with "Lemon Glow" Beach House have found a way to push their sound into new territory without losing the intimacy and wonder that made their best work so compelling. "Lemon Glow" is hypnotic and bubbly. Where most Beach House songs grow until they eventually bloom, this one loops on itself endlessly. It's their best single since the last time they had a great single. —Sam Hockley-Smith (@shockleysmith)
YG, "Suu Whoop"
The balance in music between reality and appearance has always been especially hard to maintain when it comes to gangster rap, a genre where the facts are often hard to stomach and the myths have a way of replacing the world they were made to represent. It's a dangerous calling, and YG seems to have been put on Earth to make it that much more so. The lead single from his upcoming third album, Stay Dangerous, is a myth-busting menace where the rising West Coast legend coldly flaunts his Blood bona fides at the expense of clownish red-flag posers far and wide. Produced by J Holt and DJ Mustard, the track marks the renewal of the partnership between YG and Mustard. Though the heavy 808s and weaving keyboard line owe much to Atlanta trap, there's a spareness and firmness specifically tailored to fit YG's no-nonsense attitude. It's a heartening sign for the incoming collection and a much-needed reminder of how just fearsome integrity can be. —Frank Guan (@frankophilia)
Frank Ocean, "Moon River"
We know from Frank Ocean's limited-edition Boys Don't Cry magazine that he's a big film enthusiast, but we also knew that long before then. What we didn't know is just how inspired by Breakfast at Tiffany's he is to be moved to the point of covering the wistful "Moon River," Henry Mancini and Johnny Mercer's Oscar-winning song from the film, sung by Audrey Hepburn herself. And he covered it on Valentine's Day no less! (Listen, that day gets even the coldest hearts in their feelings.) Like the best Frank Ocean interpretations, it's meditative, simple, vocally mesmerizing, and just plain dreamy. It comes at you like a summer breeze felt from a New York fire escape and carries you away with it, wherever it's going. —Dee Lockett (@Dee_Lockett)
Dr. Octagon, "Octagon Octagon"
The character of Dr. Octagon is voiced by absurdist rap legend Kool Keith, who raps about legitimately insane things like "too bold for ocean water, monkeys sniffin ice, contact jupiter fools martians bring my rice" over lush, psychedelic production from Dan the Automator and expert turntablism from DJ Qbert. Strangely, nonsensical songs that all seemed to take place in or around an intergalactic doctor's office, and for some reason featured a whole lot of references to animals, actually ended up crossing over. Released in 1996, the first Dr. Octagon album, Dr. Octagonecologyst, became a cult classic. Now, after more than 20 years and a sequel to the first Dr. Octagon album, which did not feature any production from Dan the Automator, we have "Octagon Octagon," a sensitive portrait of American masculinity. Just kidding! I have no idea what this song is about, and that's exactly how I want to feel about any given Dr. Octagon song. Here's a sample lyric: "Octagon stadium, where the Octagons play / I hear it everyday, Octagon arena with Octagon orchestra / Octagon milk backstage for every age." Maybe it's about biters? —SH-S
Vybz Kartel, "Real Bad Gal"
Despite having been behind bars for over six years, Vybz Kartel, the "World Boss," somehow continues to release music on a semi-regular basis. His latest track, "Real Bad Gal," sees Kartel pairing up with producer and Mixpak founder, Dre Skull, for the first time since 2011's Kingston Story. Using a surprisingly minimalist beat, Dre Skull and Kartel channel classic '90s-era dancehall for much of the song, mixing tinny Super Cat/Robert Livingston–style drums with the contemporary EDM-influenced sound Dre Skull established on "Yuh Love" back in 2009. Though we're just hearing it now, "Real Bad Gal" has been in the works for several years — as Kartel fans might remember, we first heard a snippet of the track on PartyNextDoor's "Not Nice" in 2016. Luckily, it seems, it was worth the wait. —Corinna Burford (@coriburford)
Polo & Pan, "Pays Imaginaire"
Wow. A dreamy French pop song that drifts in and out of sounding like Debussy's "Clair de Lune" — and the video has clips from The NeverEnding Story and The Adventures of Baron Munchausen? Just @ me next time, Polo & Pan. —Jordan Crucchiola (@jorcru)
Mount Eerie, "Tintin in Tibet"
Like most of Phil Elverum's recent work, "Tintin in Tibet" grapples with the loss of his wife, Geneviève Castrée. Elverum writes about his memories of her, and the loss he feels directly, using one specific memory as a way of branching off into what sounds like stream of consciousness, but isn't. The title of this song refers to the times he and Castrée read Tintin in Tibet to each other in French, which is a simple, and heartbreakingly mundane memory. But there's more to it than that: Tintin in Tibet is widely considered to be Hergé's best Tintin story. In it, the titular character searches for a friend who seems to have survived a plane crash in the snowy mountains of Tibet. He isn't sure if his friend is alive, but he goes in search of him nonetheless. Prior to this volume, most Tintin stories had been defined by a specific formula: Tintin solves a mystery, or goes in search of a person/valuable with the help of his friends. There is a nefarious character whom he eventually thwarts.
Tibet bucked those conventions — there is no particular villain, just miles and miles of beautifully illustrated snow. In life, Tintin creator Hergé was undergoing a personal crisis. He wanted to abandon Tintin and devote himself to abstract art, an idea he ended up nixing. Knowing this, Tintin in Tibet stands as a journey that is about rediscovering a sense of self during great personal trauma. Elverum's song is about a specific memory, but it doesn't take much to connect the dots between the work he remembers reading with Castrée, and what that work ended up meaning for its creator. —SH-S