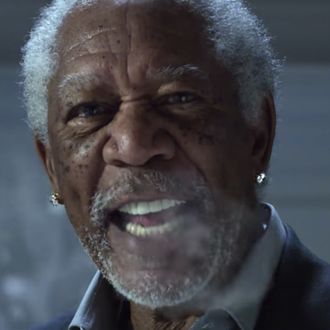 Boy, can you believe [insert team name here] won on Sunday? You can? Well, can you believe the major Super Bowl beer commercials were actually about water? Or that Morgan Freeman and Peter Dinklage want you to eat Doritos and drink Mountain Dew Ice? Or that, if you don't use Groupon, Tiffany Haddish will laugh at your pain? Learn all this and more in this, our 2018 Super Bowl commercial roundup. This post will be updated throughout the big game. And boy, what a game it was/is!
Tiffany Haddish and Groupon
In her latest Groupon spot, Tiffany Haddish warns you about the dire consequences that will befall anyone who lives in a mansion and doesn't support local business. So go ahead and use Groupon. Better safe than have a football kicked into your abdomen.
Morgan Freeman vs. Peter Dinklage: Doritos vs. Mountain Dew Ice
Over in some kind of bizarro universe with crazy physics, Morgan Freeman and Peter Dinklage finally square off in a house of fire and ice to determine, via lip-sync battle, once and for all, the winner: Doritos or Mountain Dew Ice. A battle we all prayed would never come to pass, but has been foretold for millennia.
Black Panther for Lexus
Black Panther doesn't always ride on top of a Lexus to fight crime. Sometimes he drives one.
Matt Damon Presents Stella Artois
Matt Damon promotes the Stella Artois chalice, a product that "if just one percent of you watching this buys one, we can give clean water to one million people for five years" to communities in need.
Budweiser's "Stand by Me" Spot
Continuing the trend of beer commercials that don't actually mention drinking their beer, Budweiser also hypes their clean-water credentials, pointing to the fresh-water donations they've made to disaster relief. Also, Skyler Grey's cover of "Stand by Me" might make you tear up.
Bill Hader for Pringles
Over on the set of his fictitious WWII movie, Bill Hader and the crew are wowed by the infinite flavor combinations available to Pringles customers. Truly, this is how they do it on the farm.
Chris Pratt Gets Ripped for Michelob ULTRA
Chris Pratt whips himself into shape for his role in this Michelob Ultra commercial …
Michelob ULTRA's "I Like Beer" Musical Spot
… a journey make easier by the musical number that keeps popping up around him.
Jeff Bezos (and a Lot of Celebs) for Alexa
In their spot, Amazon wants to know what you fools would do if Alexa came down with a cold and lost her voice. Just kidding, they know what you would do: take sass from an army of willing celebrity Alexa replacements, from Cardi B to Anthony Hopkins.
Danny DeVito's M&Ms Commercial
This spot from M&M's confirms your long-standing belief that Danny DeVito is, in fact, a human M&M.
PETA Presents Father James Cromwell
In this unexpectedly classy PETA spot, James Cromwell serves as priest confessor to a meat executive who comes clean about the murky meaning of "free range" and other industry terms.
Coke's "The Wonder of Us" Spot
We're not tearing up during a fairly traditional Coke commercial. You're tearing up. Crying in your Coke over this commercial, that's you right now.
Skittles (Though Not the Actual Skittles Ad, Which You Presumably Will Never See)
While you will apparently never see the Skittles Super Bowl commercial, as it's only being shown to one person, you can still enjoy these teaser promos starring, you guessed it, David Schwimmer.
David Harbour's Infinite Tide Ad
Tide isn't going to deign to acknowledge what you people are doing with its laundry detergent pods. Instead, the brand has enlisted Stranger Things' David Harbour to cover alllllll its commercial bases.
Tide's Meta Old Spice Ads Starring David Harbour
Hey, remember all those Isaiah Mustafa Old Spice ads that made you want to buy Old Spice and be Isaiah Mustafa? Tide is banking on it.
Kia's Time Traveling Steven Tyler Spot
Young CGI Steven Tyler, meet 2018. While you're here, take a look at the many fine automobiles produced by Kia Motors.
NFL's "Dirty Dancing" Commercial
Eli Manning and Odell Beckham Jr. have the time of their life.
Jeff Goldbum's Jurassic Park Jeep Spot
Dr. Ian Malcolm's body might have escaped that terrible island, but his mind, oh, in his mind he never left. At least when he's sitting in a brand-new Jeep, that is!
Sprint's AI Commercial
It's your girl/android Evelyn, here to poke fun at your choice in phone providers. Hear her taunting laugh join with that of her synthetic brethren. That Evelyn!
Intuit "A Giant Story" Commercial
Meanwhile Intuit, makers of TurboTax, QuickBooks and Mint, imagines an enormous, round robot that doesn't laugh at you at all, but instead does your taxes and finds you a lover. To the future!
Keegan-Michael Key Explains Everything (for Rocket Mortgage)
One half of Key & Peele helps you understand mortgages, and all other aspects of human life, with the help of Big Sean.
That Crocodile Dundee Trailer That Turned Out to Be an Australia Tourism Ad
The Danny McBride Crocodile Dundee sequel you had sort of hoped for has, in the end, proved to be an elaborate commercial to promote tourism in Australia. We still had the best trip ever, didn't we?
Dilly Dilly
Dilly dilly!