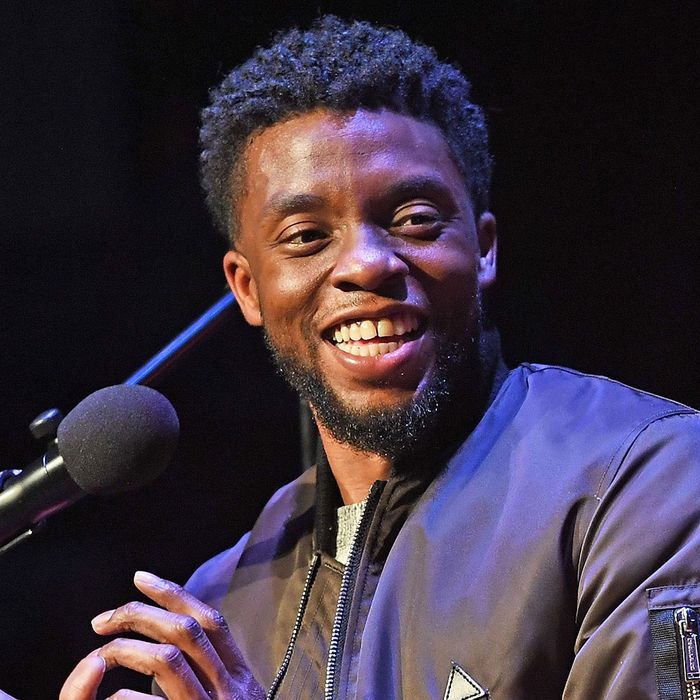 Chadwick Boseman and Lupita Nyong'o.
Photo: Shahar Azran/WireImage
As Black Panther continues to break box-office numbers, famed writer Ta-Nehisi Coates, who pens the current Black Panther comic-book series, sat down with the film's stars, Chadwick Boseman and Lupita Nyong'o, for a conversation at the Apollo Theater on Tuesday night.
Loud cheers filled the legendary Harlem theater as the panel began, and the excitement didn't simmer down as Coates, Boseman, and Nyong'o relaxed into their nearly two-hour conversation. The lively crowd was quick to applaud — like when Boseman imitated Winston Duke's M'Baku — and, as the actors explained, the atmosphere brought to mind the jovial feelings of the Black Panther set itself.
Nyong'o credited director Ryan Coogler for developing that positive atmosphere, which often gave way to what Boseman called "musical moments." In one instance, Nyong'o recalled, they busted out a karaoke session while filming T'Challa's first battle at the Warrior Falls. "The drummers started drumming to Snoop Dogg's 'Drop It Like It's Hot' and then the entire crowd joined in on that snooooooop snooooop. That's the moment that I really felt the pan-Africanism because we were all there," she said. "We're from Trinidad and Tobago, Guyana, Kenya, Uganda, Germany, the U.K., Zimbabwe, South Africa, Ghana, Senegal — you know, we're from everywhere. South Carolina, California, Canada, you name it. We were on this crazy cliff and we all knew Snoop Doggy Dogg's 'Drop It Like It's Hot.'"
But, as Boseman added, those moments also make him fear what his future films may lack. Black Panther was unique not only because of its nearly all-black cast, but also because of the black creatives who worked behind the scenes, including production designer Hannah Beachler, costume designer Ruth E. Carter, and hair stylist Camille Friend. "It's now scary to do another production," Boseman said, describing a time on the set of a previous film when a hairdresser who knew "nothing about black hair" tried to cut his hair. "I literally got up and walked out, called the producers, 'Hey, you better get somebody here to cut my hair 'cause I ain't having that.' You mess it up, I have to wear a wig for the rest of the movie," he said, as the Apollo crowd erupted into laughter. "Ya'll laughing. I'm serious, though. I've seen brothers sit there and let them cut their hair and they have to wear a wig for the rest of the movie. So this is the ridiculousness that we have to deal with."
Rest assured, Boseman has since made sure he gets his own barber. "I know I'm quiet to a certain degree, but then I get fanatical about things and I'm like, 'No, this has gotta be right.' And so I don't know how I'm gonna be now," he said. "I really don't know how I'm gonna be when I step on another set after doing this because it raises the bar so high."