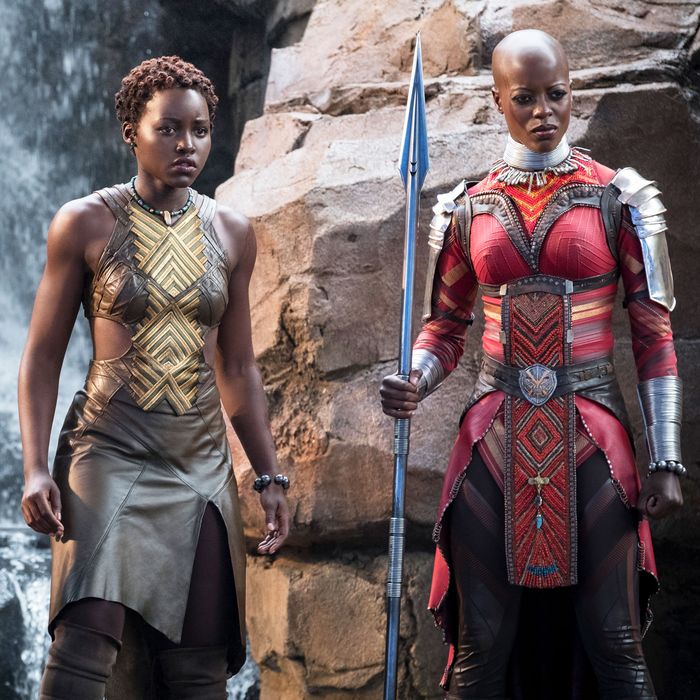 Danai Gurira, Lupita Nyong'o, and Florence Kasumba in
Black Panther
.
Photo: Matt Kennedy/Marvel Studios
It's hardly news for a Marvel Studios movie to win great reviews and even better box office, but the studio's latest comic-book entry, Black Panther, is poised to deliver all that and more. Early reactions to the Ryan Coogler–directed film are glowing, opening-weekend projections are through the roof, and one crucial laurel that has eluded the studio since its inception may finally be within reach: a golden Oscar statue.
None of the 17 blockbusters that make up Marvel's interconnected cinematic universe has so far won an Academy Award, and few of those movies have even received a nomination outside of the Best Visual Effects category. Not only do I suspect Black Panther will change that, I think there's one category where it already ought to be considered the front-runner, meaning the 18th Marvel Studios movie could take home the company's first Academy Award.
That would be the race for the Best Costume Design Oscar, a trophy that no Marvel film has yet been nominated for. Superhero costumes and modern-day looks rarely get the credit they deserve from the Academy, since often the costume category defaults towards pretty period frocks. But I expect Ruth E. Carter's dazzling Black Panther outfits will prove too good to ignore. Coogler and Carter have taken the fictional kingdom of Wakanda, where sci-fi futurism is rooted in African tradition, and created an aesthetic that isn't just unlike any other superhero movie, but unlike any other movie, period. From the regal, intimidating uniforms of the all-female warrior clan known as the Dora Milaje, to the gorgeous gold-and-leather outfits donned by Lupita Nyong'o's Nakia, to the breathtaking headpieces that showcase Angela Bassett's regal hauteur, Carter has served looks that are instantly iconic.
It's a massive accomplishment done on an incredible scale, given the many tribes we get a glimpse of in Wakanda. Even the more contemporary looks are stunning: Michael B. Jordan's "incognegro" ensemble of a shearling coat and glasses is too cool for words, and every single thing that Letitia Wright's hip sister Shuri wears looks like it came straight from the runway of your dreams. Expect people to be emulating these outfits at every Comic-Con from now until the end of time.
Carter has two previous nominations for the Costume Design Oscar (for Amistad and Malcolm X), and she'll likely be up against traditional year-end competition from films like Mary Poppins Returns, the royalty drama Mary, Queen of Scots, and the second installment of the Fantastic Beasts franchise, which won the Oscar in this category for its first film just two years ago. Still, I think any contender would be hard-pressed to top what Carter has done here. Carter's costumes make the movie.
Can Black Panther score any significant Oscar nominations beyond the Costume Design nod? Certainly: Its hair-and-makeup team deserves credit, though that branch often favors transformative and old-age makeup jobs. Cinematographer Rachel Morrison became the first woman to be nominated in that category this year for her work on Mudbound, and while she shoots Black Panther with aplomb, it's likely lit too much like most other Marvel movies to stand out. Best Picture is the biggest question mark: Coogler's film will surely have the box-office legs to prompt that sort of talk, though other big comic-book hits like Wonder Woman and Deadpool didn't make the final cut, and Marvel has rarely given the full campaign push to its most well-received movies like The Avengers and Guardians of the Galaxy.
Allow me to make one more suggestion, though: Michael B. Jordan ought to be considered as a candidate for Best Supporting Actor. His angry, covetous Erik Killmonger is the sort of villain you can't take your eyes off of, and his story line is rooted in the film's most resonant real-world themes of race and inequality. To honor him would be a tip of the hat towards Black Panther grounding its fantasy world in something tangible and urgent, and a pat on the back for one of our most promising actors. Ruth E. Carter's costumes surely deserve contention for an Oscar win, but over the next year as new contenders come and go, spare a moment to consider Black Panther's tragic foe.