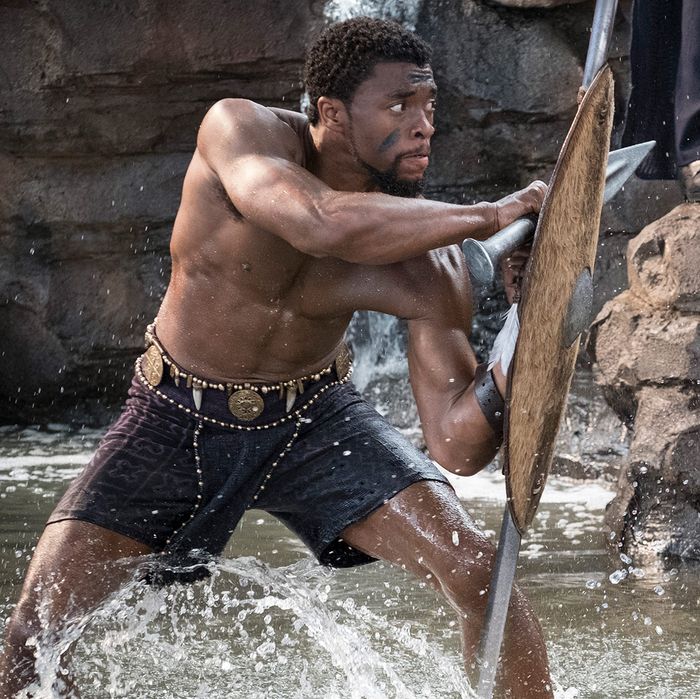 Black Panther is the boost of melanin your Black History Month deserves. From the costumes to the daddy issues to Angela Bassett's cheekbones, it's Marvel's richest offering. And Black Panther doesn't skimp on showing off its impossibly, preternaturally beautiful cast: Michael B. Jordan! Lupita Nyong'o! Winston Duke! Danai Gurira! Daniel Kaluuya! Letitia Wright! Ryan Coogler's movie isn't as openly horny as The Last Jedi — the Boseman-Nyong'o romance is a tasteful subplot — but there are a handful of very thirsty moments. Allow us to present the movie's six biggest thirst traps, but beware the spoilers below! We're only doing the thirsty Lord's work.
Museum Bae Erik Killmonger
(T'Challa, don't read this)
Uh … I'm team Killmonger, and I'm extremely I said what I said about this. Blah blah blah — Erik Killmonger is the first genuinely interesting Marvel villain — blah blah blah, but he's also Michael B. Jordan. And he's in a museum. Looking at art. "I'm just checking out these artifacts," he says when we first meet him, in a totally appropriate museum-level voice. Killmonger even has a polite tête-à-tête with a museum curator who doesn't really have any idea what she's talking about (… before killing her). I like museums, Killmonger! I too would like to learn more about African art, Killmonger! (Minus the murder.) His introduction is coy in one sense — in that early scene, he's just a supporting player in one of Ulysses Klaue's (Andy Serkis) schemes — but deliciously devilish in another. "You're not telling me that's vibranium too?" Klaue asks as Killmonger makes off with a tribal mask. "Nah. I'm just feeling it," Killmonger replies. Feeling it? How 'bout [redacted].
Angsty Erik Killmonger (specifically his chest)
(T'Challa — again — not for your eyes)
"Imma burn it all down," Killmonger declares. Here. Let me help you with that.
Museum Bae Killmonger is a thirst hors d'oeuvre. It's a thirst side of kale, or a thirst Clif bar. Angsty Killmonger, the "villain" — because, really, that depends on your vantage point — is the thirst chef's special. To take over T'Challa's throne, Killmonger has to defeat him in ritual combat. The sheer breadth of this man's shirtless chest! The glimmer in his eyes! When he slipped out of his shirt, the Hollywood Chrises issued their letters of resignation. Charlie Hunnam had to take a seat. Henry Cavill deleted his Instagram. Trevante Rhodes clutched his chest. Put Killmonger in a tomb for three days and let him walk this Earth again, like Jesus!
T'Challa holding out his arms, walking toward Killmonger
Most of the time, Chadwick Boseman strikes me as the cousin most likely to bring up your grades at Thanksgiving dinner, or to be the first one to volunteer to help Granny clean up the kitchen. His utter wholesomeness is … not for me. But! When T'Challa makes his surprise rise from the dead and returns to battle Killmonger, he spreads arms wide, almost like he's daring you to desire him.
Danai Gurira stopping Daniel Kaluuya dead in his tracks
One of Black Panther's two flaws is that it rudely ends after two hours and 15 minutes, denying us an entire sequel devoted to everything going on between Okoye (Danai Gurira) and W'Kabi (Daniel Kaluuya). (The other flaw is that there's no Mahershala Ali.) Contrary to initial reports, Okoye appears to be straight in Black Panther, and in a long-term relationship with W'Kabi. While this relationship closes the door on groundbreaking LGBTQ inclusivity in the MCU, there's still something to celebrate. During the climactic final fight between Wakanda's tribes, Okoye and W'Kabi — the former, supporting T'Challa, and the latter, supporting Killmonger — stand face-to-face. "Would you kill me, my love?" W'Kabi asks.
The first level of this is Kaluuya's line delivery: just heartbreaking enough to make you want to comfort him. The other level is Okoye's response. She stops just short of Sweetheart, duh: "For Wakanda? No question," she says. W'Kabi drops his knife and drops to his knees. Phantom Thread, your status as the year's most obsessive satisfying romance has been put on notice!
M'Baku's height
Welcome to your new crush on Winston Duke. The actor plays M'Baku, leader of Wakanda's mountain-living Jabari tribe. Winston Duke is the tallest man I've seen with my two human eyes. He also has the movie's second-best sense of humor. When CIA agent Everett K. Ross — a white man — dares to speak in his presence, M'Baku just starts barking. (Imagine barking to drown out whitesplaining! Our world would be a very different place!) It's very cute that Black Panther posits there's a way Chadwick Boseman's thighs could take down Duke in ritual combat. Ain't no way. If there's justice in the world, Black Panther will birth two honest-to-goodness movie stars: Letitia Wright and Winston Duke.
Bucky's last-second appearance
Black Panther's primary romance is between T'Challa and Nakia, exes who eventually decide to give it another go. But in the movie's post-credit scene, Bucky Barnes (Sebastian Stan) shows up, walking out of Wakanda hut. It turns out that girl genius Shuri (Wright) cured Bucky of his Hydra problems, but … am I detecting a little bit of flirtation in the way that she grins at Bucky? By her own admission, Shuri does like fixing broken white boys, after all.
Honorable Mention: Ryan Coogler saying "Luca," as in Call Me by Your Name director Luca Guadagnino
*Clears throat roughly* So this isn't in Black Panther's final cut, but it should absolutely arrive as a home-video extra: When Yahoo Movies sat down with Coogler, they told him that Guadagnino told them he wished he could have directed Coogler's movies Creed and Black Panther. Yahoo Movies doesn't name Guadagnino directly, leaving Coogler to simply say, "Luca." What a singularly sexy moment: the depth of his voice, full of genuine admiration.