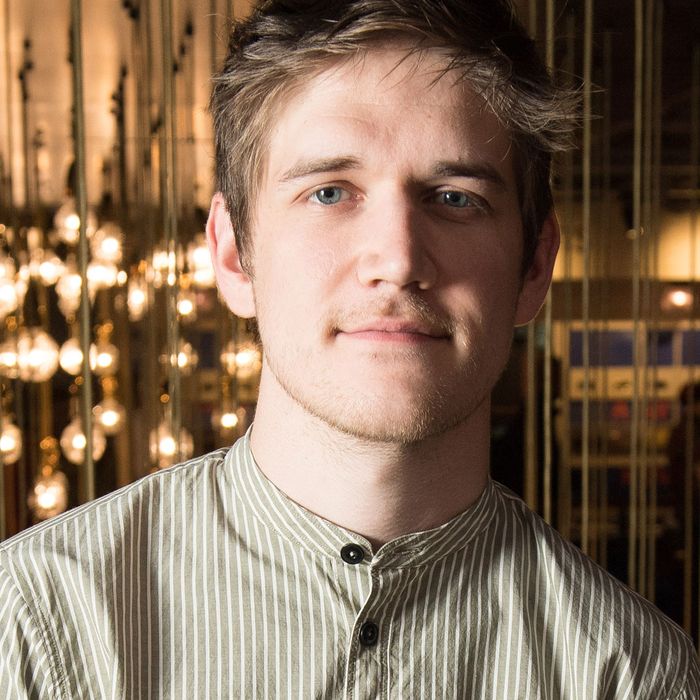 Photo: Jeff Spicer/Getty Images
When Chris Rock abruptly announced yesterday that Tamborine — his first of two intensely anticipated Netflix specials — would be premiering in less than 24 hours, comedy fans let out a collective "Finally!" Not only was Rock's record-breaking deal with the streaming goliath announced all the way back in 2016, but he spent the majority of 2017 on the highly publicized, globe-stretching Total Blackout Tour. The people were salivating for a final, totalizing televised event that they could watch in the comfort of their own homes. Well, Tamborine has arrived, and it's the veteran comic's first standup special since 2008's Kill the Messenger.
What makes Rock's rousing return an even more enticing strain of comedy catnip is the talent he enlisted behind the lens. Comedian Bo Burnham is at the helm of Tamborine, and as director he brings the similarly cinematic and hypnotic visual polish to the proceedings like he did last year for his good pal Jerrod Carmichael's HBO special 8 (not to mention his own two avant-garde hour-longs, 2013's What and 2016's Make Happy). Tamborine finds two different generations of comedy creatively colliding in the best way possible.
Bo hopped on the phone with me to discuss how he came to direct Tamborine, what it was like to work with the comedy legend, and why he prefers being behind the camera over performing these days.
Can you walk me through how you came on board to direct Chris Rock's first special in a decade?
Chris had seen Jerrod Carmichael's special 8 that I directed last year and he just really flipped for it. He asked Jerrod who directed it and it was me, so then I met with him. I went to see one of his live shows and just briefly talked to him about the possibilities of what this special could be like and look like. We seemed to vibe pretty quickly.
Rock has been performing on the Total Blackout Tour since last year. How deep into the tour was it when you began filming? As a comedian, was it important for you to be familiar with his set to help your creative decisions behind the camera?
I first saw him in St. Louis about four or five months before we filmed and caught him a couple more times between then. It was important to be familiar with his material in terms of his specific pace, how he moves, where he slows down, where he gets more intimate, things like that. The special to me has two very specific halves. The front half he's delivering this classic Chris Rock stuff that you know and expect from him, stuff about the world and politics and the state of culture. Then in the second half he goes personal in a way that he never has before. So it was just getting a handle on where that was happening in the show and trying to do subtle visual changes over the course of the special and in the coverage that would suit it.
From a creative and structural standpoint, did you approach Tamborine in ways that were significantly different than 8?
You know, specials are obviously very specific. They're not a director's medium. They're obviously the comedian's medium. My direction has nothing to do with the actual content of the special. I approached Tamborine pretty similarly to how I approached Jerrod's, which was me taking stock of the feelings that I get out of watching this person perform and asking, "How can I recreate that for the audience as best as possible? How can I make a good container for the thing?" But the thing is being provided by them, so a lot of directing is just getting out of their way. But Jerrod is still a relatively new dude in the scene, and Rock is just this legend, so regarding that, my approach had to be different just in terms of what he means on stage.
So what kind of conversations did you and Rock have about the particular look and rhythm you wanted to capture for this special?
My big thing when we would talk about this stuff was reminding him: "You're the show. You're all the production design we need." So I just wanted to build something around him that was very simple and stark. There is some big theatrical lighting, but it's all very controlled. It's kind of monochromatic, too. It's just classical and very him. It's also a very intimate space for Chris. We filmed this special at the BAM Theater in New York and it's only 800 seats, which for him is very, very small. So as a director I just tried to shoot it in a way that does justice to him. He is so big and larger than life and he's doing this contained, intimate show, which is a fun dynamic. It was a ton of trial and error but totally collaborative.
From your impressive camerawork to the way in which you frame certain shots, your direction manages to be subtle yet cinematic. Is there a particular aesthetic you're trying to bring to standup specials?
Something stylistically that me and my DP [Andrew Wehde] both like is trying to bring very intentionally-placed extreme close-ups back into specials while taking away unnecessary jibs, bullshit crane shots, and audience cutaways that don't really add anything to it. It's also been this ongoing collaboration with my lighting designer Marc Janowitz, who has helped me with my own specials, Jerrod's, and now Tamborine. So with this special I was trying to set a really simple yet memorable look and classic feel. We're not putting in purple gels and blue beams of light. We wanted it to look like the old theater lighting of the '70s, what you might see in Lenny's or Richard Pryor's old specials.
But specials are very difficult. It's an entire production crammed into a few days with just one chance to get it right. So it was important to make this to feel alive. A big part of this — and it was something that Chris really wanted — was to feel the intimacy of the space and feel how close the audience was to him. In a lot of his other specials he's playing to 3,500-seat theaters where the stage was towering above the crowd. But in Tamborine, he's six feet away from the front row. And because of the space, the audience is almost ranked above him, and it feels like he's cornered by them a little bit this time. We are just trying to elevate specials to a place we feel like they deserve. So many specials are being cranked out every single week now that they tend to feel cheaply digital and crappy. So when you're given the opportunity to make one for Chris Rock you have to try to step your game up. [laughs] I wanted to make something worthy of him.
Do you see yourself continuing to drift away from performing and more toward being permanently stationed behind the camera?
I still go to Largo once in a while to fuck around. I just think of myself as out of performing for now. I go perform there once a month if I'm bored. Directing is, at least for now, what I feel like I'm really interested in and it's been exciting to be able to do it. But it's not like I'm going into any of these specials trying to apply my own voice. It's more just me as a comedian — as someone who's been on the other side of it — knowing how to serve people's act correctly. I just made a feature film and that, as a director, is when you're in charge of everything. But when I'm directing specials I'm just there to serve the comedian and serve their vision. And it's my job to just listen to them and interpret them and present them. The first ten credits on this special should be Chris Rock, not me, ya know?
Your feature debut Eighth Grade was the most favorably reviewed film at Sundance back in January. Was it difficult to toggle back and forth between directing and editing that while going off to direct and edit Tamborine?
It was a relief to get out of my head. It was nice to escape the dark editing room of my film and be able to work on something else. I mean, it was a little stressful for a bit there, but specials really just are two weeks of really hard and intensive work. It's a short-term enough job that I could pop in and out, but it definitely benefited my state of mind. I was sort of stuck in a small room editing Eighth Grade twelve hours a day. So to be able to step out and do something else was nice. I also have a good team around me that I trust. We have a rhythm, but it's not like these things get any easier. Every special that we do we're like "Man, we are never doing one of these again!" [laughs] But I'm really proud of this special.
Photos by Kirill Bichutsky/Netflix.
Erik Abriss is a writer living in Los Angeles.