Superhero movies are known for their bluntness, but Venom exists in a fog of ambiguity. The title character is a superpowered antihero who was born in the pages of Spider-Man comics, and Spidey now exists in the Marvel Cinematic Universe. But does Venom swing alongside him in that corner of Hollywood? Reports have been conflicting on that point, but the first teaser trailer makes one thing very clear: This sure won't feel like an MCU movie. What we see from the R-rated flick is a lot of anguish, oodles of muted color, and nary a single quip or zinger. Sony (which owns the film rights to the Spider-Man characters, despite sharing Spidey himself with Disney for MCU pictures, just to make this matter even more confusing) is clearly trying to court the Logan voters out there, and if you're into that sort of thing, there's a lot to get excited about here. Let's put on our symbiote costumes and dive in.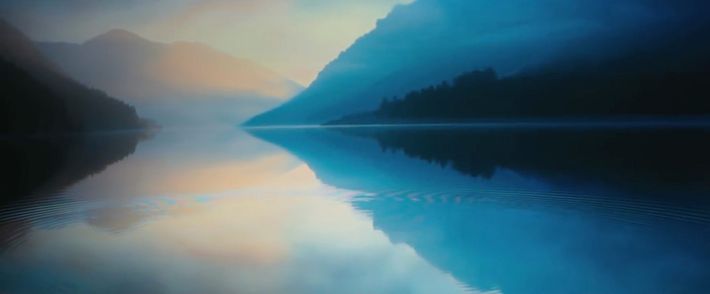 Wait, I take it all back — we're opening on a placid lakeside vista! Maybe this movie will be like one of those Nordic "slow TV" things where you just look at footage of a river for five hours.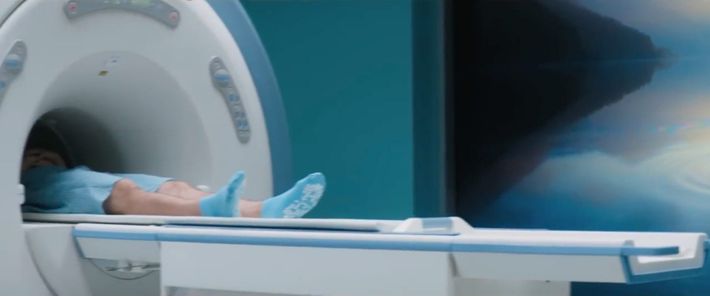 Ah, dammit. It was just a backdrop in some kind of medical facility where a dude's undergoing a scan. This is, presumably, Tom Hardy's Eddie Brock, who we'll speak more about in a moment.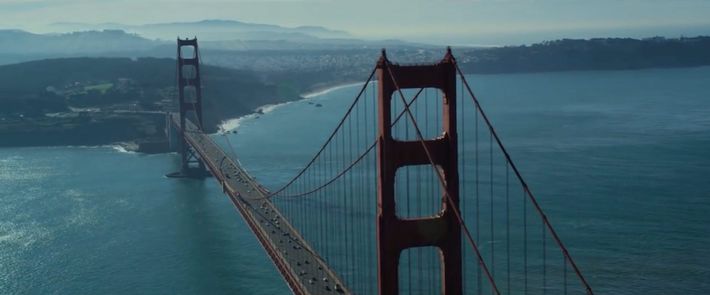 Between this flick and Ant-Man and the Wasp, it's gonna be a big year for superheroes in San Francisco. The latter opted to set its scene with the Bay Bridge, which was a slightly deeper cut, but Venom just lays it all out there with the Golden Gate. We can only hope that X-Men: Dark Phoenix gives some love to the San Mateo.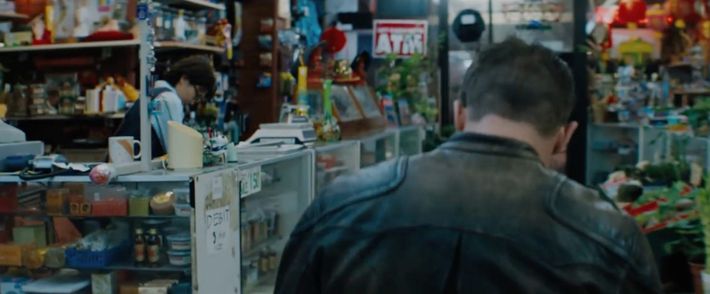 We follow the aforementioned Eddie as he lumbers through the streets, angled like a man staring at his phone but probably just contemplating, bro. We don't know a ton about the film's depiction of Eddie just yet. In the comics, he was a journalist with a vendetta against Spider-Man who inadvertently became bonded with a pile of extraterrestrial goo that once belonged to Spidey. The glop was a "symbiote," meaning it entered into a give-and-take relationship with its hosts, and formed a kind of black-and-white costume around the hosts' forms. It also had a dark imagination and wanted bad things to happen to people. Eddie, after his bonding, started going by the nom de guerre of Venom and would alternately enjoy the power of the symbiote and struggle to rid himself of it. He has been both antihero and sympathetic villain over the years. But much of that may change in the film. In an on-set photo, it appears that the filmic Eddie was, at one point, in the military. That pic led fans to theorize that Tom Hardy's version will be a mash-up of Eddie and another person who has worn the symbiote costume in the comics, Peter's old schoolyard bully Flash Thompson. In Flash's recent stories, the U.S. government gets control of the symbiote and bonds it with him so he can do black-ops work. He does so and internal struggles with the symbiote ensue. We've seen a promo image that seems to depict this Eddie as a journalist, and producer Matt Tolmach said of him years ago (things may have changed since then), "He was a journalist. He had the wrong story, he got in trouble for it." So maybe he's a warrior turned reporter? It's certainly more likely than a reporter turned warrior, as journalism is a profession that generally produces sloth and physical cowardice. I speak from experience.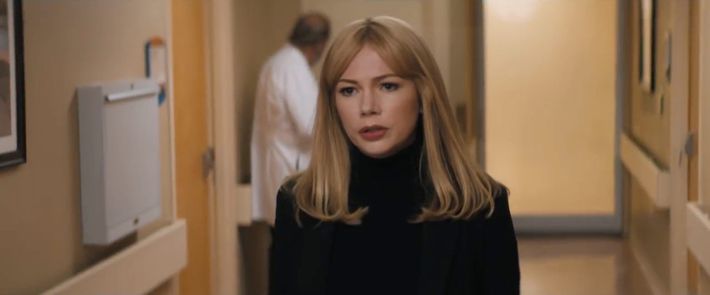 This here is Michelle Williams's Anne Weying, the female lead. In the comics, she's Eddie's ex-wife, and she at one point bonds with the symbiote, too, becoming (ugh) She-Venom. Her tenure in the organic suit doesn't last long, but it contributes to a mental breakdown that leads her to commit suicide. Here's hoping Williams gets better material to work with in the movie.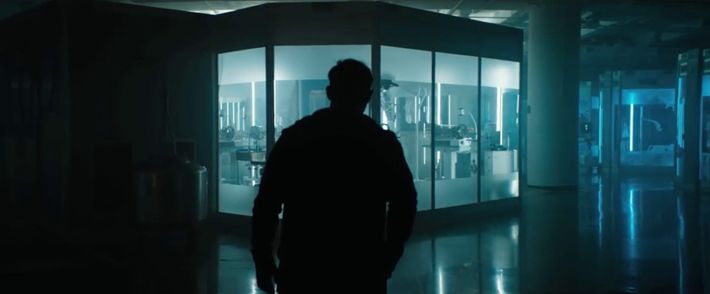 Eddie (we presume) wanders around some kind of science-y place after dark. This could be the Life Foundation, an organization mentioned in that promo photo from before. In the comics, the Life Foundation was an eeeeeevil company that manufactured Venom knockoffs. And what would the superhero genre be without eeeeeevil companies?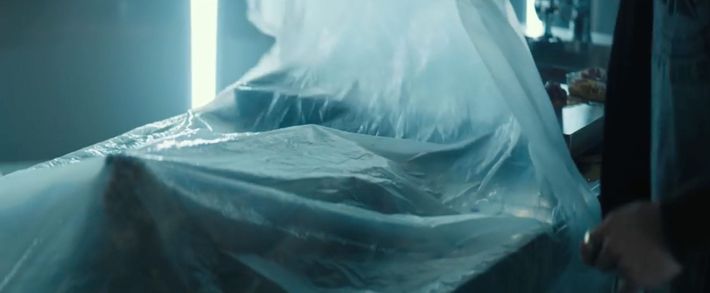 There's been some unremarkable Hardy voice-over throughout the trailer up until this point, rambling on about how "everyone's got their thing" and when this image pops up, it mentions one possible "thing" being "a death." So we're led to believe this is a corpse, yes? We can see what looks like a foot, but … where's the rest of it? I think we can safely say that dismemberment will be the order of the day in this picture. Yummy!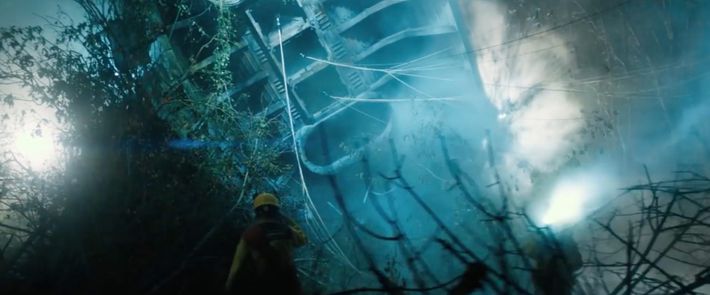 The VO then cites another possible "thing": "an accident." As it grumbles those words, we see investigators in hazmat suits looking at some strange wreckage. If this isn't a crashed alien ship containing the symbiote, I will print out this post and eat it.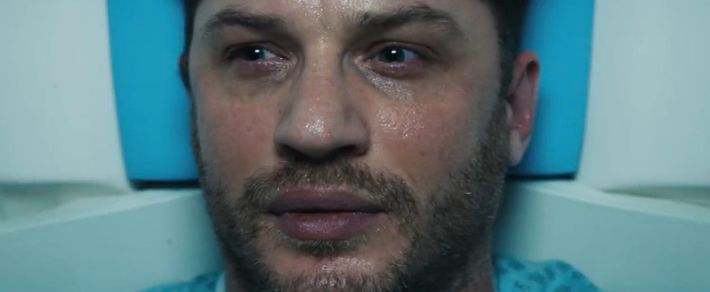 We get it confirmed that the guy on the table is, indeed, Eddie. But at what point is this happening? Has he bonded with the symbiote yet and is being examined? Or is he being treated for issues that lead him to need the symbiote? The goo has often been depicted in the comics as a Faustian cure for the sick and dying, so maybe he gets terminally ill and volunteers for a trial that goes awry?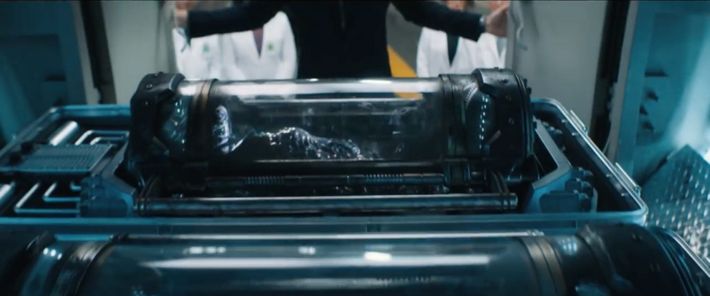 At last, we see the symbiote everyone's so hungry for. But who's gazing at it in its vacuum-sealed container?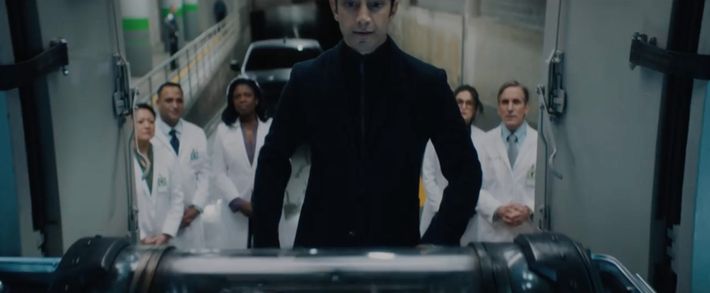 Why, it's none other than the great Riz Ahmed, who may or may not be playing billionaire industrialist Carlton Drake, head of the Life Foundation. In the comics, he's one of those morally deficient CEO types that superhero fiction loves so dearly, always choosing profit over people and dangerous experimentation over public safety. Formulaic, yes, but hey, any excuse to look at Riz Ahmed, am I right?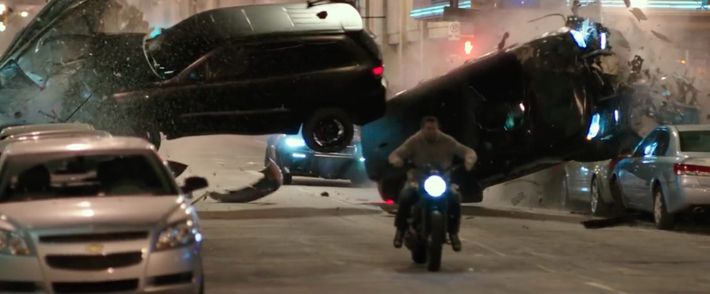 Fear not, Fury Road fans — you will, indeed, see Tom Hardy driving very fast in Venom.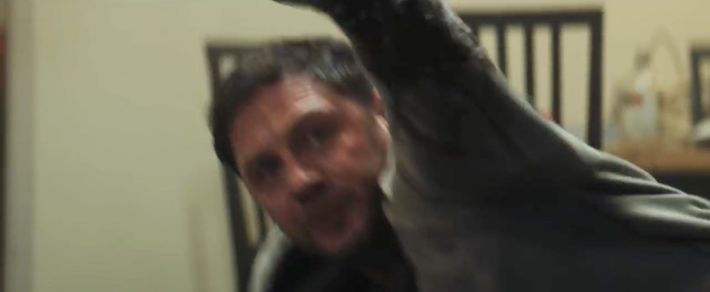 Okay, so this is interesting. The trailer uses two (possibly unrelated) shots in quick succession that indicate an unusual superpower for Venom. First, Eddie gestures into the air, then …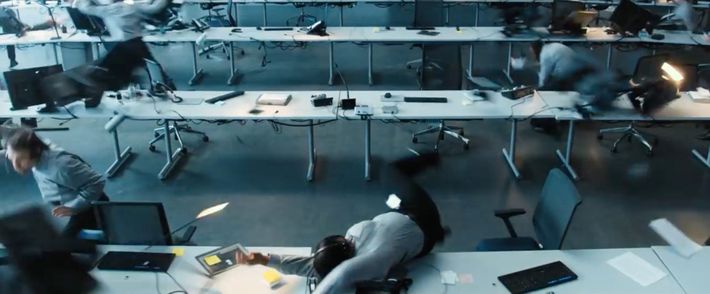 … a bunch of folks go flying. In the immortal words of Tenacious D: that's telekinesis, Kyle. Typically, Venom doesn't have such capabilities, so maybe the movie's putting Eddie into God Mode? That would be unfortunate, as too-vast power sets are quite boring.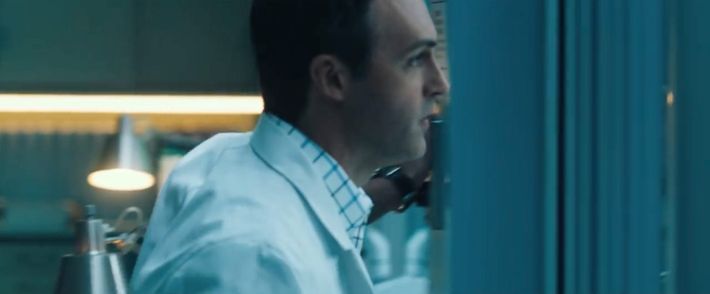 Hey hey, it's Reid Scott, a.k.a. Dan from Veep! He appears to be playing a Life Foundation scientist, and he's terribly concerned about what's happening. Seeing him in a superhero movie is like watching a baby smoke a cigarette. It's kind of cool, but also very disturbing.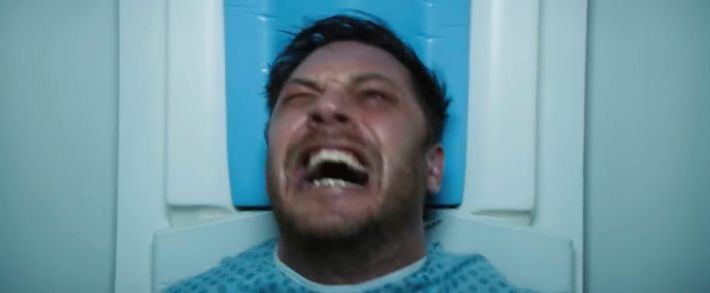 What, you thought you could get through a trailer for a movie starring Tom Hardy called Venom without seeing him wiggle around and yell really loud?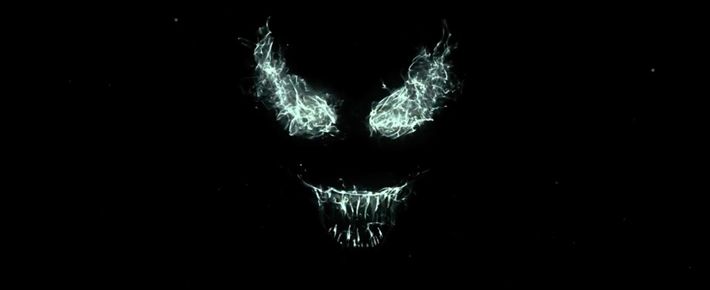 The trailer ends with the visage of Venom, or possibly Frank from Donnie Darko. Hey, a power fantasy's a power fantasy.