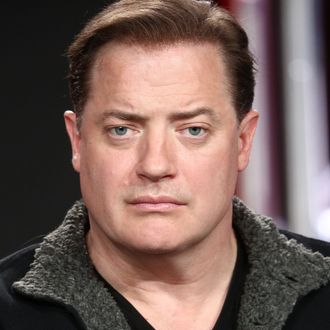 Brendan Fraser.
Photo: Frederick M. Brown/Getty Images
After a period of movie superstardom in the late 1990s and early 2000s, Brendan Fraser fell into obscurity. In a long profile for GQ timed to his return to TV in Trust, Fraser digs into the long arc of his career, claiming he backed away from Hollywood, in part, after being sexually assaulted by the former president of the Hollywood Foreign Press Association Philip Berk at a luncheon in 2003. Fraser claims Berk reached around, grabbed his behind, and that "one of his fingers touches me in the taint. And he starts moving it around … I felt like someone had thrown invisible paint on me," Fraser said.
According to Berk, he pinched Fraser's ass in jest — and when Fraser's reps asked the HFPA for a written apology at the time, he wrote one, but claimed to GQ that it "admitted to no wrongdoing" and that "Mr. Fraser's version is a total fabrication." In the wake of the experience, Fraser started to become depressed, blaming himself for overreacting and not knowing how to deal with his shame, saying it "made me retreat. It made me feel reclusive." While other factors contributed to the decline of Fraser's career — elsewhere he describes the extensive surgery necessary to recover from the physical exertion of the Mummy franchise — this trauma was certainly part of it. It messed with his sense of "who I was and what I was doing," he said. "In my mind, at least, something had been taken away from me."
Update, February 23: The HFPA has responded to Fraser's claims saying in a statement that it had no prior knowledge of the allegations and has opened an investigation into them.
"The HFPA stands firmly against sexual harassment and the type of behavior described in this article. Over the years we've continued a positive working relationship with Brendan, which includes announcing Golden Globe nominees, attending the ceremony and participating in press conferences. This report includes alleged information that the HFPA was previously unaware of and at this time we are investigating further details surrounding the incident."