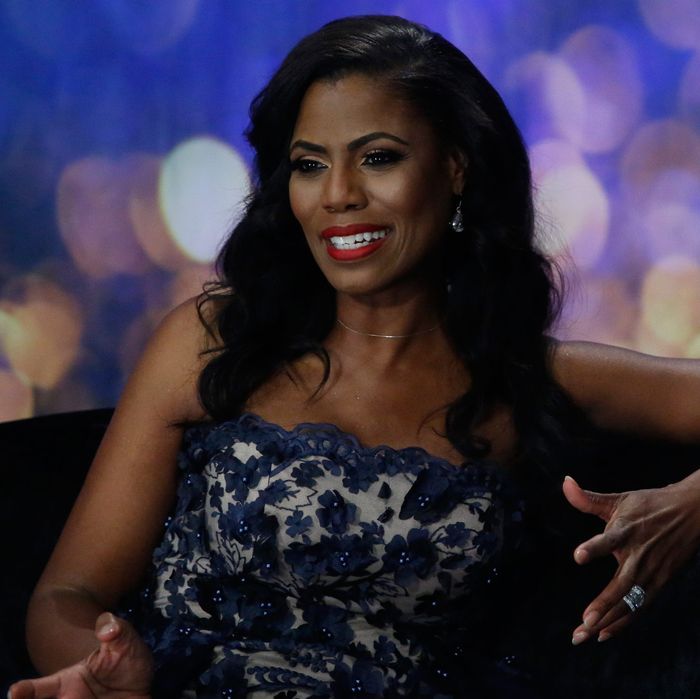 Omarosa.
Photo: Cliff Lipson/CBS
After 21 U.K. seasons without a version to call our very own, it's true, America finally has Celebrity Big Brother. The reality show premiered Wednesday night, with good ol' Julie Chen at the helm four times a week (take that, The Voice!), giving CBS All Access subscribers something to look forward to — that is, if they'd like 24-hour access to security-style footage of C-listers taking showers and sleeping. Of course, Big Brother certainly has its die-hard fans, who'll watch for all the strategic bullying, alliance forming, and straight-up fighting that comes with each house. This is a show where people compete for a cash prize by quite literally isolating themselves from the outside world, the news, and most importantly, Twitter.
Imagine all of that mayhem and then add celebrities. The U.K. version of Celebrity Big Brother wasn't just for British celebrities, though. It hosted the likes of rapper Coolio, blogger Perez Hilton, The Hills' Spencer and Heidi Pratt (who were on both season 11 and season 19), actress Tara Reid, boxer Evander Holyfield, Michael Jackson's brother Jermaine Jackson (who placed runner-up on season five), Sylvester's mom Jackie Stallone, Brandy's brother and sex-tape maker Ray J (who left after one week on season 19), Teen Mom's Farrah Abraham, Kardashian BFF Jonathan Cheban, and our greatest export, actor Gary Busey, who straight-up won season 14. Not a bad list of oddball American celebs.
But if you're reading through this season's cast list and thinking to yourself, "Celebrities? That's generous," then you're not alone. This season, none of the contestants really seem to know each other, although everyone knows exactly who Omarosa is. (Well, almost everybody, but more on that in a second.) Seriously, the fact alone that Omarosa was pushed out of the White House and fell right into the first U.S. edition of Celebrity Big Brother makes this show worth a look. Whether you're pumped about this newfound house of has-beens or you're still deciding whether you'll be setting your DVR, here's exactly who everyone (else) is, plus our uneducated guesses on how far they'll get in the competition.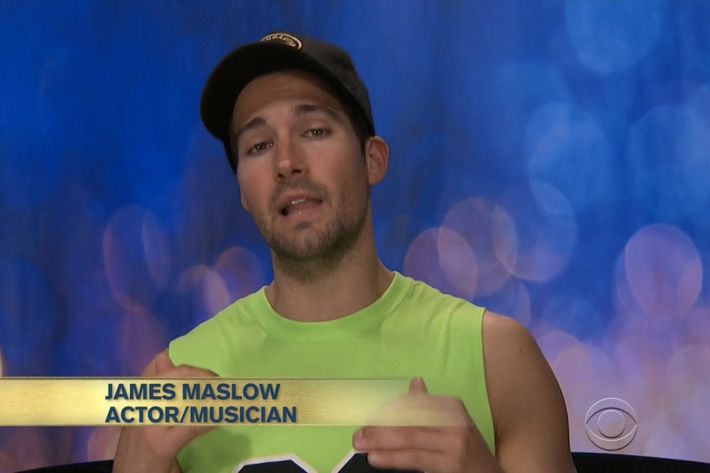 Who? James Maslow.
Really, who? Actor-singer who was in Nickelodeon show-slash-boy band Big Time Rush. "Social media's a huge part of my life," he says in his introduction video. Either pretends to or actually doesn't know who Omarosa is, asking her "who" she apprenticed for on The Apprentice.
First impression: Doesn't know who he's up against, and makes enemies the minute he steps in the house by being annoying.
Odds he'll win: 16 to 1.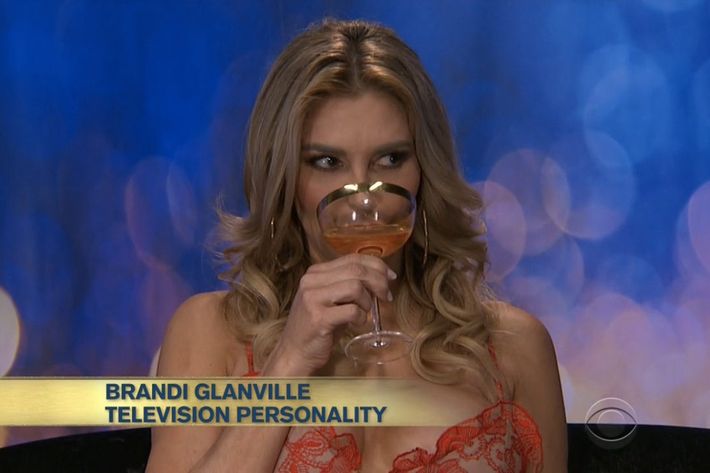 Who? Brandi Glanville.
Really, who? A former The Real Housewives of Beverly Hills contestant, whose ex-husband (Eddie Cibrian) cheated on her with his now-wife, LeAnn Rimes, after they met on the set of a Lifetime made-for-TV movie. Placed 11th on Celebrity Big Brother U.K. season 20.
First impression: Has played the game before, but can't seem to get along with anyone.
Odds she'll win: 11 to 1.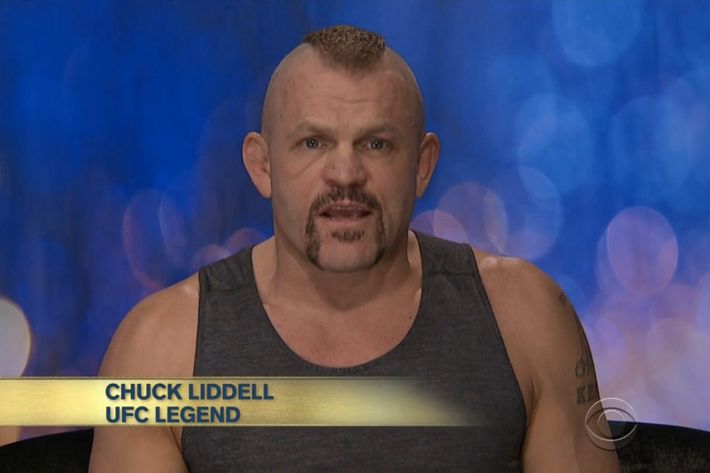 Who? Chuck Liddell.
Really, who? Retired mixed-martial artist and UFC Hall of Famer. Played himself on Entourage once and did season nine of Dancing With the Stars (on which he placed 11th).
First impression: Seems too aggressive to make friends or stay under the radar.
Odds he'll win: 9 to 1.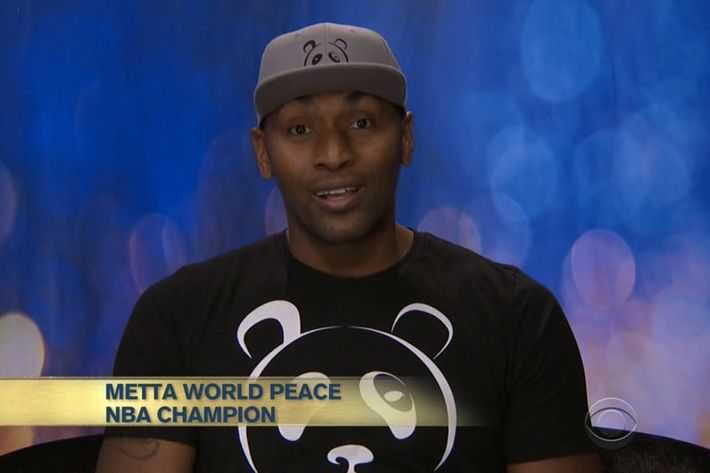 Who? Metta World Peace.
Really, who? Former NBA player, formerly known as Ron Artest. Also appeared on a season of Dancing With the Stars (season 13) and placed last. His ex-wife, Kimsha, was on one season of Basketball Wives: LA.
First impression: Admits that he's a Big Brother newbie, barely fits on any of the beds.
Odds he'll win: 8 to 1.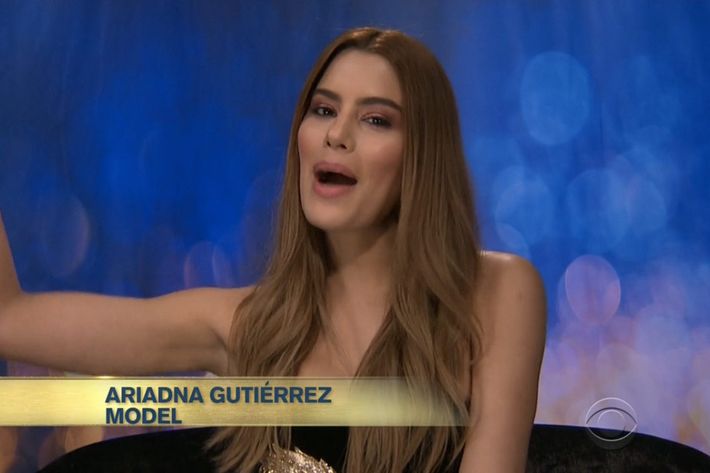 Who? Ariadna Gutiérrez.
Really, who? Miss Colombia 2014 and runner-up in Miss Universe 2015, who was accidentally crowned Miss Universe when host Steve Harvey accidentally misread the envelope. Played Gina Roff in 2017's xXx: Return of Xander Cage.
First impression: Seems a little too happy-go-lucky to really play the game.
Odds she'll win: 7 to 1.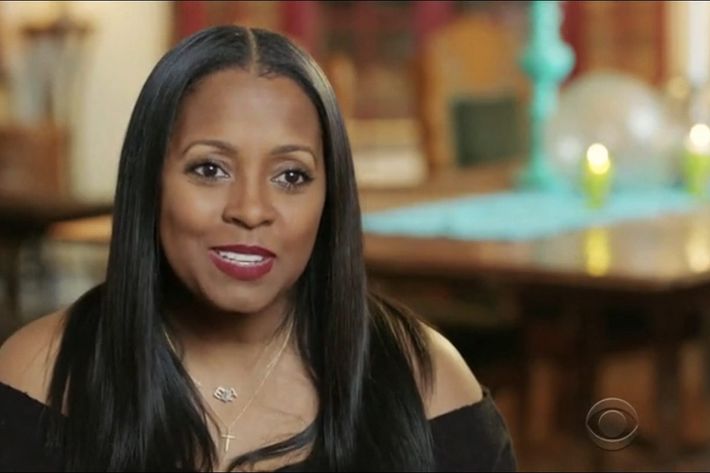 Who? Keshia Knight Pulliam.
Really, who? Oh, you don't recognize a grown-up Rudy from The Cosby Show? Maybe you recognize her from the slew of competition shows she's appeared on since: celebrity versions of Fear Factor (won) and The Weakest Link (won), as well as Celebrity Mole 2: Yucatan, Splash, and The Celebrity Apprentice (in which she was the first eliminated).
First impression: With a competition show pedigree like this, she's definitely someone to watch. But she barely appears in the first episode (which is why the above screenshot is different than the rest), so she could easily be picked off.
Odds she'll win: 7 to 1.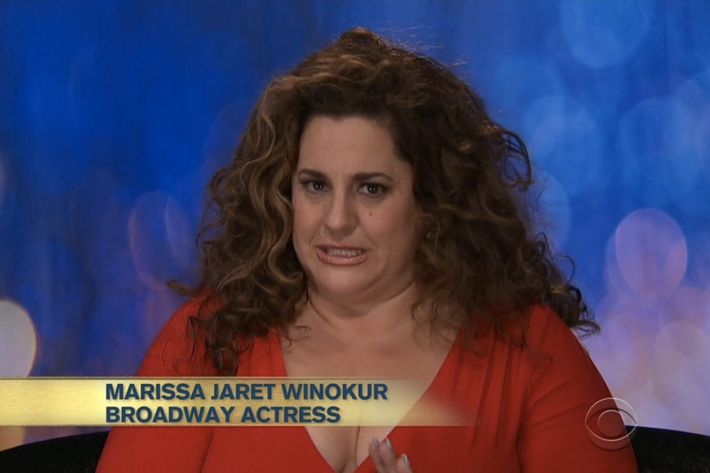 Who? Marissa Jaret Winokur.
Really, who? Tony-winning Broadway actress, who starred as Tracy Turnblad in Hairspray. Got in a fight with Larry David on Curb Your Enthusiasm. Placed fourth on Dancing With the Stars season six.
First impression: Self-professed Big Brother "superfan," her perky sense of humor and generally affable nature could also take her very far.
Odds she'll win: 6 to 1.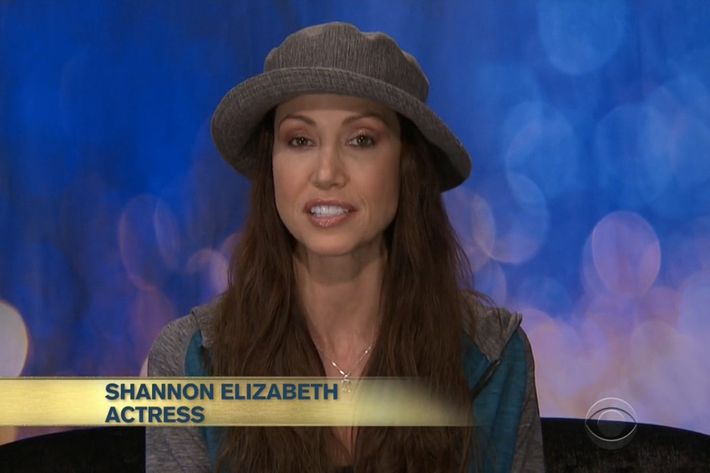 Who? Shannon Elizabeth.
Really, who? Actress who, most notably, played foreign-exchange student Nadia in American Pie. She also had a second career as a poker player, playing in the World Series of Poker quite a few times. Placed seventh in season six of Dancing With the Stars.
First impression: Also a Big Brother "superfan," her vibe reads likable and generally Zen. Maybe it's because she left Hollywood to start a nonprofit animal rescue organization in South Africa?
Odds she'll win: 6 to 1.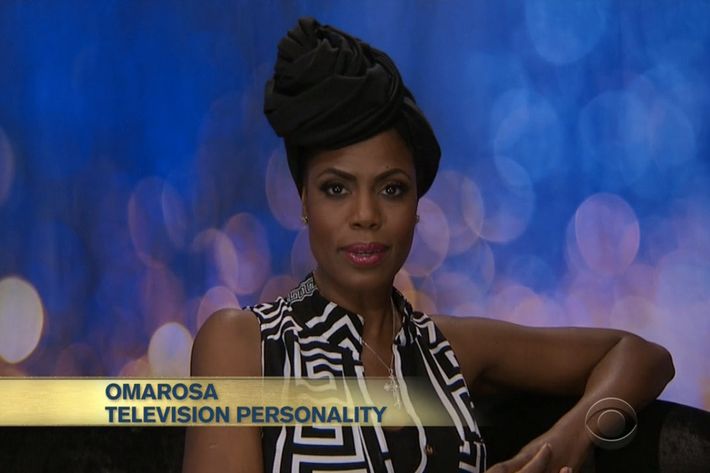 Who? Omarosa Manigault.
Really, who? Have you been living under a rock? (Lucky!) After playing villain on season one of The Apprentice, the now-mononymous Omarosa was hired into Donald Trump's White House as the director of communications for the Office of Public Liaison. She "resigned" from the White House in December. (The Apprentice isn't her only foray into competition TV. She was also on The Surreal Life and Fear Factor.)
First impression: She's terrifying! Already manipulating the women of the house into a #MeToo-inspired (quite literally their words, not mine) alliance on the very first day. Also, America might wanna keep her around in case she spills anything on the Trump administration.
Odds she'll win: 3 to 1.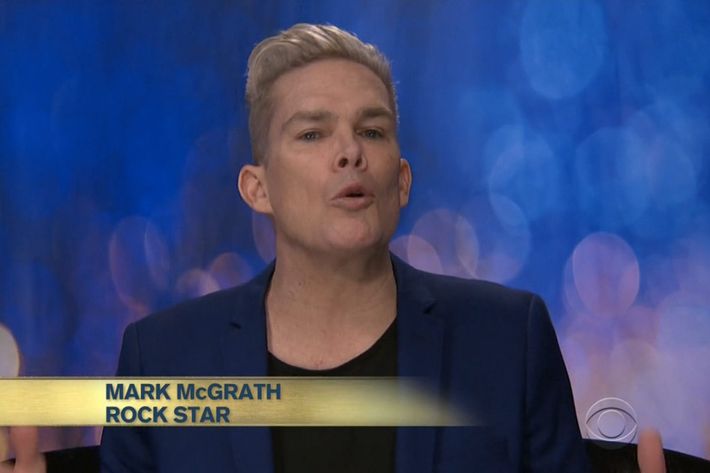 Who? Mark McGrath.
Really, who? Sugar Ray lead singer, former co-host of Extra and host of such shows as Killer Karaoke, Don't Forget the Lyrics!, and Pussycat Dolls Present: The Search for the Next Doll. Let's just say he's someone who seems to never say "no" to a hosting gig. Competed on Celebrity Apprentice season four and finished in tenth.
First impression: Now this is a guy who can carry on a conversation with a damp towel. He's a guy's guy, too, immediately fawning over the sports guys in the first episode. A little charm can go a long way and he has a lot of it.
Odds he'll win: 3 to 1.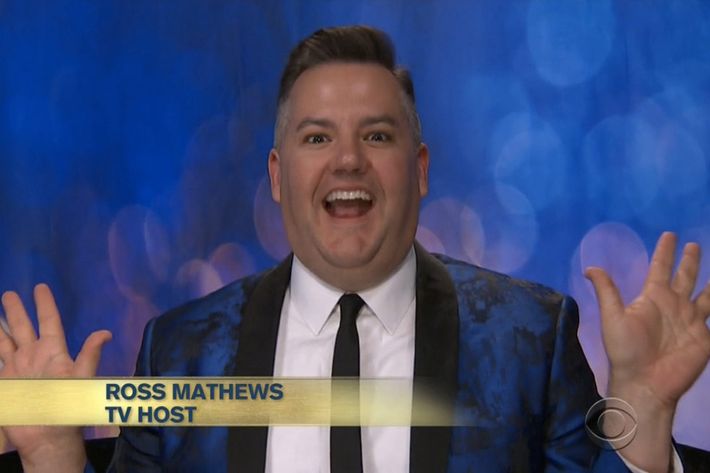 Who? Ross Mathews.
Really, who? "Ross the intern" from The Tonight Show With Jay Leno, who catapulted himself into Hollywood, appearing on Chelsea Lately, Hollywood Today Live, and Live From E! (This guy has been on a lot of daytime TV and awards-show red carpets.)
First impression: Mathews comes out swinging, claiming to be Big Brother's biggest fan because he hosted an entire talk show dedicated covering it called Inside Dish. (He also attended the taping of the season one finale.) Much like Mark McGrath, he's a born schmoozer. It's clear he's got the charisma to BFF everyone in that house, for as long as he can survive being shut off from celebrity news.
Odds he'll win: 2 to 1.