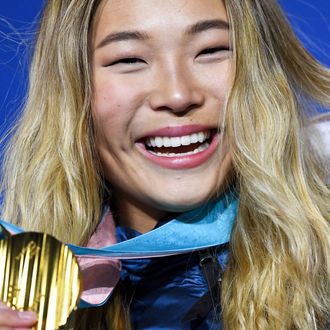 Teens!
Photo: Kirill Kudryavtsev/AFP/Getty Images
Every other Olympic female snowboarder competing in the halfpipe Monday night was worried about beating 17-year-old phenom Chloe Kim. Chloe Kim, however, was worried about … when's breakfast. Moments before completing her victory lap, with the gold all but secured on the strength of her high-scoring opening run, Kim took a second to reflect on the accomplishment, firing off a tweet: Your girl is hangry.
Yes, that's right — while all those other losers were busy eating her dust, Chloe Kim was haunted by that breakfast sandwich she wished she had eaten. Pouring on the salt, Kim then went out and bested her high score for no other reason than because she could. Oh, but that's not all: In the middle of the previous day's qualifying run, Kim had also tweeted about really wanting some ice cream. And the day before that? Churros. Someone get this teen some food to go with her medal! And while you're at it, give her adorable dad the gold for best laminated homemade sign!