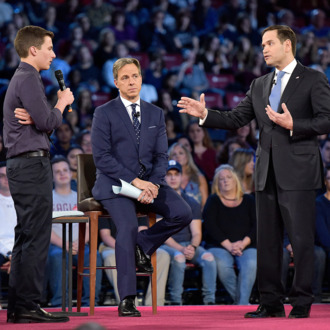 Photo: Michael Laughlin/TNS via Getty Images
Proving quality journalism can also bring commercial success, CNN's town hall devoted to the Parkland school shooting scored huge ratings for the cable news channel on Wednesday night. Per Nielsen, the Jake Tapper–hosted Stand Up: The Students of Stoneman Douglas Demand Action attracted 2.9 million viewers between 9 and 11 p.m. ET, roughly tripling CNN's typical prime-time audience during those hours while beating everything on Fox News and MSNBC for the night.
Although cable news tends to skew old, Stand Up brought in younger eyeballs as well, notching a 0.7 rating among adult under 50, and a 0.45 with millennials under 35. That's about five times the millennial audience for the Fox News lineup on Wednesday night. Stand Up also did very well online, with CNN saying the program notched a record 1.9 million program starts on various nonlinear platforms, and a peak streaming audience of 350,000 concurrent viewers at 10:45 p.m. While some right-wing commentators slammed CNN for giving too much time to student activists, clearly a lot of Americans are very interested in what the kids have to say.