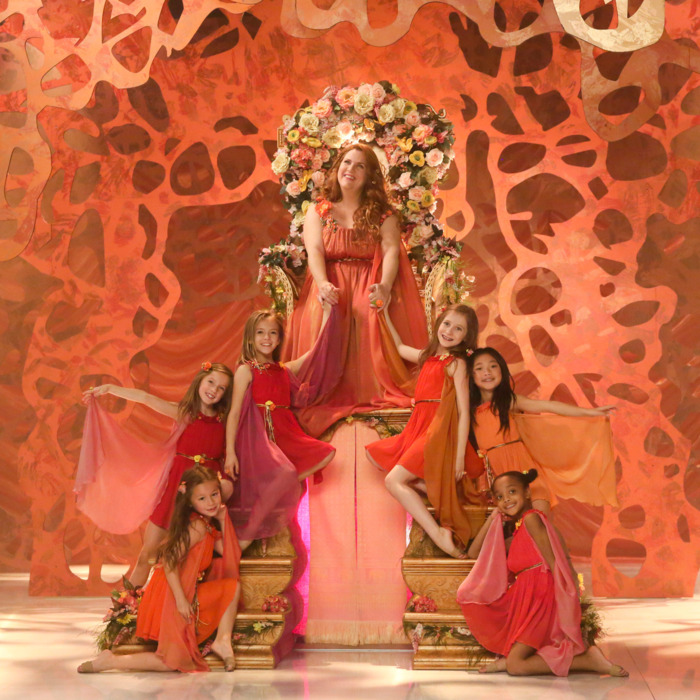 If you're going to paint yourself into a corner, you might as well use the broadest brush available, and splatter the viewer while you're at it. This was the operative philosophy of Crazy Ex-Girlfriend's third season finale — an audacious capper by this show's standards, and intriguingly reckless.
Co-written and directed by series co-creator Aline Brosh McKenna, "Nathaniel is Irrelevant" built to Rebecca (Rachel Bloom) pushing her ex-lover-turned-stalker Trent Maddock (Paul Welsh) off a roof to prevent him from stabbing another of her ex-boyfriends, Nathaniel Plimpton III (Scott Michael Foster) at a party. Although Trent didn't die — he conveniently fell into a swimming pool — Rebecca was charged with attempted second-degree murder. She intended to plead not guilty, with the assurance that Nathaniel, who'd just dumped his longtime girlfriend to be with the woman who'd saved his life, would represent her. But after a gleefully dark musical number that affirmed their bond — "Nothing is Ever Anyone's Fault," featuring the line, "Psychology is a great excuse," plus exculpatory biographical details about John Wayne Gacy and Adolf Hitler — Rebecca ended up changing her plea from not guilty to guilty, or, in a Freudian slip, "responsible." "Maybe I have borderline [personality disorder]," she told the judge and the assembled witnesses, "but I'm not insane. I'm responsible for everything that happened. All of it."
The immediate trigger for this was the sight of her friend Paula (Donna Lynne Champlin), whom she'd falsely warned of blackmail by Trent, entering the courtroom. But the last several episodes had built toward some kind of deep reckoning, heralded by a number of forewarnings, including the intertwining of Trent's near-death with Heather Davis (Vella Lovell) giving birth as a surrogate mother for Darryl (Pete Gardner) — a not-too-subtle tip off that a "new Rebecca" may have been born on that roof — as well as a number of contrite statements by our heroine, including an admission that she'd been feeling "crushing, overwhelming amounts of guilt for all the things I've done to people lately."
I honestly have no idea how the show will get itself out of the mess it just got itself into. But then, I've said that after every season finale, plus several episodes within each seasons (such as that extraordinary run earlier this year where Rebecca bottomed out). McKenna, Bloom, and their collaborators somehow found a way to reset the show's narrative and keep going without seeming to just wave away everything that had happened up to that point. Crazy Ex-Girlfriend exists in a madcap romantic comedy-satire-musical universe where nothing that occurs can be judged by real world standards of plausibility, and needn't be, because the writers and actors are mainly concerned with emotional and psychological realism. A lot of the plotting this season had a whipsaw quality and there were a number of seemingly arbitrary, "because we said so" storytelling decisions. But as always, the unadulterated cheek of this series ultimately won out, as in the episode where Heather suddenly decided to take on the surrogate mom duties that Rebecca couldn't handle with no lead-up to speak of, and the show moved the plot forward eight months in a single camera move, tracking Heather as she made the declaration, entered a doorway, then emerged from another doorway with a hugely pregnant belly.
Crazy Ex-Girlfriend has been one of my favorite series ever since it debuted in 2015. I'm still fond of it, in part because it's obviously been a struggle for the writers to keep the plot engines chugging along in an agreeable manner. Bloom and McKenna have chosen to build their story around a charismatic antiheroine who's nothing but trouble to herself and other people, while doing their damnedest to build out the ensemble with almost equally eccentric and screwed up supporting characters, and balancing the need to have enormous events happen each year without completely destroying the fragile comic ecosystem they've created. Of course, this is the same kind of conundrum that has challenged countless notable series starring charismatic antiheroes, from NYPD Blue and The Sopranos through Breaking Bad, Mad Men, and BoJack Horseman, but none of those shows mounted two or more original musical numbers each week. The culture critic James Wolcott once observed that after a certain point, any TV series with artistic ambitions invariably stops being about what it was originally about and becomes (at least partly) about itself. At that point, the show foregrounds the struggle to continue to entertain and surprise the audience after they've familiarized themselves with every tool in the storytellers' kit. That's how you get numbers like the delightful "Who's The New Guy?" (which was reprised recently) and other metafictional, self-aware touches. It's how you get eye-popping feasts of absurdity like Paula's medically graphic showstopper "Miracle of Birth," and Trent's epic account of his time away from the show, which saw him getting run over by a bus, breaking "every bone in my body … except, unfortunately, my eardrums," tearing himself out of his full body cast, going full-Cast Away in a desert cave, eating raw lizard meat and howling with coyotes. And it's how you get plot escalations like this absurd and delightful ending, which practically dares you not to tune in to season four.