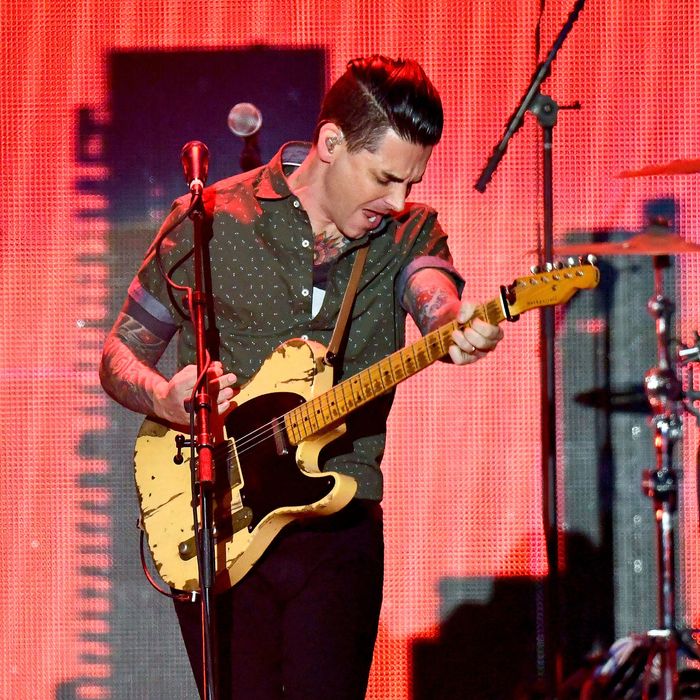 Singer Chris Carrabba of Dashboard Confessional performs during the iHeartRadio ALTer EGO concert on January 19, 2018, in Inglewood, California.
Photo: Scott Dudelson/Getty Images
Somewhere around 30, your priorities have to shift from simply maintaining the status quo to mapping out a sustainable future. The experience is a lot like getting to the top of a mountain you've been struggling to climb only to learn that it's the smallest peak in a whole range, and that you can only conquer it with great patience and resilience. Most people make it through the first 30 in one piece; succeeding at the next 30 requires deep pacing and strategy. New albums this week from singer-songwriters Brian Fallon and Chris Carrabba find both darlings of the mid-2000s punk and emo gold rush striving for continued success in their 30s and 40s. Fallon came to fame as the front man of the New Jersey rockers the Gaslight Anthem, but the band has been on indefinite hiatus since the summer of 2015. This week's Sleepwalkers is his second studio album under his own name, and it sees the New Brunswick–born singer broadening his musical horizons a decade out from his band's 2008 classic, The '59 Sound, where heartland rock met the grit and swing of Southern California punks, Social Distortion. Carrabba has reunited his flagship project Dashboard Confessional for Crooked Shadows, the band's first outing since 2009's Alter the Ending; the new songs are a subtle push into the present for a band that seems branded by its past.
Dashboard Confessional's appeal is best captured through its memorable 2002 MTV Unplugged appearance, where Carrabba led his audience in a powerful sing-along/cry-along performance of heartsick acoustic jams, both alone and with a band. It's a rarity for the show, whose focus leaned heavily on popular mainstream acts and elder statesmen and whose audiences tended to look as incidental as stage décor. The young independent artist's impassioned performance and his audience's rapt attention signaled the coming commercial dominance of emo in the years before Fall Out Boy and My Chemical Romance became household names. Over time, Dashboard's arrangements grew beefier, bearing closer resemblance to the anthemic guitar rock of Carrabba's other band, Further Seems Forever. Then one day in 2009, the songs stopped coming, and rather than force himself to write out of obligation, Carrabba simply set the band aside until he felt inspired again. A few months became a year, and a year became a decade.
Crooked Shadows' opener "We Fight" is a grizzled troubadour's promise to keep trying to make the world a better place. Carrabba reminisces on a life spent forging new paths ("We were the kids that left home probably too young …") before concluding that he continues to fight because he's certain someone out there needs to hear his message. ("And there's still a kid somewhere that needs to hear this / That somebody cares, that somebody knows / Who's tired of bleeding and battered and being torn up / Just pick yourself up, it's time to go.") Crooked Shadows is full of punchy songs of devotion, love songs to a triumphant "we" that could be vows to his wife of over a decade or commitments from a singer to his loyal audience. The slipperiness of the subject matter is part of Chris Carrabba's genius; he is a very specific writer who manages, in spite of himself, to be universally relatable. I'm not a road dog in my 40s, but "We Fight" makes me feel like I fought too, the same way breakup songs like "The Brilliant Dance" and "Screaming Infidelities" destroyed me in 2001, before I had experienced anything resembling heartbreak.
Carrabba's new music taps into the spirit of his old stuff, but the sound mirrors the upbeat, anthemic riffage of the band's late 2000s. Like Carrabba's lyrics, the hooks on Crooked Shadows are sometimes a hair too mawkish to be believed. "Belong" pairs the singer with the New Jersey production group Cash Cash, best known for the Bebe Rexha collaboration "Take Me Home." It's cutesy, cloying radio pop that could easily sit in between Dua Lipa and Chainsmokers songs on the terrestrial airwaves. (That's not impossible: The audio of the song seems to have racked up over 5 million YouTube views in roughly the same stretch of time that the official "We Fight" video had just over 350,000.) It's a new direction for a band that has existed on a reliable axis of crushing acoustic songs and windswept guitar rock, but it also feels like the bad kind of updating your sound, like Dashboard Confessional shrewdly crammed itself into the trappings of modern pop instead of arriving at changes naturally. It's the only real misstep on an album that otherwise feels scientifically engineered to appeal to every kind of Dashboard fan.
Trop house is creeping up on modern rock the same way disco's popularity bled into '70s classic-rock records like the Rolling Stones' "Miss You" and David Bowie's "Golden Years," which is to say that it feels impossible to make it through a major label rock-and-roll release without hearing the artist try their hand, however successfully or unsuccessfully, at a crossover hit. The experimental spirit of Brian Fallon's Sleepwalkers lands on the noodly, faintly Balearic pulse of the Shawn Mendes single "Treat You Better" on the new "Come Wander With Me" but otherwise steers mercifully clear of poppy flourishes, finding inspiration instead in classic soul and the rock and roll of his home state of New Jersey. Opener "If Your Prayers Don't Get to Heaven" is a Motown shuffle in the style of the Supremes' "You Can't Hurry Love." Later, "Etta James" finds solace in the "At Last" and "All I Could Do Is Cry" singer's rich voice and catalogue.
Brian Fallon is a great singer with an exactingly specific sense of what his voice is supposed to do. His instrument is beefy and raspy. He rests either in the quiet of his low register or punches passionately through it to a glorious, growling high note. (See the Gaslight Anthem's "Get Hurt" for a bit of both.) It often sounds a lot like Bruce Springsteen, a comparison that does no one any favors, least of all musicians who grew up a brisk Garden State Parkway drive away from the Boss's old haunts, where his shadow is inescapable.
Sleepwalkers' focus on more challenging vocal performances yields rewarding results. A shrill verse rescues "Forget Me Not" from a striking resemblance to "Dancer in the Dark." "If Your Prayers Don't Get to Heaven" and "Proof of Life" show off Fallon's dynamic range as a singer and a writer, flitting between high and low notes and from vibrant soul to moody Americana. It's great to hear him pushing at his boundaries after serving up different mixes of hometown punk and classic heartland rock for the last decade or so. Sleepwalkers is a valuable change of pace from an artist who got too cozy making nostalgic rock for 30-something punks to dream of the glory days to, but do note that, if you're one of those, this summer Fallon is back with Gaslight to tour The '59 Sound in full for the album's tenth anniversary. You can only pull so far away from your legacy before it starts to pull you back.
This week's new Dashboard Confessional and Brian Fallon albums showcase different ways forward for artists in the third decade of their recording careers. Either you perfect the formula, or you torch it. Crooked Shadows is the archetypal latter-day Dashboard album, all big hooks and naked feelings. Sleepwalkers wants you to know that Brian Fallon is capable of more than you think he is. Both approaches yielded music that respects the back catalogue enough not to break anything — saccharine as the Dashboard EDM song is, it's still kinda catchy, and as much as Fallon's "Come Wander With Me" seems to want to engage with the year's most popular sounds, the execution is tasteful. The joke about aging punks is that they end up chasing interests you never would've expected them to care about in their youth, but they, like everyone else, eventually settle down and get serious about stereotypical adult interests, like sports and wine. What you never know until you get there is, there's absolutely nothing wrong with that.