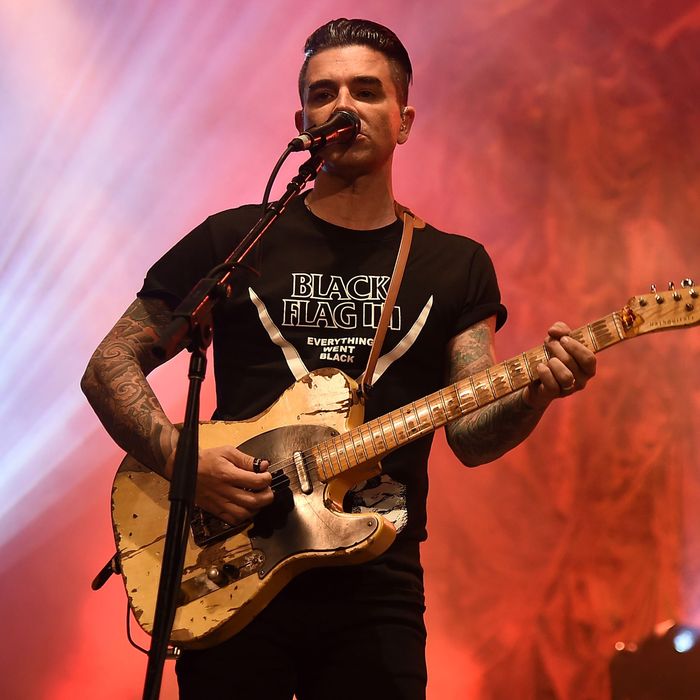 Chris Carrabba of Dashboard Confessional, August 3, 2017, in New York City.
Photo: Theo Wargo/Getty Images
It doesn't take much sleuthing to suspect that Chris Carrabba has had some trouble writing over the past several years. Not since 2009 had Dashboard Confessional, the pivotal emo band driven by Carrabba's lyricism, released a new album; Further Seems Forever, Carrabba's other outfit, had last put out an LP in 2012. Dashboard had created a reputation for itself based on a candor that almost (but only almost) seemed too good to be true, and radio silence would only enhance its aura of integrity. The dearth of new content hardly kept fresh listeners from flocking to their existing catalogue, and when the band resumed touring in 2015, they did so not to clubs but to arenas.
Their eighth album Crooked Shadows, out today, is a showcase of Carrabba's progression as a songwriter. Direct encounters between two people remain his primary theme, but album opener "We Fight" is a tribute to the emo community at large. Still, the best is saved for last, when "Just What to Say" (ninth out of a blissfully brief nine tracks), grapples with writer's block, albeit in a typically forthright fashion.
It's no easy topic to tackle — imagine painting blindness, or eating hunger — but Carrabba meets the paradox head-on: "I went through this door / For no other reason / When it wasn't open," he begins. He finds the words for the feeling of not being able to find the words: the efforts that burn out right as they begin, the near-prospects of a clear expression that tantalizingly recede the moment one reaches out for them. It's a remarkable song, and not just for Carrabba, who's capably supported here by arpeggios from an acoustic guitar and guest vocalist Chrissy Costanza from Dashboard's Fueled by Ramen label mate Against the Current. It's a remarkable song in general because it's as hard to write while blocked as it is to recall any other songs about writer's block, let alone songs as insistent, plaintive, and beautiful.
The attraction of earlier Dashboard tracks could also be a hurdle: Carrabba's pure-hearted sincerity demanded a reciprocation that skeptical listeners often had trouble mustering. Could anyone really be that good? One could wonder. As the ongoing revelations of sexual malfeasance in the emo scene bear out, emo's credulous spirit could serve as a cover for predation, shame, and secrecy. Yet somehow Dashboard and its reputation remain intact, and even improved. The obstacle to believing and expressing, it turns out, can be a source of appeal every bit as potent as fervent belief and expression. Any ethos of absolute openness is bound to be suspect these days, but it's impossible to not trust Carrabba on "Just What To Say," where he moves you and convinces you by doubting himself.