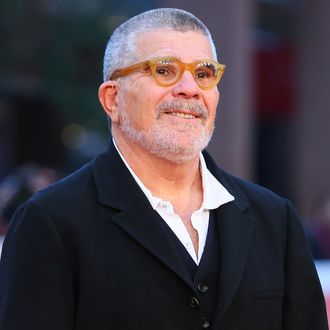 David Mamet.
Photo: Ernesto Ruscio/Getty Images
David Mamet has, for some reason, decided to add in his own perspective on the Harvey Weinstein story. In an interview with the Chicago Tribute, the playwright, who recently published a crime novel, revealed that he recently wrote a play about the former studio exec after being encouraged by a Broadway producer. The script's currently called Bitter Wheat and according to the Tribute a Chicago stage actor turned movie star is interested in starring in it. Mamet has written about sexual abuse before, notably with his two-hander Oleanna, and it's not clear how directly he'll make the latest project about the disgraced mogul, who was accused of various forms of sexual abuse by dozens of women. "I think about this a lot now. I have a bunch of daughters, a young son," Mamet told the Tribune. "Every society has to confront the ungovernable genie of sexuality and tries various ways to deal with it and none of them work very well. There is great difficulty when you are switching modes, which we seem to be doing now. People go crazy. They start tearing each other to bits." We hope the ungovernable genie of sexuality is not a speaking part in the play.
In response to reports about Mamet's play, the playwright and filmmaker Leslye Headland, who wrote the play Assistance inspired by her experience as Weinstein's assistant, criticized Mamet and the Broadway producer who motivated him on Twitter.