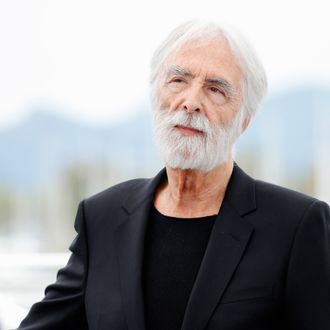 Director Michael Haneke in 2017.
Photo: Andreas Rentz/Getty Images
Director Michael Haneke is the latest figure in European cinema to criticize the #MeToo movement. Speaking to Austrian publication Kurier (per The Hollywood Reporter) the Amour filmmaker claimed that the movement — which was started in response to dozens of women in Hollywood coming forward with sexual-harassment and assault accusations — is ushering in an age of "puritanism."
"This new puritanism colored by a hatred of men, arriving on the heels of the #MeToo movement, worries me," Haneke reportedly told Kurier. He added, "As artists, we're starting to be fearful since we're faced with this crusade against any form of eroticism."
According to Deadline, Haneke also compared the onslaught of accusations to a "witch hunt." After saying that those guilty of assault should be punished and condemned, he explained, "But this hysterical pre-judgment which is spreading now, I find absolutely disgusting. And I don't want to know how many of these accusations related to incidents 20 or 30 years ago are primarily statements that have little to do with sexual assault."
Haneke's remarks come about a month after more than 100 Frenchwomen, including actress Catherine Deneuve, signed an open letter criticizing #MeToo and the French equivalent #BalanceTonPorc. Deneuve explained her reason for signing the letter, similarly citing how quickly studios and production companies have distanced themselves from those who are publicly accused. "I don't excuse anything. I don't decide the guilt of these men because I am not qualified to do so," Deneuve said.