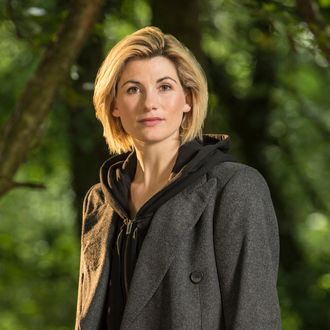 Jodie Whittaker.
Photo: Colin Hutton/BBC/Colin Hutton
Jodie Whittaker's historic casting as the 13th Doctor on Doctor Who was, unsurprisingly, put under total lock and key at the BBC until the official announcement last summer, with only a select few insiders privy to the classified timey-wimey info. (Hell, Peter Capaldi didn't even realize what was going on until a random trip to his tailor.) However, the Whovian team still prepared themselves if a leak ultimately transpired, utilizing an interesting tactic to keep spoilers at bay: by pretending the new Doctor was still going to be played by a man. In remarks picked up by the Radio Times, a visual effects producer at Milk VFX — the studio in charge of Doctor Who's effects since the 2005 reboot — revealed how the BBC used visuals of a new male body when requesting storyboards for the regeneration scene.
"The BBC actually had us quote her first scene before we knew it was gonna be Jodie, via storyboards," Louise Hastings explained at a London visual effects festival this week. "And the storyboards had been drawn with a man as the Doctor, so that was a bit of a surprise! I was looking through a list of the favorites to be the Doctor and comparing them to the pictures, but I was wrong, I couldn't figure it out. They threw us off the scent." Hey, there were a lot of options.