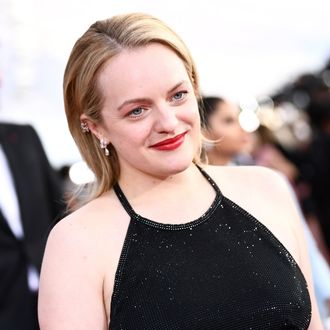 Elisabeth Moss.
Photo: Emma McIntyre/Getty Images for Turner
According to Variety, Elisabeth Moss will star as the titular lead in the upcoming biopic A Letter From Rosemary Kennedy, which explores the life of John F. Kennedy's sister through her personal writings. Eldest daughter of the Kennedy clan, Rose Marie Kennedy, known as Rosemary, reportedly exhibited behavioral and intellectual disabilities throughout her childhood and adolescence. At her father Joseph P. Kennedy Sr.'s behest, she received a prefrontal lobotomy at the age of 23. The procedure left her severely disabled and Rosemary lived out the rest of her life at an institution in Jefferson, Wisconsin, reportedly sequestered from her siblings for two decades before reuniting. Her sister Eunice would go on to create the Special Olympics in the 1960s. Back in 2016 Emma Stone was initially rumored to be playing the lead in the film, based on a Black List script by screenwriter Nick Yarborough.
This post has been corrected to show that Joseph P. Kennedy Sr., not John Kennedy Sr., was Rosemary Kennedy's father.