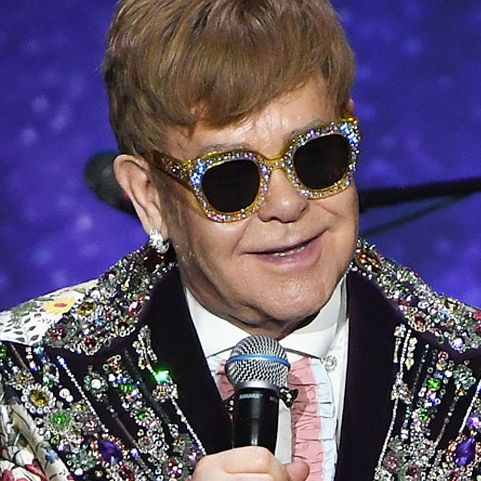 John, Simon.
Photo: Getty Images
Hey, procrastinators! If you've ever wanted to see Elton John, Paul Simon, Slayer, or a number of other living legends in concert, now is the time. We're only a month into 2018 and numerous musicians are announcing that they're pulling the plug (for now) on their touring careers. They're not retiring entirely, but this could be your last opportunity to see them live. See below for seven artists and bands who are leaving (or have already left) the stage behind.
The reason: to be more present and engaged with his family, which can be hindered by a no-stop touring schedule. "I'm not going to be touring and traveling the world. My priorities have changed. I have young children," he explained to Anderson Cooper. "That doesn't mean I won't still be creative. But I won't travel anymore. I don't want to go out with a whimper. I want to go out with a bang … it'll be the most produced, fantastic show I've ever done."
The last show: at the conclusion of John's Farewell Yellow Brick Road tour in 2021 — which will have more than 300 stops(!), The last tour date currently planned in the U.S. is March 15, 2019, in Jacksonville, Florida.
The reason: Simon had remained reticent about how literally we should take his "farewell show" this summer — it's being marketed as Homeward Bound: The Farewell Performance — but he hinted at a full-fledged retirement as recently as a year and a half ago, when he embarked a nationwide tour for his latest album, Stranger to Stranger. "Showbiz doesn't hold any interest for me … I am going to see what happens if I let go," he told the New York Times. "Then I'm going to see, who am I? Or am I just this person that was defined by what I did? And if that's gone, if you have to make up yourself, who are you?" On the morning of February 5, Simon released a statement officially announcing his retirement. "I feel the travel and time away from my wife and family take a toll that detracts from the joy of playing," Simon wrote. "After this coming tour, I anticipate doing the occasional performance in a (hopefully) acoustically pristine hall, and to donate those earnings to various philanthropic organizations, particularly those whose objective is to save the planet, ecologically."
The last show: July 15 at London's Hyde Park.
The reason: for his health — Diamond went public with a Parkinson's disease diagnosis earlier this week. Still, he plans to continue writing and recording music as much as his health allows. "It is with great reluctance and disappointment that I announce my retirement from concert touring," Diamond said in a statement. "I have been so honored to bring my shows to the public for the past 50 years."
The last show: Diamond was set to embark on the final stage of his world tour this March, which would've brought him to Australia and New Zealand. It has since been canceled with the news of his diagnosis. His last public performance was as a guest on Dick Clark's Rockin' New Year's Eve a few weeks ago.
The reason: the passage of time, man! But besides that, the Southern rockers seem to be taking an All good things must come to an end approach to their touring retirement — with the option of dipping their toes into new music still open in the future. "It's hard to imagine, after all these years, the band that Ronnie Van Zant, Allen Collins, and myself started back in Jacksonville would resonate for this long and to so many generations of fans," guitarist Gary Rossington said in a statement to Newsweek. "I'm certain they are looking down from above, amazed that the music has touched so many."
The last show: The Last of the Street Survivors Farewell Tour concludes September 1 in Atlanta, Georgia.
The reason: Consider this a strategic mental tactic: None of the rockers have commented on the reason behind their retirement, only releasing a short video to tease that "the end is near." Take that as you will.
The last show: The final tour date in North America will be June 20 in Austin, Texas. It's currently unclear if there will be additional dates outside of the continent.
The reason: Divas need to chill, too, although the Queen of the Divas won't be putting her feet up too much when she leaves the stage for good. "I will be recording, but this will be my last year in concert. This is it," she told WDIV Local 4 in Detroit last year. "I feel very, very enriched and satisfied with respect to where my career came from and where it is now. I'll be pretty much satisfied, but I'm not going to go anywhere and just sit down and do nothing. That wouldn't be good either."
The last show: Her last scheduled gig is set for June 2 in Boston. But she's interested in opening a small nightclub in downtown Detroit, teasing she would "of course" perform there someday if the mood strikes. Naturally, the club would be named Aretha's.
The reason: Because, as she put it simply on Twitter last year, retiring was one of her "many goals and dreams" after a venerable career.
The last show: No dates have been confirmed, with Baker only saying the tour will begin in March.
The reason: Not his health — Clinton recently had pacemaker surgery — but simply because the legendary Parliament Funkadelic front man is ready to hang it up. "This has been coming a long time. Anyone who has been to the shows over the past couple of years has noticed that I've been out front less and less," he tells Billboard. "Truth be told, it's never really been about me. It's always been about the music and the band. That's the real P-Funk legacy. They'll still be funkin' long after I stop." Parliament recently also released their first new song in several decades, "I'm Gon Make You Sick O'Me," featuring Scarface, from their upcoming album, Medicaid Fraud Dog.
The last show: May 2019, after an extended P-Funk tour.