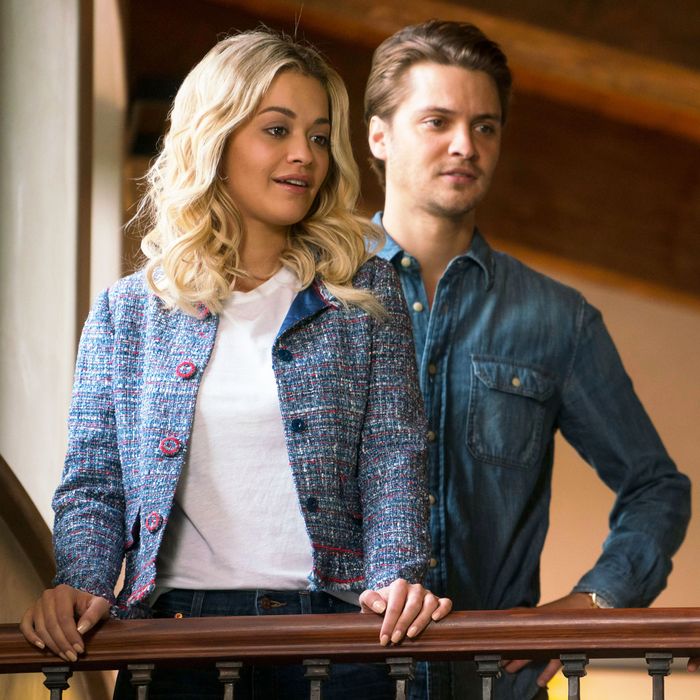 Rita Ora as Mia Grey.
Photo: Doane Gregory/Universal Studios.
Rita Ora is not just the subject of 1.9 million stories on the Daily Mail's website and the voice behind the most unintelligible chorus in modern pop — as we are occasionally reminded some Februarys, thanks to her supporting role in the Fifty Shades franchise, the "Your Song" singer is also an actress! Ora plays Christian Grey's adopted sister Mia, a character who has slowly become an integral part of the series's mythos. (She was eighth-billed in the original film, but climbed all the way up to sixth for the sequels.) Ora was cast in the series back in 2013, when she could have credibly seemed a star on the rise; whether to punish her for her failure to become one, or just following the lead of comedians like John Early, the franchise has spent the next four-plus years mocking her at nearly every turn. Let's relive the parade of rudeness below.
1. The first indication that the Fifty Shades franchise was not exactly interested in showcasing Ora's talents came in the first film, where Ora appears for what seems like a grand total of five seconds. (I guess they did let her down.) Her introductory scene is most notable for the camera literally cutting away from her mid-sentence the moment she starts to speak.
2. Despite being one of only two musicians in the cast, Ora was left off the Fifty Shades of Grey soundtrack, which wound up being the seventh-best-selling album of 2015. Two years later the Fifty Shades Darker soundtrack offered the filmmakers another chance to do right by Rita, but instead her song "Kiss Me" was relegated to the Target Deluxe Edition, which is almost a greater insult than leaving it off entirely. And it's not like that was a short album, either — it's got a whopping 19 tracks on it! You're telling me there was a spot for Corinne goddamn Bailey freakin' Ray, but not one for Rita Ora?
3. Ora did get more scenes in Darker, but it came with a catch: Her character spent nearly every minute of her time onscreen getting mercilessly owned. Here is everything we learn about Mia in Fifty Shades Darker: Her brother, whom we can assume has had hundreds if not thousands of face-to-face interactions with her, has trouble recognizing her. He tires of her presence after 26 seconds of conversation.
4. She has terrible taste in gifts.
5. The most dour millionaire in the whole Pacific Northwest begins his engagement announcement with a joke at her expense.
However, things are looking up. To commemorate her contributions to the Fifty Shades franchise, Ora was given the lead single to the Fifty Shades Freed soundtrack, the Liam Payne duet "For You." That song has reached No. 82 on the Hot 100, making it the fourth-most-successful single of Ora's career. And it looks like Ora's character will get more to do in this one: The Freed trailer shows Mia in peril, likely at the hands of disgraced book editor Jack Hyde (Eric Johnson). Though judging by this series' track record, I'm sure they'll somehow find a way to make it her fault.