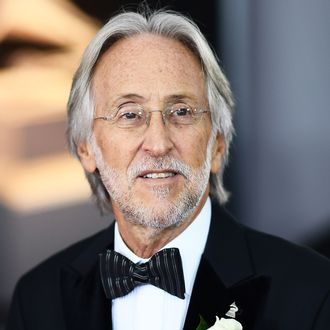 Portnow.
Photo: Jewel Samad/AFP/Getty Images
One week after a group of female managers, lawyers, and publicists signed a joint letter demanding that Recording Academy president Neil Portnow resign after he said female artists need to "step up" at the Grammys, women at all of the major record labels have broken their silence. Six top-level female executives at the Big Three — Sony, Universal, and Warner — have written a letter obtained by the New York Times blasting Portnow's comments. They call his words "woefully out of touch with today's music, the music business, and even more significantly, society." The letter continues: "Neil Portnow's comments are not a reflection of being 'inarticulate' in a single interview. They are, unfortunately, emblematic of a much larger issue with the [National Academy of Recording Arts and Sciences] organization as a whole on the broader set of inclusion issues across all demographics."
While the letter does not explicitly ask for Portnow to resign or be removed, it is signed on behalf of their respective corporations and asks that the Recording Academy use its newly announced task force to review both Portnow and the organization's systemic failures with transparency and inclusion. Portnow has attempted to walk back his comments, though no announcement has been made about his status at the Academy.
Update, 4:30 p.m.: Portnow has issued a response to their letter, saying in a statement to the New York Times that the Recording Academy will be looking to these executives for guidance with its new task force.
We appreciate the points raised in this letter and welcome the opportunity to work with these executives to address the issues of inclusion, representation, fairness, and diversity in our community. As we establish the details around our recently announced task force, we will seek their input and guidance.