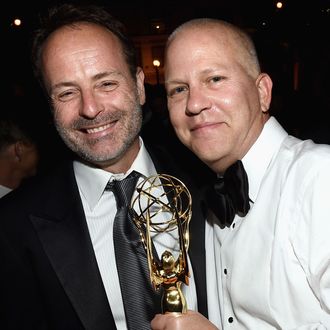 Landgraf and Murphy.
Photo: Michael Buckner/Getty Images for FOX
Hot off the news that Ryan Murphy has signed a reported megamillion dollar exclusive production deal with Netflix, FX's boss has responded to losing their biggest name. CEO John Landgraf confirmed in a statement that Murphy's four remaining series with FX — American Horror Story, American Crime Story, Feud, and the upcoming Pose — will be unaffected by his departure. "For more than 15 years, we have enjoyed an outstanding partnership with Ryan Murphy and we look forward to continuing that relationship on our four shows under his creative leadership," Landgraf said Wednesday. He also noted that FX has a stacked enough slate to rival Murphy's new home. "With more than 20 scripted original series on our schedule or upcoming, FX has a very successful track record of identifying and developing talented writers who have produced award-winning hit shows and it will continue to do so … We will continue to provide creative freedom and support for artists of all backgrounds to tell diverse stories and do their best work." This departure sounds very amicable and now our dreams for Feud season five have been crushed.