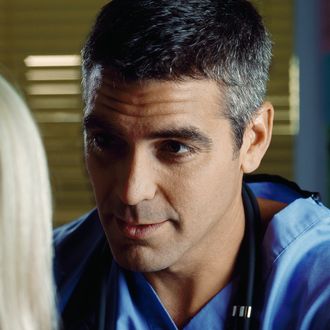 Some guy with a symmetrical face.
Photo: Sven Arnstein/NBC/NBCU Photo Bank via Getty Images
Before there was George Clooney, dreamboat movie star, there was George Clooney, dreamboat TV doctor. As people have been revisiting ER after it went up on Hulu, they've rediscovered just how charming young Clooney could be. According to actress Julia Whelan, who appeared in a season-five episode as a 13-year-old pregnant girl, the man playing Doug Ross was just as charming offscreen. In a Twitter thread, Whelan told her story about shooting the episode, which begins with Clooney insisting that the young actress knew exactly what she was doing.
The tale of charm continues as Whelan overhears Clooney defend his co-star Julianna Margulies from the higher-ups' demands that she lose weight.
Then, there's the story of Clooney encouraging her to ace her next audition, which was for Once and Again, which she starred in for three seasons.
In the very least, this is the rare Clooney story that doesn't involve him pulling any ridiculous pranks, and for that, we should be grateful.