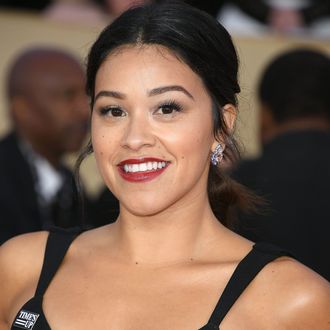 Gina Rodriguez.
Photo: Steve Granitz/WireImage
Things might be getting steamy onscreen between Gina Rodriguez and Stephanie Beatriz. The Annihilation actress is slated to appear in an episode of Brooklyn Nine-Nine later this season, reports Entertainment Weekly. While there's not much information yet about her character, all signs seem to point to her playing Detective Rosa Diaz's (Beatriz) new girlfriend. Earlier this season Diaz came out as bisexual and has talked about dating a woman. Back in January, Beatriz told EW that she thought the Jane the Virgin star would be great for the role, saying, "[I] love Gina Rodriguez, and think she would be fantastic." Rodriguez was down for the part, writing on Twitter that she was already getting her kissing lips ready for the possibility.
Really, if the show cast Rodriquez and didn't at least write in a few flirtatious lines between the two, she, Beatriz and the world at large would be disappointed.