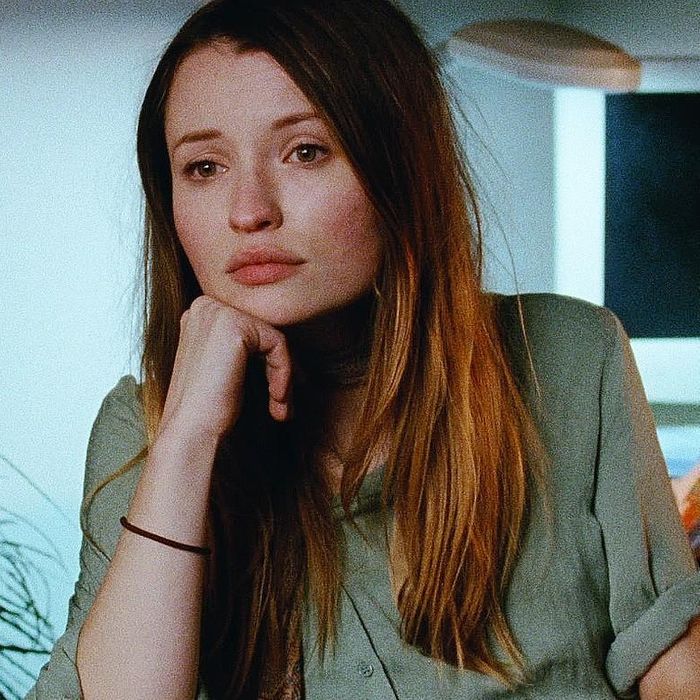 Emily Browning in
Golden Exits
.
Photo: Bow and Arrow Entertainment
The Brooklyn of Alex Ross Perry's Golden Exits is one of deceptive ease, especially in the lush springtime we find it in. It's been reduced to a few square blocks where poverty and infrastructural strain are a nonissue, one that attracts ambitious women who see in it a status goalpost and men who see in it an ideal environment to name their own jobs and stave off adulthood indefinitely. One of the film's many suggestions is that these two groups of people are perhaps the least suited for one another romantically. That's not the top line of the movie, or even necessarily its subtext, it's just one of many ideas that gets planted in your head as Perry gently weaves what would otherwise be a Melrose Place–worthy web of dissatisfaction and pining under the shimmering green canopy of Carroll Gardens in the spring. There aren't a lot of people to necessarily sympathize with here, but the collective swell of a thousand nagging disappointments, both identifiable and not, make Perry's film strangely haunting despite the bourgeois mundanity of its events.
The title refers to the tides on which people move in and out of each other's lives, and the constant, maybe futile hope that there will be a perfect, mutually beneficial opportunity for the latter. It begins with an arrival: Naomi (Emily Browning), a postcollegiate Australian with the kind of face that everyone can agree is attractive, has arrived in the borough and taken a job as the assistant to Nick (Adam Horovitz), a middle-aged archivist. Nick's current clients, for whom he and Naomi spend hours in a basement over the course of two months, are his own wife Alyssa (Chloë Sevigny) and her sister Gwen (Mary Louise Parker); the task is gathering up the legacy of their late father, an unspecified Successful Man. Even before they meet Naomi, it's pretty much a foregone conclusion that Nick is going to take advantage of the situation; he's apparently "been a bad boy before," according to Gwen. The infantile treatment of his infidelity, like he's a child who has spilled his juice, is pointed; as embodied by the hunched, flannel-wearing, never-nerdier Horovitz, Nick's wandering eye is more pathetic than predatory, and every woman in his life seems to know it. Sevigny, for her part, begins and ends the film looking like a person waiting for death or an annulment, whichever comes first.
Meanwhile, probably just down the block, audio engineer Buddy (Jason Schwartzman) runs a studio with his assistant turned wife Jess (Analeigh Tipton). He happens to be Naomi's only point of contact in New York — their moms were old friends — and she soon starts leaning on him for companionship and the kind of illicit intrigue Nick can only dream about. There may also be a few other connections between the two married couples outside of just Naomi; nothing Inception-noise cueing, but just enough to add a pull of tension. And so the table is set for a bunch of people to not get what they want, and bruise their egos in the process.
Nobody in real life talks the way people in Golden Exits do. Like Perry's Queen of Earth, this is a film whose script you can see being typed in Courier font your head, the characters perfectly and astutely phrasing their emotional states. (This can also be chalked up to Sean Price Williams's 16mm cinematography, which can veer from painterly and lush to flat and student-film-like in a matter of minutes. There is a fair amount of recitation, verbally and stylistically, going on.) But the written-ness isn't as intrusive this time around — something about the ensemble nature of the film and Keegan DeWitt's gorgeous, sighing score gives the film a feeling of a choral reading. There's a kind of late afternoon enchantment that wafts over the film and keeps the characters fixated on some other life they could be living. Nobody gives voice to this better than the great Lily Rabe as Jess's best friend, whose nightmare job as a personal assistant has her in a mid-30s life crisis about whether she's meant to live a life alone. But all the heart-to-hearts about partnership and cohabitation that paper the film are not snappy gabfests; they're more in search of something.
Naomi could have easily been a cipher, the central void that all the older, more neurotic characters fuss and orbit around. But Perry makes her a little more than that, a young woman with her own priorities, who is not there to be a symbol — for the rest of the characters or for us, watching the film. Browning's performance is a bit of a roller coaster, and there are scenes where I can feel the strain of her naturalism. She's better in a moment of confrontation (of which she has two or three) than in a scene where she must listen and absorb the energy of those around her (of which she has many). But there are moments of quiet brilliance: We can see the exact moment Naomi recognizes the power she wields over Nick, and in a few seconds the entire arc of their relationships unfolds in her head. She sees the end of this chapter of her life, and in a way, every ending of every chapter to come.