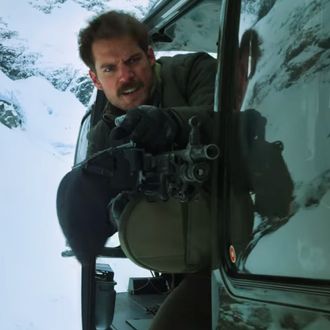 Henry Cavill with his mustache, which does its own stunts.
Was there a mustache that had a bigger cinematic impact on 2017 than Henry Cavill's? The actor's lush whiskers were apparently so necessary for his role in the upcoming Mission: Impossible — Fallout, that Paramount refused to let him shave them off to complete his Justice League reshoots. Cavill was supposed to be fully wrapped on his Superman duties by the time he started filming M:I 6, but because of these scheduling conflicts, we ended up with that rubberized Kirk Douglas jaw featured in a few shots of Justice League.
A mustache with that much Hollywood clout practically deserves a studio contract of its own and it seems Cavill's facial hair thinks it deserves its own social-media account, too. The bristles have now taken over Cavill's Instagram (a true palace of wonders) to premiere the first full-length Fallout trailer, treating the clip like its own personal cotillion. Henry's mustache would like all the haters, the lovers, and Demi Lovato to know: You are seen.