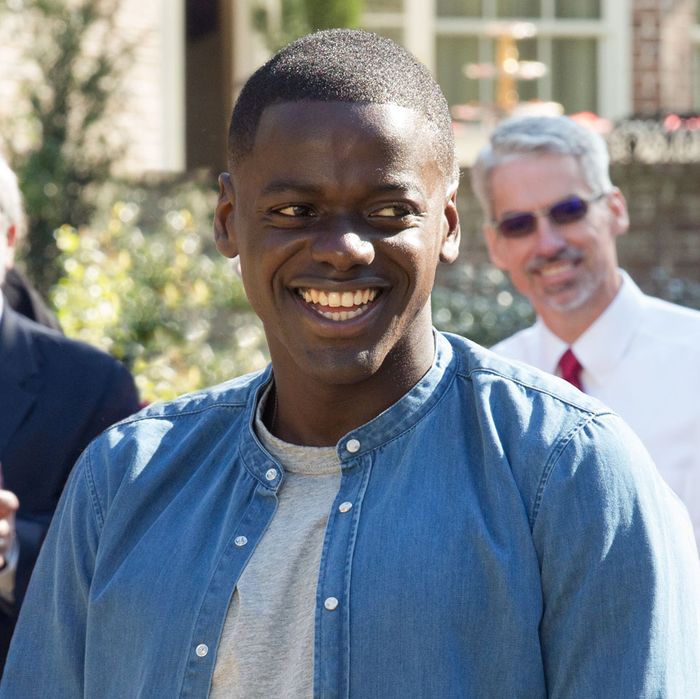 Get Out
.
Photo: Justin Lubin/Universal Studios
The biggest night in movies is only a few short weeks away, which means every minute you let idly tick by could be spent catching up on the slate of nominated films. 2017 saw a bumper crop of movies, from the magical-realist interspecies romance to the no-mercy sensory-assault war picture, and a surprising number of them can be watched from the comfort of your own home right now. The following is a comprehensive guide to each and every nominated film currently available to stream — whether you use it to whup your co-workers in your office pool or lord your knowledge over everyone at your Oscar-viewing party is up to you:
Victoria and Abdul (Google Play, YouTube, iTunes, Vudu, Amazon Video)
An unlikely friendship forms between an aging Queen Victoria (Judi Dench) and her Muslim attendant Abdul Karim (Ali Fazal) in this monarchical redressing of Driving Miss Daisy. Reviews were mixed, but just about everybody agreed that the lavish production values were second to none. The dual nominations for Best Costume Design and Best Makeup and Hairstyling were well-earned.
Beauty and the Beast (YouTube, Netflix, Google Play, iTunes, Vudu, Amazon Video)
For its shameless candlelit extravagance, Bill Condon's live-action take on the high point of Disney's late-'90s renaissance grossed a mint and nabbed nods for Production Design and Costume Design. Emma Watson steps in to portray beauteous bookworm Belle as she tames the savage heart of the Beast (Dan Stevens), with the assorted animate housewares rendered in uncanny CGI.
Baby Driver (YouTube, Vudu, Google Play, iTunes, Amazon Video)
Edgar Wright hardwired the heist movie and tricked it out with parts from the musical, comedy, and romance genres in a technically involved motor opera — hence the nominations for Sound Editing, Sound Mixing, and Film Editing. Virtuosic getaway driver Baby (Ansel Elgort) decides to scoop up his girlfriend Debora (Lily James) and head for the horizon, but his former crew (Kevin Spacey, Eiza González, Jon Hamm, and Jamie Foxx) don't intend on letting them get away without a few scars.
Mudbound (Netflix)
A quartet of nominations speak to a wide array of talent in this post-WWII period drama: Director Dee Rees and Virgil Williams adapted the sprawling, racially charged novel's many narrative points of view into a manageable shape; Rachel Morrison brought a pastoral grandeur as the film's cinematographer; and Mary J. Blige does double duty, contributing a moving performance as well as the original song, "Mighty River," with Raphael Saadiq and Taura Stinson.
Lady Bird (YouTube, Vudu, Amazon Video, iTunes, Google Play)
We are all Lady Bird, the teen-in-progress played with boundless empathy by Saoirse Ronan at the heart of longtime actor-writer Greta Gerwig's directorial debut. (They both scored individual nods to go along with their Best Picture nomination.) In a Sacramento full to bursting with sharp detail, Lady Bird navigates her senior year of high school and spars with her caring but overtaxed mother (Laurie Metcalf, also a nominee), hitting a couple life milestones along the way. Funny, warm, and true, it's a boon for teens in generations to come.
Three Billboards Outside Ebbing, Missouri (YouTube, Vudu, Amazon Video, iTunes, Google Play)
Mildred Hayes rents the three billboards, but it's Frances McDormand, the actress portraying her, that truly owns Three Billboards. She gives a top-to-bottom bravura performance as a grieving mother antagonizing the town's cops until they find a lead on her daughter's killer, burying her pain under a thick mantle layer of pure rage. Her artfully deployed profanity and careful emotional balancing act earned McDormand a nomination likely to clinch a win, the film's other lock being Sam Rockwell as a racist lawman with a few grains of humanity left over. Written with baroque black humor by Martin McDonagh and bursting with amusing supporting acts (Peter Dinklage! John Hawkes!), it's well in the running for Best Picture as well.
Get Out (HBO Go, Vudu, YouTube, Amazon Video, iTunes, Google Play)
Jordan Peele pulled a hat trick, collecting Best Picture, Best Director, and Best Original Screenplay nominations for his meticulously crafted horror parable. Daniel Kaluuya, a nominee himself for Best Actor, portrays the rare black guy to make it to the end of a scary movie after his girlfriend's family (Allison Williams, Catherine Keener, Bradley Whitford) turn out to be a touch more psycho than the usual white people.
Blade Runner 2049 (YouTube, Vudu, iTunes, Google Play, Amazon Video)
Agent K (Ryan Gosling) trudges through a desolate techno-landscape in search of Harrison Ford's long-lost Deckard, teaming to combat a greater and more enigmatic threat. The long-delayed sequel to the philosophical sci-fi classic met with a windfall in the technical categories, director Denis Villeneuve's vision of a lurid, stark future an achievement on pure aesthetic terms. Of particular note is the Best Cinematography nod for long-overdue master Roger Deakins, the odds-on favorite.
Darkest Hour (YouTube, iTunes, Vudu, Google Play, Amazon Video)
Joe Wright's chronicle of Winston Churchill's life and times snapped up a handsome six nominations, but the star of the show is Best Actor contender Gary Oldman for his blustery turn as the famed military strategist and prime minister. With cigar-chomping brio, he guides the United Kingdom through wartime and crisis, sewn up in his own flaws as he tries to cure the ills of a nation.
Dunkirk (YouTube, iTunes, Vudu, Google Play, Amazon Video)
Christopher Nolan brought audiences an alternative perspective on Britain's engagement in WWII, reporting from the front in a relentlessly intense land, sea, and air triptych. (In exchange, the Academy granted him eight nominations, most high-profile among them Best Picture and Director.) The film dramatically crosscuts from a crackerjack rescue mission on the waves, a frantic effort to escape on the beach, and a perilous flight to protect the soldiers, building to a flattening Eisenstein-styled climax.
Roman J. Israel, Esq. (YouTube, iTunes, Vudu, Google Play, Amazon Video)
Denzel Washington scored a surprise inclusion in the Best Actor race for his mannered portrayal of an eccentric lawyer embroiled in a predicament much bigger than himself. Always striving to do the right thing but not invulnerable to temptations and other foibles, the title character lands in the crosshairs of danger for taking a stand in court (and for being a little incompetent). Washington delivers an unusual, complex performance, navigating the empathetic with the less admirable sides of himself.
The Florida Project (YouTube, iTunes, Vudu, Google Play, Amazon Video)
Hard to believe it, but Willem Dafoe is somehow the only nominee from Sean Baker's magnificent child's-eye view of life in a Kissimmee, Florida, hotel complex. With bone-deep kindness, he plays Bobby, the loving but overtaxed supervisor of the Magic Castle, where struggling Halley (Bria Vinaite) and her rambunctious daughter Moonee (Brooklynn Prince) keep residence. Federal interlopers intrude on their fragile domestic setup in a heartbreaking neorealist peek into a corner of a modern America.
Logan (HBO Go, Vudu, YouTube, Amazon Video, iTunes, Google Play)
James Mangold puts his distinctive spin on X-Men lore with this futuro-Western in which Hugh Jackman's bad-boy Wolverine is old, broken down, and slowly losing his powers. He protects an infirm Professor X (Patrick Stewart) and a young girl with a dark connection to his past as they're pursued by an unstoppable cybernetic foe and the corporation behind him. Mangold, Scott Frank, and Michael Green's mature, despairing interpretation of pop-culture influences got them the rare Adapted Screenplay nod for a superhero film.
The Big Sick (YouTube, Amazon Video, Vudu, Google Play, iTunes)
Kumail Nanjiani and Emily V. Gordon spun the true story of their courtship — the interracial element was tough enough before she slipped into a coma — into an unorthodox rom-com and snapped up a Best Original Screenplay nomination for their efforts. Nanjiani portrays himself in the gently comic film, with Zoe Kazan stepping in to take Gordon's role and her parents getting nuanced portrayals from Holly Hunter and Ray Romano. Contains what must surely be the greatest 9/11 joke ever captured on film.
The Boss Baby (YouTube, Netflix, Google Play, Amazon Video, Vudu, iTunes)
A rather paltry year in animated features led to a nomination for this fish-out-of-water comedy plopping an infant with the intelligence of adult (adult with the intelligence of an infant Alec Baldwin) in a suburban home to blend in and disarm the puppy menace. The titular infant boss slowly forges a bond with his big brother over the course of an antic-packed romp through early childhood. Cookies are for closers only!
Loving Vincent (Google Play, YouTube, iTunes, Vudu, Amazon Video)
This herculean effort expands our understanding of what constitutes an animated film; a team of 125 artists cranked out 65,000 frames' worth of oil paintings for this inquest into the enigma of Vincent van Gogh, the first project of its kind. The film mimics the painter's soft and impressionistic style as it relates the events of his tormented life secondhand through imagined conversations with those who knew him during his life.
On Body and Soul (Netflix)
This abstract Hungarian drama won the Golden Bear top prize at the prestigious Berlin International Film Festival, a distinction that would help push it to a Best Foreign Language Film nomination. Writer-director Ildikó Enyedi spins a fantastical tale of two workers in a slaughterhouse — he's the malcontent CFO, she's a quality inspector obsessed with order — who repeatedly find one another while dreaming. They appear in the form of deer and feel an ecstatic love during sleep, but attaining that same feeling in their waking lives is a more difficult proposition.
The Square (Google Play, YouTube, iTunes, Vudu, Amazon Video)
Another foreign-festival favorite gaining accolades stateside, this Palme d'Or–winning comedy contains a decidedly larger number of used-condom jokes than any fellow nominee. Ruben Ostlund gets his wicked kicks with the trials and tribulations of museum curator Christian (Claes Bang) as he scrambles to drum up buzz for a controversial new exhibit, resolve a conflict with a neighborhood child he inadvertently framed, defuse further tensions with an American journalist he unadvisedly bedded, and put out a half-dozen other fires. Devilishly funny and vast in its satirical ambitions, it ranks among the year's finest.
Abacus: Small Enough to Jail (Google Play, Amazon Video, iTunes, Vudu, YouTube)
In the wake of the ruinous late-2000s subprime mortgage crisis, the family-owned Chinatown bank Abacus Federal Savings faced harsh legal comeuppance while the well-funded giants were bailed out and deemed too big to fail. This documentary from Hoop Dreams director Steve James wonders why the government would choose to make an example of a small outfit while the real villains get off scot-free (hint: partly incompetence, partly optics, with a dash of racism).
Icarus (Netflix)
Documentarian Bryan Fogel set out to make a movie about the burgeoning underbelly of doping in the world of professional sports, which is how he met Dr. Grigory Rodchenkov and stumbled into a much bigger story. The Russian defector told Fogel about an elaborate state-sponsored campaign to game the Olympics, and their efforts to expose the wrongdoing land them in something closer to an espionage film than a political documentary. This film is both.
Last Men in Aleppo (Netflix, iTunes, Google Play)
This issue doc's topic is the Syrian civil war, and particularly the heroic efforts of the volunteer-supported humanitarian-aid organization known as the White Helmets. (A short-form documentary about their noble work earned an Oscar just last year.) This film trains its focus on three of the founding White Helmets during an intense period of introspection, as they debate whether to continue their fight for Syria at home or from abroad.
Strong Island (Netflix)
Yance Ford directed this heartrending documentary about his uphill battle to get justice for his brother William, the victim of a 1992 murder in which the killer walked away without an indictment. While the film inspects the racially motivated iniquities built into a broken judicial system, it also serves as a devastatingly intimate look into one family's not-always-successful efforts to cope with the loss of their own.
Marshall (Google Play, YouTube, iTunes, Vudu, Amazon Video)
Critics derided this Thurgood Marshall biopic as another paint-by-numbers tribute to a great man under fire, but Common and Andra Day's original song "Stand Up for Something" transcended its delivery system to the public. The rousing, inspirational anthem lifts up Marshall as a trailblazer, both for the black community and for anyone who's ever been pressured against doing the right thing.
Wonder (Google Play, YouTube, iTunes, Vudu, Amazon Video)
The intensive facial prosthetics turning Jacob Tremblay into Auggie March, a plucky fifth-grader who won't let Treacher Collins Syndrome stop him from living life, earned a surprise nomination in the Makeup and Hairstyling category. His realistically rendered medical deformity is the lynchpin of an unrestrainedly sentimental film about daring to be different and celebrating what makes us special.
Kong: Skull Island (HBO Go, Vudu, Amazon Video, iTunes, Google Play, YouTube)
The Visual Effects category has traditionally favored spectacle, and the bigger the better. For sheer size, there's no beating the mountain-sized ape terrorizing a team of intrepid researchers encroaching on his secluded home. The gargantuan simian and his disarmingly human expressions made this sequel one of the year's most-favored blockbusters among critics and audiences alike.
Guardians of the Galaxy Vol. 2 (YouTube, Google Play, Amazon Video, iTunes, Vudu)
The most mischievous super-team in the cosmos returns for another adventure, now pitted against a race of haughty golden aliens and a sentient planet taking the shape of Kurt Russell. An elaborately imagined interstellar universe earned Marvel's planet-hopping franchise a Visual Effects nod for its exotic creatures and bustling futuristic metropolises. (The digitally rendered fan favorite Baby Groot may have helped, too.)
War for the Planet of the Apes (YouTube, iTunes, Vudu, Google Play, Amazon Video)
In the final reckoning between humanity and the hyperintelligent primates we never should have created, sophisticated motion-capture technology made Andy Serkis's nuanced performance as chimp leader Caesar possible and snatched a Visual Effects nomination along the way. Most of the simian performances take place entirely without dialogue, so clear facial conveyance is absolutely key, and state-of-the-art mo-cap lets audiences savor every little tic.