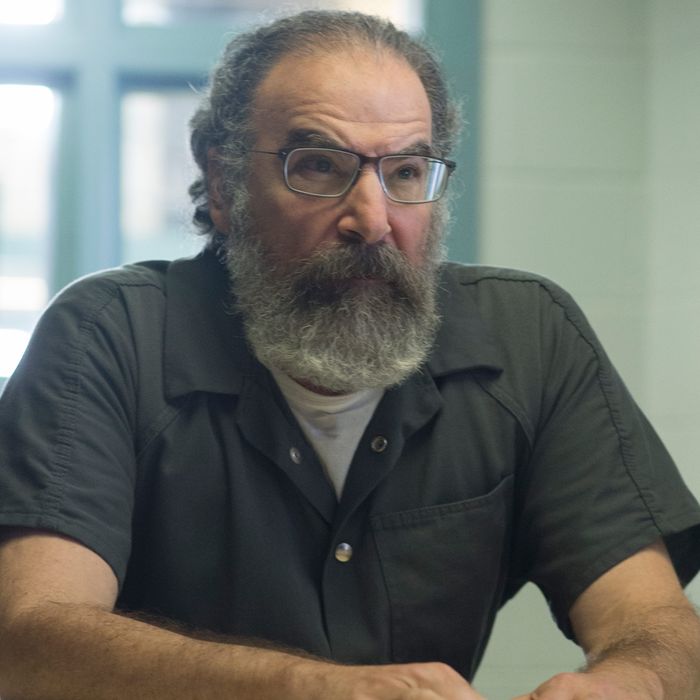 Photo: Jacob Coppage/SHOWTIME
What does Homeland look like without Peter Quinn? That's the question on my mind, as the fan favorite died protecting Carrie Mathison and the president-elect in last year's season finale. The show has survived major cast upheaval before — who could forget the departure of Damian Lewis? — but pulling it off twice is easier said than done. Thankfully, the signs are good so far: "Enemy of the State" is a strong season premiere that allows for great work by Claire Danes. It's still a bit unclear what the story will look like this year, but rather than a foreign threat, it seems the major enemy will be a U.S. government mad with power and paranoia. Read parallels to our current POTUS as you please.
"Enemy of the State" presents a commander-in-chief going to war with her own country, looking to punish anyone who may have remotely been behind the attempt on her life. Saul Berenson is in jail; Carrie is living at her sister's house. Of course, Carrie can't sit by and watch President Keane dismantle the country she's worked so hard to protect. To disrupt what's happening, she's reached out to a new character named Senator Sam Paley (played by the always-welcome Dylan Baker), and much of this episode focuses on the spy games needed to get one of her contacts in touch with the politician — and, of course, how poorly those games can all explode in her face.
Before then, we learn that 200 individuals were detained in the probe investigating the attack on Keane, including Saul, who's still behind bars. Carrie is unemployed, marches are being held to "Free the 200," and there's a sentencing hearing at the Washington Navy Yard for one of the masterminds of the assassination attempt, General McClendon. He doesn't recognize Keane's authority, even in a courtroom: He tries to get in his little jab by only sitting when the male judge tells him to. Keane doesn't back down, though, noting that the U.S. government executes people for the kind of treason he perpetrated.
We also learn that Brett O'Keefe, the loudmouth political personality based quite a bit on Alex Jones, has been on the run. He suggested that the assassination attempt was a hoax, and now there's a warrant out for his arrest. The development of Brett is interesting because he's clearly a bit of a troll — we know (and he knows) that it wasn't a hoax, and his references to Keane's menopause are gross — but he's not wrong about the abuses of power being wielded in the highest office in the land. And so, he's no longer just the two-dimensional villain he was last season. It will be intriguing to see where this character goes next.
Meanwhile, Carrie schedules a clandestine meeting in a restaurant kitchen with Paley, who working with her to reveal Keane's illegal activities. Carrie reveals that her source is finally willing to go on the record, but it may be too late: Paley's committee investigation has moved on, unless this source has information about Keane's right-hand man, David Wellington. Carrie tells Paley to arrange for a closed-session testimony, and then drops the big secret: Her source is in the FBI, he's interrogated 43 of the 200 detainees, and so far not one of them has been connected to the assassination. "Nothing," she says. "Nothing."
After Paley agrees to a closed session, Carrie puts her plan into motion, checking into a hotel that she then promptly leaves. (Setting an alibi, perhaps.) She changes her clothes and puts on a wig, and then checks into another hotel under the name "Lisa Salter," leaving a key for her "husband" at the front desk. But when her FBI contact, a guy named Dante Allen, gets the key, Carrie quickly realizes that he has a tail. She ditches the tail by claiming that the mysterious man exposed himself by the ladies' room, but it's too late. Dante has been tracked, so it's time to move.
Meanwhile, David Wellington informs President Keane that McClendon won't be killed for his sedition. She's unsatisfied, and demands that David do something about it. He has to "fix it." Did the president of the United States just order the death of a man sentenced to life by our legal system? Wow.
After a quick trip back to O'Keefe's story line, where he discovers he basically has friends everywhere, David goes to meet Saul in jail. It's Mandy Patinkin's only scene of the night, but it's also the best one. He's so good at playing angry suspicion. David offers Saul a deal: As a gesture of goodwill, they want to make him the National Security Advisor. Saul has some demands, though: He wants complete access to POTUS and the immediate release of most of the detainees. David knows Keane will never agree. It's nonnegotiable. And Patinkin kills the best line of the episode: "I will not carry water or make excuses for a woman who can't rise above her own vindictiveness."
Meanwhile, Josie Mathison is helping out her aunt by stealing the keys to her mother's office for a meeting between Dante and Senator Paley. (Anyone else having bad flashbacks to Dana Brody?) We then get a little development for Dante, who will clearly be a major character going forward, including a reference to someone who got away in Kabul four years ago. Maybe this season will go international after all? Carrie makes the boneheaded decision to not tell Dante that Paley is coming, so when he shows up, Dante is pissed and refuses to go on the record. "You never saw me," he says. "You never met me." When Carrie tries to block the door, he throws her to the ground.
Carrie's night gets worse when she gets home, where her sister Maggie and brother-in-law Bill are waiting and furious: They came home from date night early, only to find baby Frannie alone with Josie's "pot dealer" friend. Maggie wonders if Carrie is off her meds and on the edge of another episode. She's been down this road before, and she recognizes the signs: Another vast conspiracy? And Carrie is the only one who can bring it to light? Carrie calls her brother-in-law a "collaborator," but swears that she's on her meds and in her right mind.
And then we learn how far Carrie is truly willing to go. Under her orders, Max set up cameras to surveil David in his own house. Yikes. As Carrie watches the Keane's right-hand man sulk to the evening news, McClendon's fate is revealed: While he's searched for custody, he's poisoned and killed. The president of the United States just assassinated her greatest enemy. There's no turning back now.
Other Notes
• "Enemy of the State" was directed by the show's most consistent filmmaker, Lesli Linka Glatter, who has helmed 19 episodes. It was co-written by someone just as closely associated with the show (executive producer Alex Gansa) and a newcomer, Debora Cahn, who's written The West Wing and Vinyl.
• It's good to see strong character actors in supporting roles this year. If you're wondering where you know Linus Roache (David Wellington), he played Thomas Wayne in Batman Begins and starred on Law & Order for a few years. You'll surely recognize Dylan Baker (Senator Paley), who's got more than 120 acting credits, and Morgan Spector (Dante Allen) has appeared Boardwalk Empire and Person of Interest. They should all be solid additions for a season that'll be sorely missing Rupert Friend.
• Good to know: Carrie's workout routine includes "Final Thought" by Kamasi Washington on the treadmill.
• How long do you think Homeland will stay stateside? Will they get the Keane stuff out of the way and then move on to an international crisis, or is this the arc for the entire season? Place your bets.