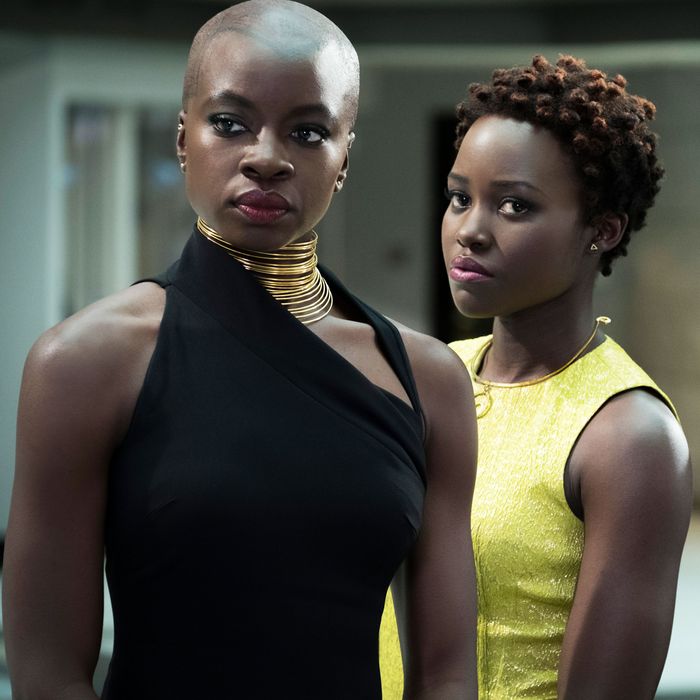 Photo: Matt Kennedy/Marvel Studios
For a superhero to leave a lasting impact, it has to be a product of solid graphic design. All too often, we dwell mainly on the writers who develop the names and backstories of our favorite long-underwear characters, thus ignoring the profound importance that comic-book artists have on making a character succeed. Joe Shuster decides Superman should have a cape, and countless millions of children wrap towels around their shoulders. Steve Ditko opts to give Spider-Man oddly shaped eyes, and his mask becomes a Halloween best seller for five decades.
And when Jack Kirby laid out the simple black spandex and barely noticeable feline ears of T'Challa — better known as Black Panther — yet another icon was born. Other artists followed in his footsteps and gradually built a visual encyclopedia of Black Panther supporting characters, and now, well over a dozen of them are making the leap to the big screen. With Black Panther on the way, we've decided to show how far the king of Wakanda and his cohort have come by comparing their first visual iterations to the actors playing them in the film.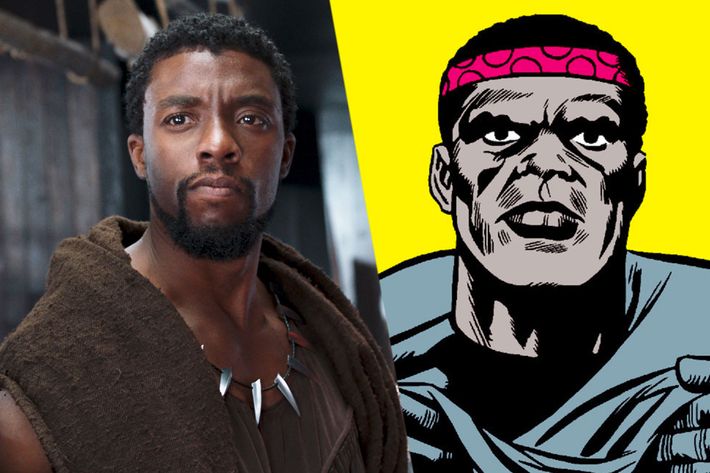 Black Panther/T'Challa (Chadwick Boseman)
Our lead was introduced by writer-artist Jack Kirby and writer Stan Lee in 1966's Fantastic Four No. 52. The two notoriously clashed over which one of them was primarily responsible for coming up with the characters they collaborated on (other examples include the Hulk, Thor, and the X-Men), and T'Challa is no exception. That said, no one can dispute that Kirby — one of comics' greatest geniuses — is responsible for Panther's looks.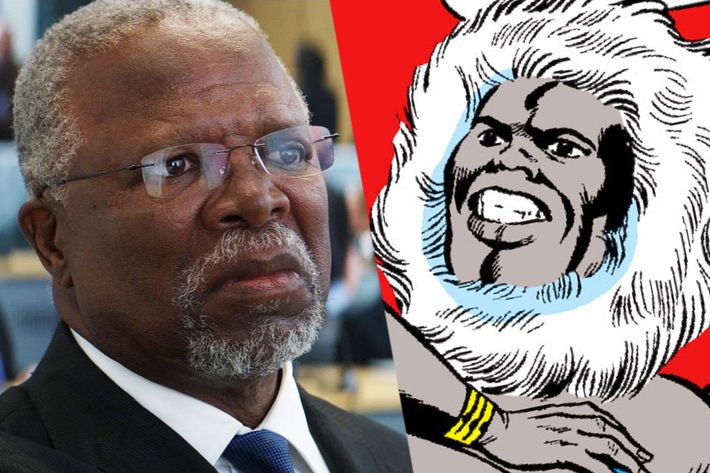 T'Chaka (John Kani)
That first Panther story in Fantastic Four introduced two more characters in the film, the more sympathetic of which is T'Challa's father, T'Chaka. Kirby had a revolutionary approach to designing Wakanda and its denizens: He mixed worn-out tropes about African dress with awe-inspiring technological wonders. So you might see a headdress like the one T'Chaka's wearing here, but you'd also see massive computers and such. Thus was born one of the great Afrofuturist cosmologies.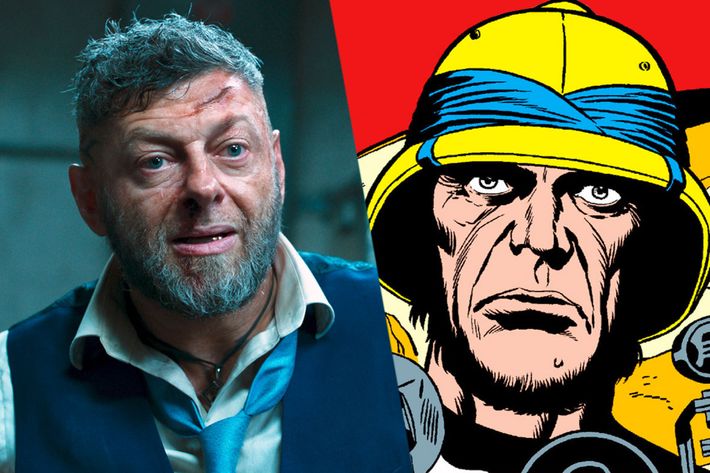 Ulysses Klaue (Andy Serkis)
The final film character from the first Panther comics story is the secondary villain, Klaue. In the comics, his name is spelled "Klaw" and he has the ability to create structures out of sound using a whiz-bang device in the place where one of his hands used to be. In later stories, he donned a skintight red jumper and a truly bizarre mask, but the movie iteration is much closer to his more realistic first look.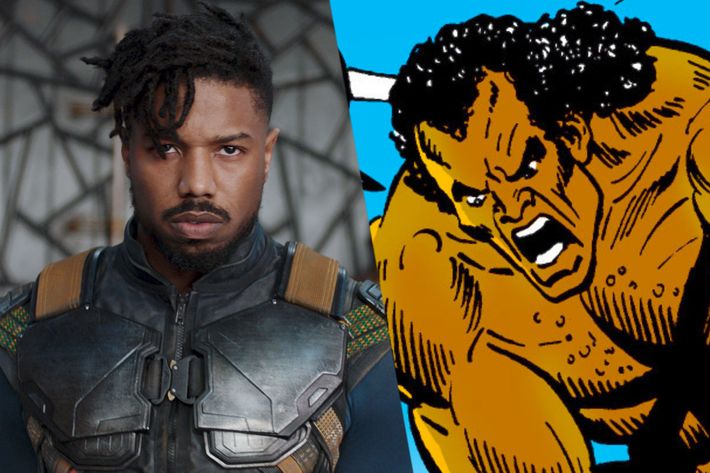 Erik Killmonger (Michael B. Jordan)
The film's primary villain — birth name N'Jadaka — didn't make his debut until 1973's Jungle Action (terrible title) No. 6. That issue was the first time Black Panther was written by a man who would go on to become one of his most storied scribes: the loquacious Don McGregor. Over the course of many years writing the character, McGregor worked with an array of talented artists, the first of whom was Rich Buckler. The two of them created Killmonger as a massive bruiser with a quasi-mullet. Director Ryan Coogler and his cohort clearly had other ideas, which is probably for the best.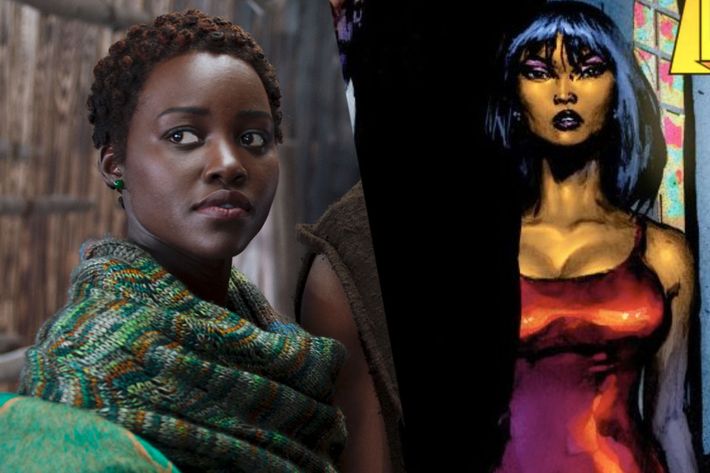 Nakia (Lupita Nyong'o)
Speaking of changes that are for the best: Thank goodness for the evolution of the Dora Milaje. They're T'Challa's all-female squadron of elite warriors, and when we were first introduced to them in 1998, they were considerably less PC than they are now. Writer Christopher Priest and artist Mark Texeira conceived of them as voluptuous, underage brides-in-waiting for the king, and although they kicked ass, their looks were a little on the exploitative side. The first two that we met in the comics are now the most prominent ones in the film: Nakia, played by Lupita Nyong'o, and …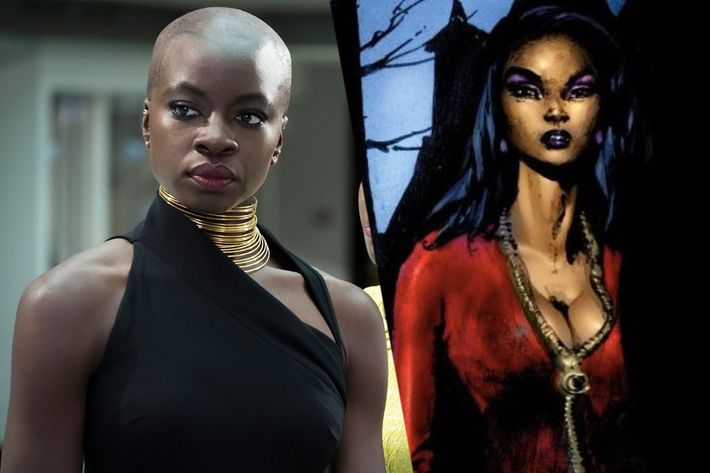 Okoye (Danai Gurira)
… Okoye, played by Danai Gurira. Both characters have gone through considerable narrative and visual evolution over the decades, and their film incarnations owe much more to later artists like John Romita Jr. and Brian Stelfreeze than they do to Texeira.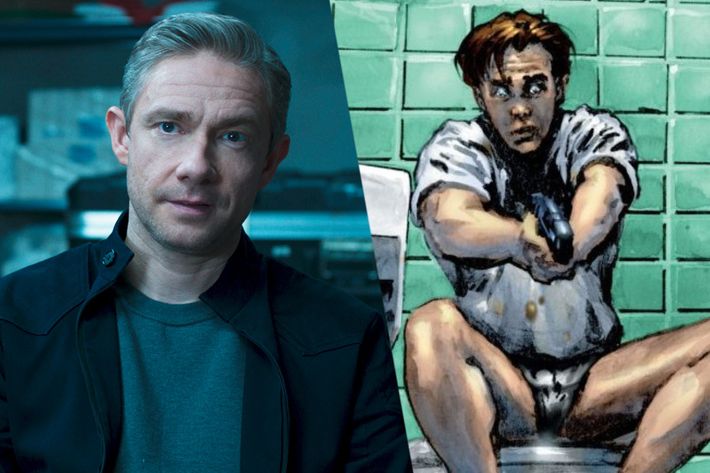 Everett K. Ross (Martin Freeman)
Texeira and Priest were also responsible for introducing us to one of the only white characters in the film's main cast, government agent Everett K. Ross. He was originally a diminutive man with a puckish smile, designed to look like Michael J. Fox. Freeman, of course, looks nothing like Fox, and by all accounts, the character — first introduced on film in Captain America: Civil War — acts almost nothing like his comics counterpart.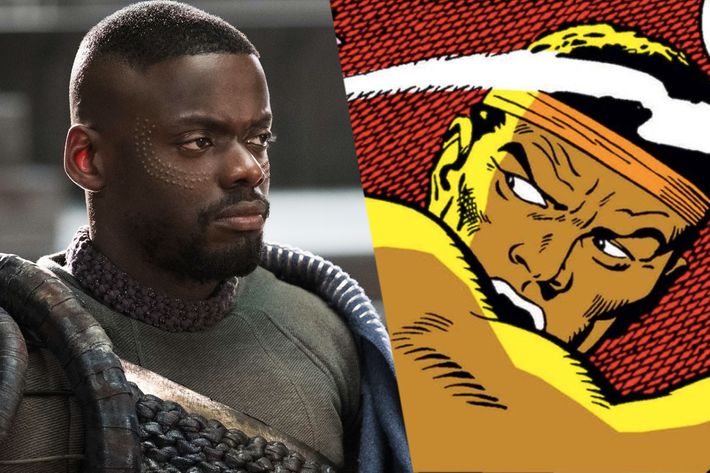 W'Kabi (Daniel Kaluuya)
Although many of the characters in Black Panther are relatively obscure, the caliber of talent behind their creation is high. W'Kabi, T'Challa's loyal second-in-command, came from the famed writer-artist team of Roy Thomas and John Buscema. They brought W'Kabi to life in an Avengers story arc from 1969, before the Panther had his own solo title. Buscema initially envisioned him as a visually unremarkable dude, but later artists like Ken Lashley depicted him with distinctive outerwear and a determined look on his face. Kaluuya retains the boyish face of the original Buscema version.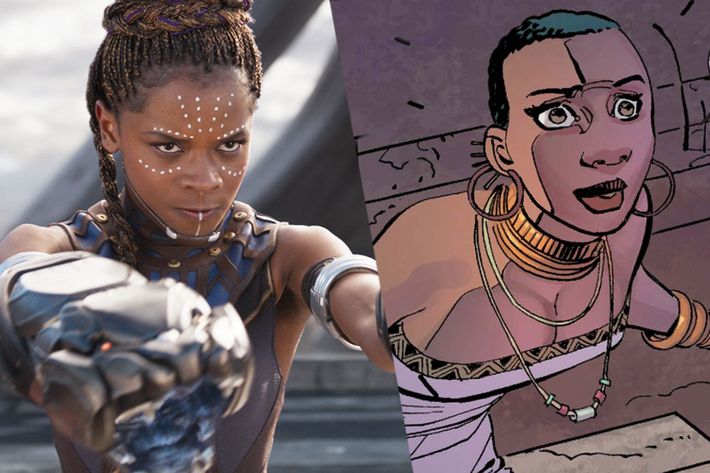 Shuri (Letitia Wright)
T'Challa's sister was introduced surprisingly recently, in the pages of a Black Panther solo title in 2005. Since then, she's become an icon — a vision of powerful black womanhood rivaled in comics only by the likes of the X-Men's Storm and the Avengers' Monica Rambeau. She came about during one of the better Black Panther runs, that of writer Reginald Hudlin and the aforementioned artist Romita. She was originally depicted as being noticeably younger than T'Challa, and Letitia Wright and Chadwick Boseman keep that visual notion alive.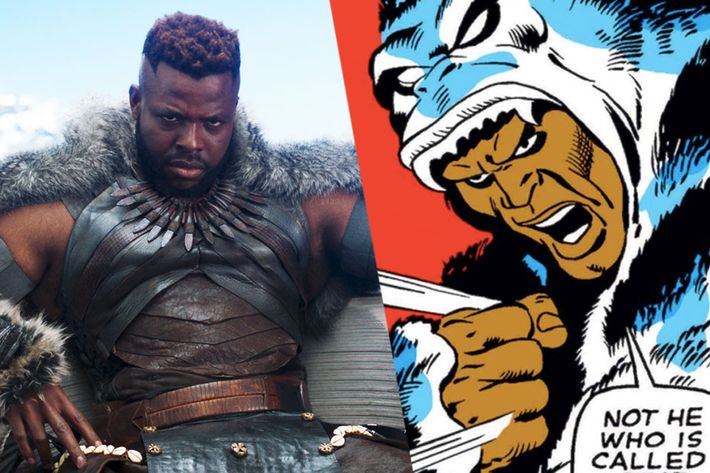 M'Baku (Winston Duke)
This guy's visuals are largely the same, but he seems to have undergone a much-needed name change. In the Thomas-Buscema Avengers story that also introduced W'Kabi, we met M'Baku, better known as … Man-Ape. That kind of offensive moniker doesn't exactly fly for a character of color in 2018, so he's just going by his birth name. A mighty Wakandan warrior, he's mostly been a villain, though in the Marvel Cinematic Universe, he appears to be someone who becomes an ally by film's end (we know that because he's standing alongside T'Challa in the Avengers: Infinity War trailer). Buscema put him in an intimidating white gorilla pelt, a version of which will be draped over Winston Duke in the flick.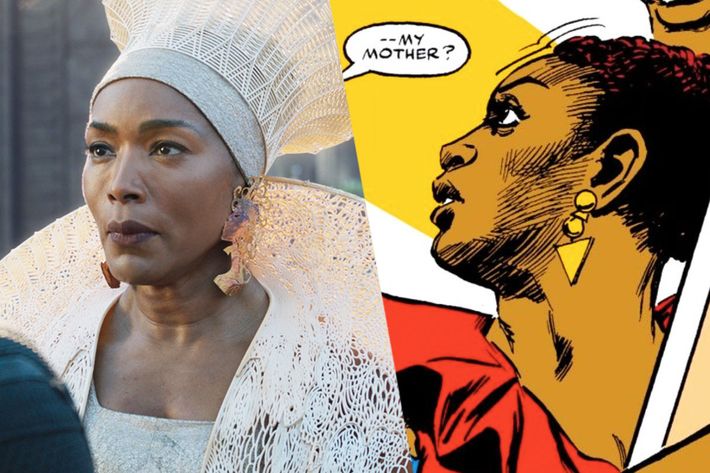 Ramonda (Angela Bassett)
Ramonda is another McGregor creation. In the comics, she's T'Challa's surrogate mother, a South African woman who married T'Chaka after the death of T'Challa's biological mom. In the great "Panther's Quest" story line, T'Challa went on a, well, quest to find Ramonda, and she's been a key supporting character in his life ever since. Famed artist Gene Colan gave her a quiet, gracefully aging dignity that Angela Bassett does a terrific job of upholding in her visuals.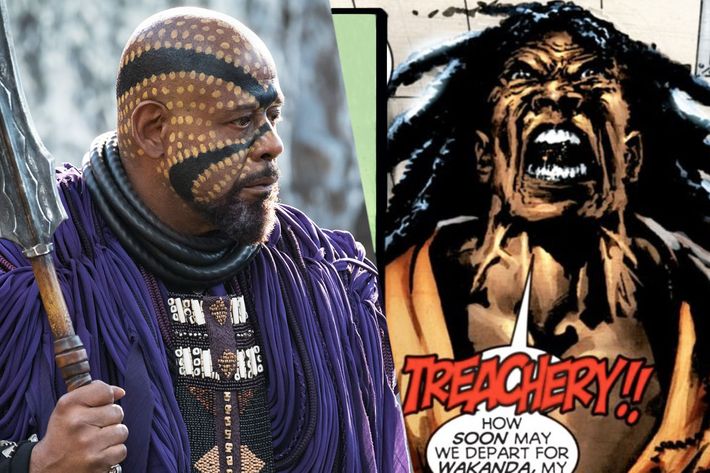 Zuri (Forest Whitaker)
Another Priest-Texeira creation, Zuri is an aging warrior and longtime adviser to the kings of Wakanda. In his initial appearances, Texeira depicted him as a mountain of a man, bound in incredible muscles and perpetually looking glum. The latter of those two qualities carries over to Forest Whitaker's film portrayal, but when it comes to build, he's more of a chill uncle than a swole specimen fresh out of the gym. Nevertheless, the visual gravity remains.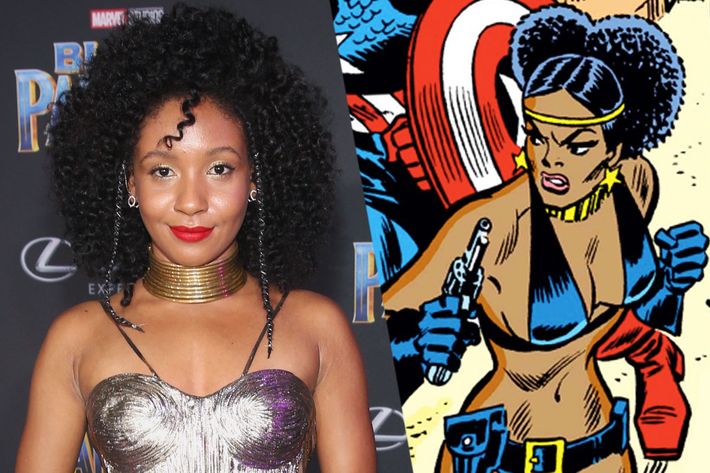 Tilda Johnson (Nabiyah Be)
Much like Okoye and Nakia, Tilda Johnson has had to undergo a significant makeover in recent years in order to make her appropriate for modern audiences. Writer Steve Englehart and artist Alan Weiss actually gave us the character as part of Captain America's supporting cast back in 1973. There, she was drawn in a dominatrix-y two-piece that would make a Bond girl blush. Thankfully, her look has toned down in the years hence. This genius-level intellect and skilled fighter has been both hero and villain, though she shakes out on the hero side these days, and Nabiyah Be is an excellent choice for bringing the character to the real world, as she shares both Tilda's build and her excellent hair.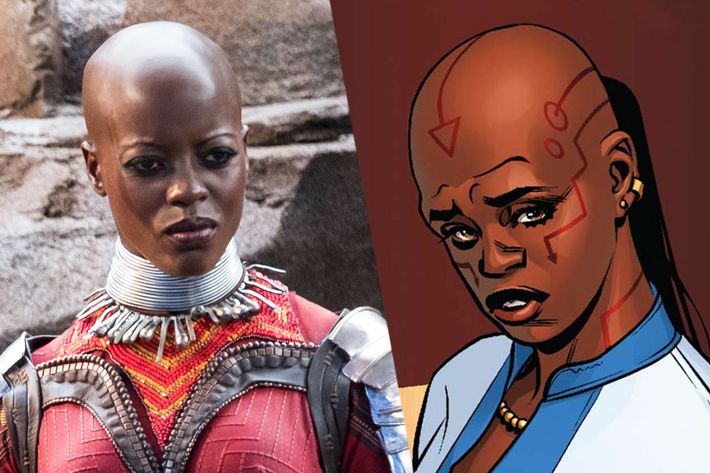 Ayo (Florence Kasumba)
Of all the characters in Black Panther, Ayo is the newest. Writer Ta-Nehisi Coates and artist Brian Stelfreeze conceived of her for the pages of their run with T'Challa but, oddly enough, she first appeared in an issue of a comic called Ultimates a few weeks prior to the beginning of that run. Therefore, online outlets mistakenly attribute her creation to Ultimates team Al Ewing and Kenneth Rocafort, who are both terrific, but not the ones who designed this top-flight member of the Dora Milaje. We've broken our rules slightly by not using an image from her very first appearance, but rather the first time she shows up at the pen of her visual creator.