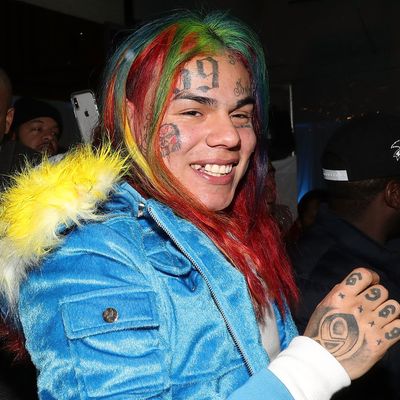 Photo: Shareif Ziyadat/Getty Images
Whatever else one thinks of him, there's no arguing that Daniel Hernandez has mastered the art of getting attention. Hernandez, who raps under the title of 6ix9ine, has rocketed from anonymity to fame over the fall and winter because his focus on triggering strong reactions is unhindered by any distinction between approval and disapproval. It doesn't matter if you hate him because he welcomes hate; for him, the fact that he's been noticed is all that counts. Released last night, the artist's first collection DAY69 marks the culmination of a meteoric rise to prominence as well as of an aesthetic driven by a single-minded search for immediate response.
Much of what's distinctive about Hernandez's aesthetic has been present from the beginning. The abrasive, loud delivery of aggressive language coupled with high-impact, low-cost artificial graphics has always been his calling card. Video-game images were a logical source for his music videos: one features scenes from Twisted Metal, while another is framed as a Tekken battle. Anime was a source of names and images alike: early songs are titled "Yokai," "Shinigami," and "Hellsing Station" and most of the videos splice anime clips into the street-level camerawork typical of low-budget hard-core rap videos. It's no exaggeration to say that Hernandez aspires to become a cartoon when the cover art for DAY69 replicates the art of Adventure Time.
Raw energy and visceral scenes aren't the only things Hernandez developed a taste for. What he lacked in lyrical depth he made up for in geographic reach. His other name, Tekashi, is a crib from Japanese to match his investment in anime. He's not shy about showing off his Mexican heritage. Long before he had a following in the States, he had one in Slovakia, where he was affiliated with an area record label named F*CK THEM. It was on that label's YouTube channel that many of 6ix9ine's early videos were screened, including the video for "POLES1469," a song by rising Ohio sing-rapper Trippie Redd featuring 6ix9ine: premiering last year in April, it displayed Redd, 6ix9ine, and crew riding dirt bikes in the desert while wielding fake rifles pouring plumes of colored smoke.
Showing off the rainbow-dyed hair that soon became synonymous with the artist, the "POLES" video was 6ix9ine's first real break in America. It was also a sign that the ceaseless pursuit of striking artifice in his prior work was extending to his body. Alphabetic or numeric, 69 tattoos soon bloomed across his upper body like a rare infection. By the time he released the video for "GUMMO" in October, they had reached his face. Gothic numerals perch by his right eyebrow; a red bandana wraps around his head and links him to the dozens of Blood gang members sharing the camera with him. Denying the appeal of "GUMMO" is a pointless exercise. Far and away 6ix9ine's best song, it's amassed 131 million YouTube views so far, held the top spot on the SoundCloud charts, and peaked at 12 on the Hot 100. Successor Blood-covered singles "KOODA" and "KEKE" proved Hernandez was no one-hit wonder; the combined success of the three has built up anticipation for DAY69 and made 6ix9ine's claims of signing multimillion-dollar record deals, as yet unsubstantiated, sound at least plausible.
Throughout his rise, Hernandez has been the subject of angry debate. Like many recent young rappers, he's been castigated as an augur of the death of "real" hip-hop, and his beyond-flamboyant appearance has provided an opportunity for detractors to show off their homophobia. But more than these, it's Hernandez's guilty plea to the felony charge of "use of a child in a sexual performance" stemming from a 2014 incident that has occasioned vehement arguments against supporting 6ix9ine's music. The incident, in which Hernandez, then 18, air-humped a 13-year-old girl and slapped her ass while she fellated an acquaintance, is thoroughly reprehensible, not to mention insanely stupid and fully reflective of Hernandez's character. Transgression is central to his aesthetic; he's committed to gaining attention by stepping over lines that others, out of decency or fear of shame, will not. It was entirely fitting that he would post video of the incident to Instagram, and that he would post another video after rumors spread about it in which he mockingly described himself as "a happy rapist." It's tempting, under current circumstances, to wring one's hands again about the ethics of cultural consumption, but at this point, with the scandal having only fed the inferno of attention, it might be more novel to note how Hernandez's absolute preference for infamy over boredom seems to be one shared with society in general.
Clocking in at a spare 27 minutes, the mixtape will do little to dispel the hurricane of controversy surrounding the artist. It's not an afterthought, but it's not much more than that either. Three of the eleven tracks are the previous singles, a fourth is a remix of "GUMMO" featuring a listless verse from Offset, and the remaining seven, though forceful and not atrocious, repeat the same formula to diminishing returns: bursts of violent boasting interspersed by the occasional striking image. For all his limitations, Hernandez is a competent rapper within the narrow lane he's carved out, and he's smart enough to know there's nothing to be gained from leaving it: there are no attempts at romance or singing; melodic duties are left to the guest artists: Young Thug, A Boogie wit da Hoodie, Tory Lanez. DAY69 displays an artist who's sacrificed everything that doesn't make an immediate and visceral impression and can't afford to rethink the decision.
As such, it's also a demonstration of how fast he can paint himself (with rainbow colors, no doubt) into a corner. The flip side of unending loudness and abrasion is numbness; in the absence of production that can cushion and sweeten Hernandez's flow, he quickly becomes monotonous. As Offset and Lil Wayne's attempts over it have shown, the "GUMMO" beat was perfect for 6ix9ine and no one else: colorful and euphonious, it provided the ideal contrast with his voice. That beat, as well as the one for "POLES1469," were produced by Pierre Bourne, and since Bourne, in the wake of the revelations of sexual misconduct, won't work with him, Hernandez is effectively stuck in a rut; no other type of production comes remotely close to suiting him. Unless he lucks out with a similar beat from someone willing to do business with him, it seems likely that he'll fade away, given time. It's not the excitingly disgraceful narrative both he and the culture around him crave, but it's probably the right ending.