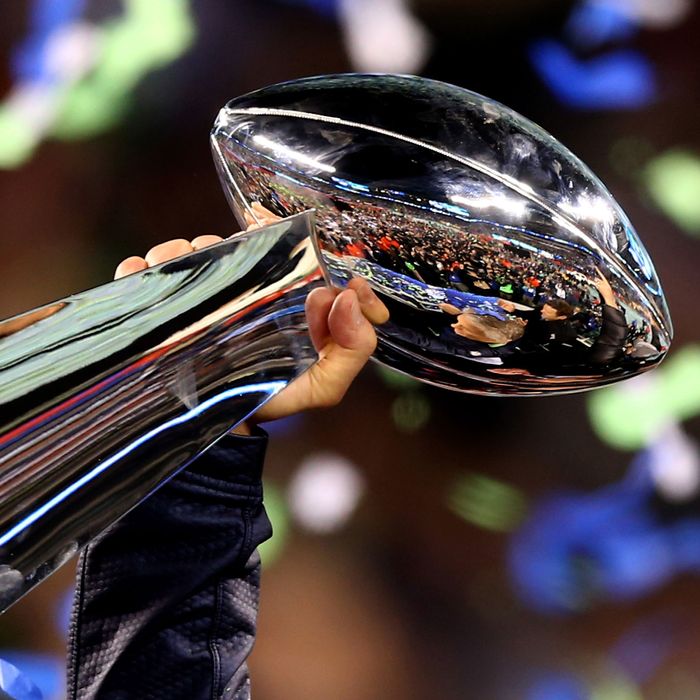 On Sunday night, the Philadelphia Eagles are set to take on last year's
winners, the New England Patriots, in the Super Bowl LII. Though the Patriots are clear favorites in this 2005 Super Bowl rematch, many still have hope for the Eagles, who are in the running to win their first Super Bowl in 58 years. Justin Timberlake, the man of the woods himself (or the dad of the baby of the woods?), is also heading to Minneapolis to perform at the halftime show for the first time since 2004 — but this time without Janet Jackson, who is making her own plans for 2018, thank you very much. The broadcast kicks off at 6:30 p.m. ET on NBC, but if you don't have live-to-air TV, there are a number of options for watching on your computer or streaming device.
Desktop
Both NBC.com and NBCsports.com will be streaming the game live on their websites. There is no fee, and you don't need a cable log-in.
Mobile
If you are watching from your phone, you can watch the game via NFL Mobile and Yahoo Sports apps. Unlike last year, the NFL app stream is now available to users with any mobile carrier.
Streaming
The NBC Sports app is available on Apple TV, Roku, Amazon Fire TV, Chromecast, and Xbox. An iOS, Windows, and Android version of the app is also available if you want to stream the game on your tablet — note, the NBC Sports app does not stream live games on mobile.
Outside the U.S.
In Canada, the game will be broadcast on CTV, CTV2, and TSN. Live streams are available on CTV.ca and TSN.ca/Live, along with CTV Go and TSN Go apps. In the U.K., the Super Bowl will be broadcast live on Sky Sports. You can also stream the game online on the BBCiPlayer, and the BBC Sports App. In Australia, Channel 7 will be broadcasting the game on free-to-air TV. If you have cable, it will also be available on the ESPN channel on Foxtel, along with the Foxtel Go app. In Mexico, the game will be broadcast on Televisia; and in France, on W9.