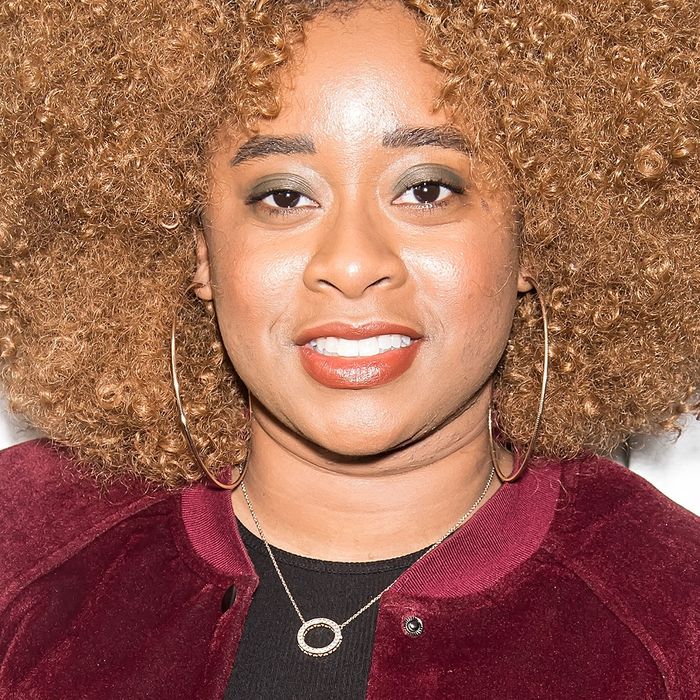 Photo: Gilbert Carrasquillo/GC Images
Comedian, television writer, actress, and New York Times best-selling author are enviable titles to have associated with your name by the young age of 33. Phoebe Robinson, ever the consummate multi-hyphenate, has not only achieved all of those aforementioned high-water marks, but she's currently adding one more honorific to her professional index: Podcast Royalty.
Robinson is currently one-half of the massively popular 2 Dope Queens podcast she co-hosts with actress and Mount Rushmore Daily Show correspondent Jessica Williams, and to say her show is on a hot streak would be to undersell it. What started out as intimate live comedy showcase at Brooklyn's Union Hall over the past two years has evolved into an WNYC production (currently in its fourth season and hailed by Time magazine as one of the best podcasts of 2017) and now also a four-part HBO special directed by fellow comedian Tig Notaro.  
Offering a refreshingly unique spin on both variety shows and hour-long specials, the Queens' live performance for HBO finds Robinson and Williams taking the stage of the newly renovated Kings Theater with a set design that could most readily described as a casually chic rooftop party.  Robinson and Williams' effervescent comedic chemistry is on full display as they banter back and forth and engage in light crowd work, which serves as a welcoming warm-up for the comics (Aparna Nancherla, Baron Vaughn, Rhea Bucher) and special guests (Uzo Aduba, Jon Stewart) they bring out to share in the spotlight.
I hopped on the phone with Robinson ahead of the fourth and final 2 Dope Queens HBO special to get the scoop on what we can expect from the grand finale, why diversity is imperative in comedy spaces, and the exciting projects she has coming down the pike.
The response to the 2 Dope Queens HBO specials has been remarkable. Why do you think taking the podcast to the big stage has resonated so deeply with people?  
I think anytime you work on something, even if you feel really good about it, you're never really sure. Once it's in the public space, it's out of my hands. People can think it's crap and I'd just be like, "Oh cool, I spent all that time doing something that people think is dog poop. Great!" Thankfully, Jessica and I are experiencing different responses from people. So far people have been really into the specials and having fun with it. I think it's a testament to not only the way that HBO got behind us and supported us and made sure we put out the best possible four hours we could put out, but also the fact that our show is different in a lot of ways. I don't think a variety comedy show has really been around in this kind of way in a while. Every time comedians try to bring the traditional variety show back, it still feels like a throwback, and maybe people aren't receptive to the #TBT of it all. [laughs] I think we wanted to keep the essence of a variety special but make it 2018. It's a new, fresh approach.
Jon Stewart was your first special guest in the "New York" episode. Not only was it great to see him reunite with Jessica, but it was also a special full circle moment being that you and Jessica met on set of The Daily Show. Could you briefly take me through your origin story?
Jon coming back for the first episode was sort of like him unofficially giving us his blessing. He's been supportive of the podcast since the beginning, which I think is a really awesome thing to have. But yeah, Jess and I met that summer of 2014. I did background on a Daily Show piece she did about black women's hair, so it felt like the stars were aligned on that one. We had downtime on set and just started chatting. She'd just started dating this guy who's now her boyfriend, and I asked her, "Hey, I have this really low-budget podcast that I do out of my apartment. It's an interview show, Wyatt Cenac has been on, come on, it'll be super fun!" She was like, "Okay, cool." She came over and had a great interview. We clicked really fast.
So when did you two realize that your comedic chemistry was something worth dedicating more time to and exploring in a wider scope?
After that first podcast recording, Jessica told me her birthday was coming up. I asked her what she wanted to do for her birthday and she told me she was going to try standup. At the time, I had this standup show I was doing at UCB East called Blaria Live, which stood for Black Daria. I told Jessica to come host it with me and we'll go our separate ways after or whatever. She had Daily Show stuff. I had been doing standup for six years at that point while also freelance writing. We kind of planned that we were gonna shoot videos and do all this jingle-jangle stuff, but sometimes life just gets in the way. So we showed up 15 minutes before the show and, since we had an improv background, we decided to just go out there and riff. And somehow it really worked well. I think we talked about crappy New York apartments that we had and it killed. We had so much fun, and we both realized that it felt different than other comedy duos. But even then we weren't like, "Now we're two dope queens!" It was more like, "So, do you wanna do this again?" It was a slow and steady gradual thing before we put a ring on each other's fingers. Now it's work wives for life!
What makes 2 Dope Queens — both the podcast and the HBO specials — feel so fresh is how egalitarian and collaborative the proceedings are. You and Jessica spend the majority of the runtime ceding the stage to showcase other comics. Was the goal always to provide a platform for new voices to be heard?
From the first Blaria Live show that I did, back even before I met Jessica, I really wanted to have a show in the city that was pretty diverse where people could do longer stuff. Typically in New York, there are so many comics on a single lineup that you can only do eight minutes. So I had people do 10, 15 minutes. And it's no secret that both the improv and standup worlds are very white and straight male-dominated. So when Jess and I started working together we were both like, "If we are just going have a standup show that's mostly straight white dudes, then our show doesn't even need to exist." There were so many other places that did that already. We just want to have it be predominantly women, predominantly people of color, people from the queer community. There are just so many phenomenal people that I'm obsessed with that deserve a spotlight. I love doing standup, but I love watching it more. Watching people like Michelle Buteau or Baron Vaughn get up and do their thing — that is what comedy can be like. It's not just the same perspectives we're being presented with all the time. It's much more diverse than what we're used to seeing in mainstream spaces. That's what Jess and I really tried to do with the HBO specials as well.
The popularity of the podcast seems to grow exponentially by the minute that I imagine celebrities are blowing up your phone to come on the show now.
Well, I don't know if people are blowing up our phones yet. [laughs] But when we have the celeb guests on, they just get it. They do so many talk shows where they're just there to talk about some project they're doing that it feels so paint-by-numbers. Also, the surprise element is cool. I think for the celebs, it's nice that they can be silly and be goofy and not in a "let's do a game" contrived way, but be able to say something random and carefree in a conversation. They feel like less pressure is on. They can be themselves more, which has produced really awesome moments. So if we do more episodes with HBO, I'd like to think that people will be calling us saying they'd to love to be on 2 Dope Queens. Like, if Michelle Obama says she wants to be on our show I'd just say, "Lady O, you don't have to ask. Just hop on over!"
Tig Notaro directed all four episodes of the HBO special. Can you talk about how she came on board to direct?
Jess and I did Tig's Bentzen Festival before, and Tig was also a guest on the 2 Dope Queens podcast. We did the Women's March episode. I noticed that a lot of times in specials that if a woman is in front of the camera, it's usually still directed by a man. So Jess and I agreed that it would be cool if a woman directed ours. And we both wanted Tig from the beginning. We know how incredibly busy she is, but we also know that she's not only an incredible comedian and great actress, but also a director. She directed Ellen's upcoming Netflix special. She knows what goes into making a special great – not only material wise, but behind the scenes. We trusted her from the beginning, and Tig really trusted us to do what we do. She is so funny and charming and sweet and really supportive. I think she knows how to make anyone's vision really shine in the best way possible. Having her on was a no-brainer. The fact that she was so down to shoot our specials was an honor, especially because it's a mutual love thing.
What can we expect for the 2 Dope Queens finale on Friday?
For the grand finale we have Uzo Aduba on, who is obviously a very talented actress and super dope person. She's come to the podcast just to watch and hang before and she's actually a friend of Baron Vaughn, so there are a lot of mini-connections with that. It was just really cool because the three of us all wanted to do a 2 Dope Queens thing together. It just never worked out with the podcast when were doing the four seasons. When we hit her up, she was shooting Orange Is the New Black. Everyone's always asking her to do stuff, but when we asked her if she could do the HBO special she was like, "Are you kidding me? Of course!" So it was really cool to have a black nerd moment with her. She was super great. And the standup in the episode is so good. It's a great way to go out. Jess and I look really cute in our outfits, just kind of Game of Thrones-y, Khaleesi-inspired outfits. It's just a great way to end this first chapter and first batch of episodes. It's also a really great way to end Black History Month, you guys.
Do you have any side projects that we can be on the lookout for?
The third season of my interview talk show for WNYC Studios called Sooo Many White Guys comes out February 27th. We have an amazing lineup of huge names and thinkers and writers and activists. There will be 15 episodes of that. Then this summer I have a movie coming out on Netflix called Ibiza with Gillian Jacobs and Vanessa Bayer. It's a great road trip girl power movie that I'm really pumped about. Then I have my second book, which is another essay collection entitled Everything's Trash, But It's Okay, which is coming out in October. I am a busy little bee. But yeah, there are so many things I'm working on. Also, I wanna go to the gym. That's my fourth project: Go to the gym. So people, if you see me on the street, stop me like, "Bitch have you gone to the gym today?" [laughs]
Photo by Mindy Tucker/HBO.
Erik Abriss is a writer living in Los Angeles.