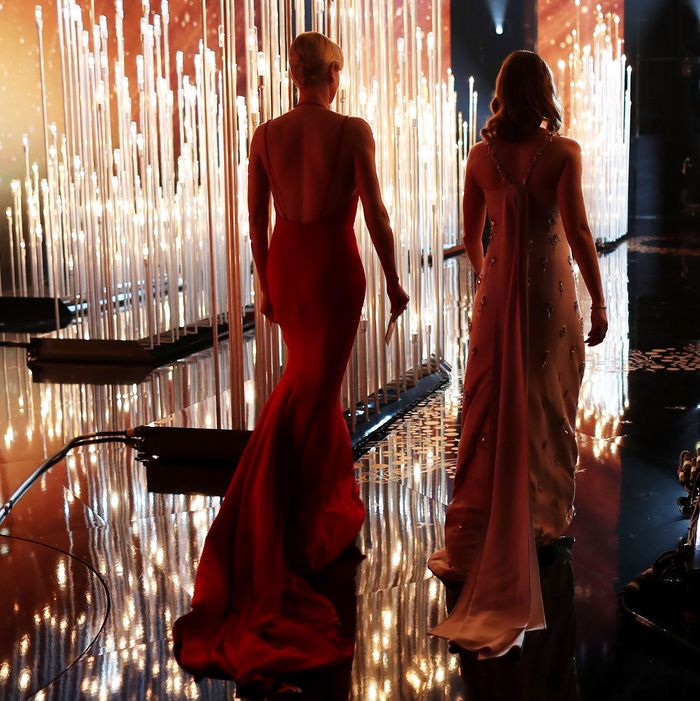 Photo: Christopher Polk/Getty Images
Do Academy Award nominees actually deserve our pity? For all of the adulation they receive over the long, glittering months of prestige movie season — for their critical mass of critical acclaim — should we extend them our sympathies, instead of our envy? Maybe so. Because to get to the Oscars Sudden Death Round (also known as the final nominations, announced last Tuesday), those fortunate souls nominated in the marquee categories — actors, actresses, filmmakers — have come a long way, both literally and figuratively. And they're not even close to done.
In order to land on Hollywood's annual honor roll of cinematic excellence, these men and women have traveled an endless succession of red carpets. They've hobnobbed with voters at a mind-numbing array of champagne meet-and-greets. They have patiently suffered through industry panels and post-screening Q&As, all while spouting perfect soundbites about abstract concepts such as "process" and "presence" and, even more pressingly, why their films "speak to the current moment." So you can hardly blame these honorees for feeling more than a little exhaustion upon landing the Oscar nod — because they know the real heavy lifting in pursuit of Academy gold is still ahead, in Phase Two.
What's Phase Two?
"Phase Two" is Hollywood shorthand for the hectically compressed span of days between January 23rd's Oscar nominations announcement and the close of Academy voting on February 28. The Academy of Motion Picture Arts and Sciences makes no specific mention of Phase Two in any of its bylaws. But make no mistake, it's awards season's crunch time: the industry version of fourth-quarter football, where future winners distinguish themselves from also-rans through the sheer tenacity of their campaigning (as well as the campaign apparatus behind them). Whereas Phase One embodies all the glamour and air-kissy bonhomie of prestige filmdom — unofficially kicking off in early September with the Venice, Telluride, and Toronto International Film Festivals serving as star-studded launching pads for many of the year's presumptive Oscar favorites — Phase Two is a comparatively serious affair.
Okay, so what happens in Phase One?
Phase One, which unofficially begins around Labor Day and lasts up until the nominations are announced, is a kind of publicity free-for-all, in which awards strategists attempt to create mass consciousness and a hive of buzz surrounding their movies with a "ground game" — i.e., sending famous people out to mingle with the non-famous people who will vote for them at fancy events night after night.
Think: the elegant soiree Focus Features co-hosted with Vanity Fair on January 21 for period fashion-drama Phantom Thread at West Hollywood's Chateau Marmont. Attended by director Paul Thomas Anderson and co-star Vicky Krieps (as well as the Haim sisters, Star Wars: The Last Jedi director Rian Johnson, and Lily James), it showcased a dozen models wearing costume designer Mark Bridges's haute couture dresses from the film (which picked up six nominations, including Best Picture, Best Director, and Best Actor for Daniel Day-Lewis). Or James Franco, Downsizing's Hong Chau, Gal Gadot, Mary J. Blige, and Salma Hayek converging on the Hollywood penthouse location of W Magazine's Best Performances party held the Thursday before the Golden Globes.
What's the difference between the two phases, exactly?
Phase One aims to lure as many Academy voters to see the films in a theatrical setting as possible in the lead up to Oscar nominations. Phase Two, conversely, presumes that AMPAS's rank and file have seen all the movies in contention. And from there, the strategists double down on "core messaging."
This is a corollary to another of the main distinctions between the phases: no more free food and liquor during Phase Two. "There are numerous constraints that are imposed by the Academy," explains a veteran studio awards campaigner who, like everyone quoted in this story, requested anonymity to speak at liberty about closely held trade practices. "There are things you cannot do: You cannot have a party, you cannot have a dinner. What can you do? Four Q&As only; that's another Academy rule. Advertising is a big piece of it. What is your narrative? What are you highlighting about your film or that performance that is the reason that someone is going to tick it off on a ballot?" (Or, as AMPAS states on its regulations webpage: "After nominations are announced, and until the final polls close, film companies are not permitted to invite members to attend any parties, dinners, lunches, or other non-screening events that promote nominated films.")
Who's having a great Phase Two right now?
As a case study in a Phase Two messaging done right, several Oscar strategists contacted by Vulture pointed to the campaign being run by Best Picture/Actor/Director/Original Screenplay nominee Get Out — one of the few horror movies in history to claim such honors. "They've been very consistent about positioning the movie as a deeper experience than just a genre picture," says one campaigner. "They picked a quote from a journalist and they repeated it: This isn't just the movie of the moment. It saw the moment coming."
Likewise, Oscar campaign organizers lavished praise on the TV spots and featurettes Warner Bros. has been running to emphasize the epic filmmaking quality of Christopher Nolan's Best Picture–nominated Dunkirk. Showing behind-the-scenes and making-of footage of the British filmmaker at work, the commercials serve to underscore the film's technological innovations as well the risky nature of Nolan's demands on his crew. "When you work with Chris, you're there where the camera is," Dunkirk's Academy Award–nominated cinematographer Hoyte Van Hoytema says in one such featurette, showing him ripping across the sky in the cockpit of a vintage fighter plane. "And if the camera is a thousand feet up in the air, upside down, that's where you will be!"
So how do nominees expect to lobby voters if they can't party with them?
In the absence of Phase One's lavish buffets, champagne receptions, and private concerts — which, in conjunction with ad campaigns and the distribution of watermarked DVD screeners, can combine to cost studios as much as $10 million per film — Best Actor, Actress, Director (and to a lesser extent, Best Song) nominees must find alternate ways to present themselves within the context of awards victory. The goal is to further the perception that they deserve Oscars while also finding loopholes in the no-party clause through which to press the flesh with Academy voters. This is the point at which various guild awards shows falling during Phase Two gain outsize importance.
"The ACE/Eddies, the Writers Guild Awards, the Directors Guild Awards, the Visual Effects Society Awards, even the Costume Designer Guild Awards — they all are incredibly important right now," says another top-tier awards consultant. "If you are a nominee [at the guild awards shows] and you win, you can make a speech reminding everyone what they loved about you and your movie. And if you are a presenter, you're there staying front of mind among other winners. And people can come up to you and say hi."
Is anybody blowing Phase Two right now?
More darkly, Phase Two is also traditionally associated with well-orchestrated whisper campaigns that can help shift popular opinion on nominated performances and films. This year, director Guillermo del Toro's phantasmagorical fantasy-espionage drama The Shape of Water leads all other films with 13 Oscar nominations. But with that front-runner status has arisen a new knock on the movie (which showcases a romance between a mute janitor played by Sallie Hawkins and a mysterious amphibian humanoid played by Doug Jones): "The Shape of Water is too weird."
"These movies matter for box office, for bragging rights, they matter in terms of people's time," explains our first Oscars whisperer. "Sometimes a strategist is committed to a film for a year. Living, breathing, eating, sleeping this title and these people. They get very attached. Their passions are definitely inflamed. And people sometimes say and do things that are not appropriate."
How does this translate to an actual Oscar, though?
If there is one fundamental misunderstanding the public has about this phase of Oscars balloting, though, it's that the Phase Two vote is not simply a popularity contest. In preliminary Oscar balloting, members from the Academy's respective branches vote for one another: sound designers voting for sound designers, cinematographers for other cinematographers, and so on. But on the heels of Phase Two, the silos are leveled and everyone votes for everything. The final outcome is designed to reflect consensus rather than passion, with voters numerically ranking their Best Picture favorites — as well as the distinct possibility that the winner will be decided by having claimed the most third-place votes.
Much like the Electoral College in American democracy, this wild-card ranking system has given rise to a number of dark-horse victories over the years. Exhibit A: Moonlight's stunning upset of Best Picture front-runner La La Land last year. You could certainly argue it came down to the two films' core messaging, which was crystallized by two billboards that materialized on Hollywood's Sunset Strip during the peak days of 2017's Phase Two.
La La Land's billboard didn't even identify the film with words. Instead, it showcased stars Emma Stone and Ryan Gosling shot with their backs to the viewer, gazing out across Los Angeles, basking in the purple glow of dusk. Two blocks west, the billboard for Moonlight featured co-star Alex Hibbert silhouetted by actual moonlight with a harder-hitting three-word pull quote from The New Yorker: "It changes everything."
Did those billboards really change the films' Oscars math?
Impossible to say. But on the heels of Warren Beatty's envelope mix-up at the Dolby Theater, in which he named the wrong film Best Picture winner, the La La Land producers were the ones handing over their golden hardware to Moonlight's director Barry Jenkins and his cohort of producers. "We've been on the road with these guys for so long, and that was so gracious," Jenkins said. "My love to La La Land!"
Which could be as fitting a coda to Phase Two as has ever been uttered.