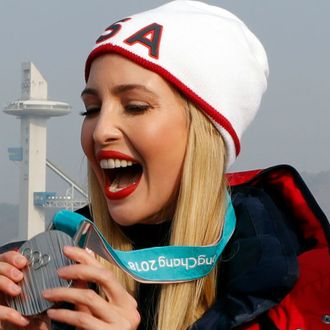 Ivanka Trump.
Photo: AFP Contributor/AFP/Getty Images
Gus Kenworthy, one of the first openly gay athletes to represent Team USA at the Winter Olympics, isn't an enthusiast of his country's current political administration. Upon breaking his thumb while competing in the men's slopestyle skiing final last week, for instance, Kenworthy looked on the bright side of his painful injury, joking how he wouldn't have to shake Vice-President Mike Pence's hand as a result. ("Silver linings!") Now, he's taking aim at President Trump's daughter, Ivanka, who flew to Pyeongchang to attend some events and pal around with a few foreign leaders. "So proud of all these people! Everybody here has worked so hard to make it to the Olympics and have the opportunity to walk in the closing ceremony!" he tweeted earlier today. "Well … Everyone except Ivanka. Honestly, tf is she doing here??"
Trump has been very Instagram-happy while documenting her South Korea sporting adventure, posing with American athletes like the figure skaters Bradie Tennell and Karen Chen, among others.
Kenworthy, meanwhile, concluded his Winter Olympics by adopting a puppy from a dog farm. That's one lucky fella.