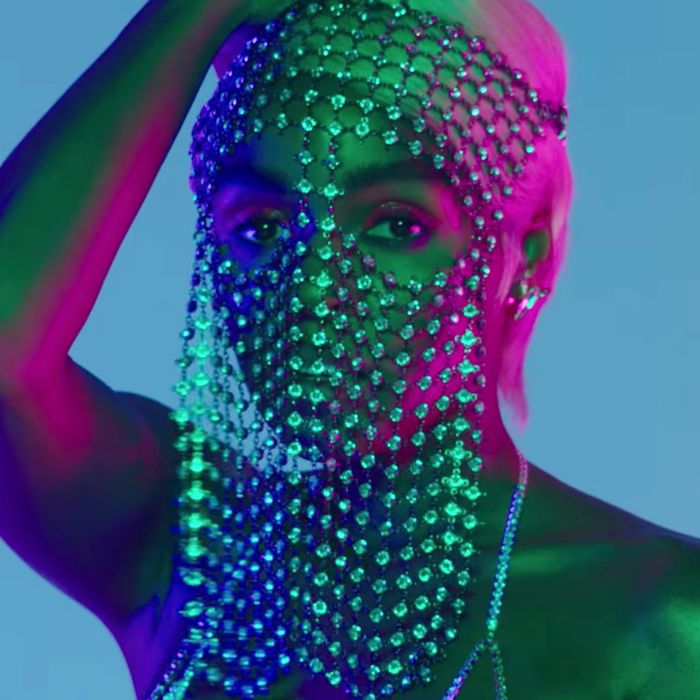 In the second half of 2017, the phrase "bisexual lighting" slipped into the queer Twitter lexicon. The phenomenon it described — film characters illuminated with deep blue lights on one side and saturated magenta lights on the opposite, which also happens to be the colors of the bisexual pride flag — was not entirely novel, but with the release of the Cold War thriller Atomic Blonde, the lighting took on new meaning. Atomic Blonde stars Charlize Theron as an explicitly bisexual spy; her character, MI6 agent Lorraine Broughton, begins the film mourning her dead boyfriend, and later romances a French secret agent played by Sofia Boutella. While the color scheme itself does not necessarily accompany bisexuality onscreen (it's used in a new Muse video, among others, as a nod to hypersaturated '80s films), Atomic Blonde's plotline connected the dots and allowed clever tweeters to retroactively apply the meme to other movies, regardless of whether they related to bisexuality. A popular tweet circulating a few months after the film's release pointed to bisexual lighting in other films, like Logan, John Wick 2, and Black Panther.
The lighting in question is extreme and campy. It also correlates to the colors of the bisexual pride flag, a symbol less ubiquitous than the gay rainbow or the trans flag, with its pastel pinks and blues, but nonetheless solid in its meaning. Seeing the colors of the bi flag splashed across the face of a movie star could be read as a recognition of bisexuality on a wide scale, not as a negligible subcategory of the ever-amorphous acronym LGBTQ, not as a slight softening of heterosexuality, but as a way of being an aesthetic in its own right.
When singer Janelle Monáe released the first two singles and music videos from her forthcoming album Dirty Computer on Thursday, she may have been using bisexual lighting as a sort of easter egg for her fans. Monáe, who has steadfastly refused to categorize her sexuality, has not released an album since 2013's Afrofuturist concept album The Electric Lady. Since then, she's made her acting debut in the gorgeous queer bildungsroman Moonlight and the Katherine Johnson biopic Hidden Figures. She returns to music at an interesting time. Moonlight won Best Picture at the Academy Awards in 2017 over the heterosexual musical fantasy La La Land; gay and trans rights appear at the forefront of myriad legal battles; a gay skier kissed his boyfriend at the end of his Olympics slopestyle run. Queer culture and queer public figures are no longer sequestered to a shadowed niche where they won't bother the straights. Queerness surges, however precariously, into the mainstream. And still the vice-president of the United States advocates conversion therapy, and the rest of the administration panders to its constituents' belief that trans and queer people are more of a threat to children than assault weapons. As queerness becomes more visible, often joyfully so, its backlash intensifies. It's a strange time for queer people: deeply saturated in all directions.
Janelle Monáe has spoken to the paradox of living as a queer person before. On 2013's funk single "Q.U.E.E.N.," she alluded to the fraughtness of being attracted to other women: "Am I a freak because I love watching Mary? / Hey sister, am I good enough for your heaven? / Say, will your God accept me in my black and white? / Will he approve the way I'm made? / Or should I reprogram, deprogram, and get down?" she asked. Later in the song, she resoundingly answered her own questions. "Even if it makes others uncomfortable, I will love who I am."
While "Q.U.E.E.N." played like a political manifesto (in its video, Monáe and her band are revolutionaries imprisoned in a museum, and the song ends with a powerful rap about black women seizing political power), Monáe's new single, "Make Me Feel," approaches similar themes with more irreverence, more delight. Its accompanying video stars the singer alongside her rumored girlfriend, actress Tessa Thompson, who step into a club populated by surreally beautiful androgynes. Monáe flirts with men and women and maybe even a few theys; in one of the video's campiest and most comic moments, she struts back and forth between Thompson and a man in a leather jacket, as if panicking at the prospect of having to choose between them. She crawls between women's legs clad in colorful tights. She plays multiple characters and checks herself out, a visual representation of the queer confusion that arises when you're not sure whether you want to sleep with someone or become them, or both. She dances, while playing guitar, with a line of dancers in red berets and Daisy Dukes, a curtain of beads covering her face. While explicitly channeling her mentor Prince, a pioneer of gender transcendence, in tone and aesthetic, Monáe also makes use of techniques employed by St. Vincent in recent videos accompanying the album Masseduction: the flat colors, the disembodied legs, the bodies swaddled completely in latex. These images don't originate in contemporary music videos, and Monáe and St. Vincent use them differently, but they seem to be part of an incipient visual lexicon of female queerness — not one that begins and ends with sexuality and sadness, as in the 2013 French film Blue Is the Warmest Color, but one that encompasses play, irony, desire, and, most of all, joy.
"Make Me Feel" features plenty of bisexual lighting, a design choice that may be incidental but may also speak to Monáe's watchful eye on the internet's queer culture, where memes abound and a gently playful tone leaves space for young queers to learn to love themselves while simultaneously reckoning with the difficulties of their lot. The culture that gives rise to concepts like bisexual lighting, as well as other queer readings into popular culture, is an arena where geographically isolated queers can find each other and play. Monáe's new video introduces something relatively new into that space. You don't need to read it through the lens of a headcanon or watch it through the gaze of a male filmmaker. Its queerness is explicit, ecstatic, and self-directed. More than representation, it offers proof that queer women artists excel at building visual worlds all their own, lit in blazing shades of pink and blue.
This story has been updated to clarify the explanation of bisexual lighting