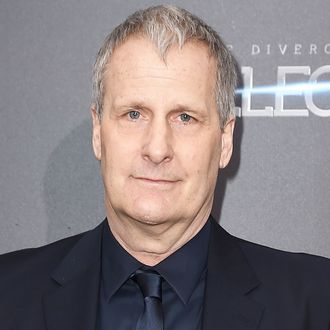 Jeff Daniels.
Photo: Nicholas Hunt/Getty Images
The Newsroom lives, in that Jeff Daniels and Aaron Sorkin are working together again, and pretty much no other ways. Daniels will star as Atticus Finch in Sorkin's upcoming stage adaptation of To Kill a Mockingbird, which is coming to Broadway this fall. The cast also includes Celia Keenan-Bolger (Scout), Will Pullen (Jem), Gideon Glick (Dill), LaTanya Richardson Jackson (Calpurnia), Stark Sands (Horace Gilmer), Frederick Weller (Bob Ewell), Erin Wilhelmi (Mayella Ewell), Dakin Matthews (Judge Taylor), Gbenga Akinnagbe (Tom Robinson), Stephen McKinley Henderson, Phyllis Somerville, and Liv Rooth. Bartlett Sher, who headed up the recent Tony-winning Oslo and is directing My Fair Lady this spring, will direct the production, which will have scenic design by Miriam Buether, costume design by Ann Roth, lighting design by Jennifer Tipton, sound design by Scott Lehrer, an original score by Adam Guettel, and casting by Daniel Swee. Mockingbird's previews begin November 1, with opening night set for December 13.
Sorkin previously told Vulture he has a "different take on Mockingbird than Harper Lee's or Horton Foote's" planned for the production, in which "he becomes Atticus Finch by the end of the play, and while he's going along, he has a kind of running argument with Calpurnia, the housekeeper, which is a much bigger role in the play I just wrote." Your middle-school assigned reading — now with more Sorkinesque arguments about ideas.