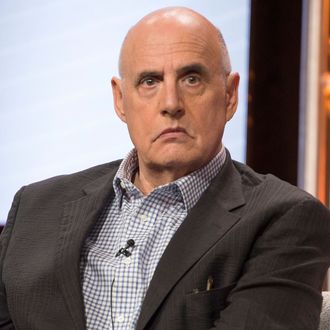 Jeffrey Tambor.
Photo: Valerie Macon/AFP/Getty Images
Following his firing from Amazon's Transparent, Jeffrey Tambor has been erased from the movie poster for The Death of Stalin. In a move not unlike what Stalin would've actually done, Tambor (who plays Deputy General Secretary Georgy Malenkov) has been disappeared from a new poster for the Armando Iannucci–directed comedy, replaced by Andrea Riseborough. Co-star Michael Palin was also replaced by Simon Russell Beale. Per the Wrap, both posters had filmmaker approval, "with the Tambor version made specifically for the United Kingdom," according to someone familiar with the marketing plan. The Tambor edit appears to be a direct response to his Transparent firing, after an investigation into his conduct on set. The poster nixing Tambor hadn't been used in North America until last week. Regarding his exit, Tambor told Deadline that he was "profoundly disappointed" in Amazon's investigation into his conduct.
Update: The Death of Stalin poster scrubbed of Jeffrey Tambor's face was released last week in a press release, when Tambor's Transparent future was still hanging in the balance. The Tambor-free Stalin poster was not originally used in the movie's U.S. marketing.
Update, 2/27: According to a new statement from IFC Films, the filmmakers were not involved in the in the creation of these Death of Stalin posters, nor in decision-making related to the posters' use. "IFC Films creates our own marketing materials for our films. The filmmakers were not involved in the creation of or approval process for our campaign. We have released multiple visual looks for the film to date and will continue to do so leading up to the film's release," Jonathan Sehring, co-President of Sundance Selects/IFC Films, said in a statement.