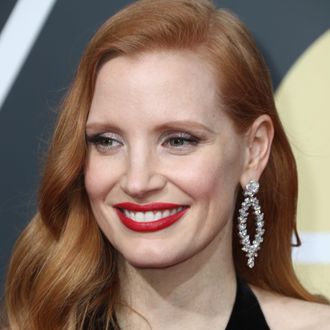 Chastain.
Photo: Frederick M. Brown/Getty Images
Jessica Chastain will no longer appear in Xavier Dolan's Death and Life of John F. Donovan. In a statement posted to Instagram, Dolan updated fans on the delayed drama about the discovery of a movie star's correspondence with a young fan. John F. Donovan stars a constellation of crushes: Kit Harington, Natalie Portman, Thandie Newton, Susan Sarandon, and Kathy Bates. Chastain's character, Dolan said, no longer fit the narrative arc of the film. "What you need to hear from me is that Jessica Chastain's character, after what was a long period of reflection, had to be cut from the film," Dolan wrote. "It was an extremely difficult decision to make. I feel, toward Jessica, a very sincere love, and a great admiration. The decision was editorial and narrative, in that it has nothing to do with a performance, and everything to do with a character and the compatibility of its story line. This 'villain' subplot, albeit funny and entertaining, didn't feel like it belonged to the rest of the story, which ended up not being on heroes or their nemesis, but rather on childhood, and its dreams."
Last August, Dolan described Chastain's character to Vanity Fair: "I asked her to play the part of a gossip columnist in the film. We've had a lot of fun exploring it. In the script, she was a sort of amalgamation of Meryl Streep's Miranda Priestly … or even, in my mind, Glenn Close's Cruella de Vil." See Dolan's full statement below:
A villainous Miranda Priestly-esque gossip columnist? Sounds like a character perfect for Big Little Lies season two.
Update: After Xavier Dolan announced that he had to cut Jessica Chastain out of The Death and Life of John F. Donovan's final cut, Chastain assured fans that she was aware of the change. "Darlings there's some #johnfdonovan news. Don't worry, I was informed in advance of this letter," she wrote. "This has been handled with the upmost respect and love."