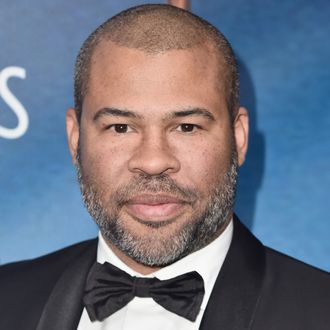 Writer-director Jordan Peele at the 2018 Writers Guild Awards L.A. ceremony.
Photo: Alberto E. Rodriguez/Getty Images for 2018 Writers Guild Awards L.A. Ceremony
Despite still being in full-tilt promotional mode for Get Out in the lead-up to the Oscars — or perhaps because of that — Jordan Peele is getting ready to start making his next movie. The writer, director, and recently retired actor told The Hollywood Reporter that he plans to begin shooting a new project at the end of this year. "My next film, I am currently writing it and I'll direct for Universal this year, I'm just trying to entertain myself again," said Peele, adding that even though he feels the pressure in following a smash hit like Get Out, his primary goal is to "focus on stories that are true to me."
The Best Director nominee is currently developing a few TV shows — including a reboot of The Twilight Zone and an original series about vigilante Nazi hunters in the 1970s — and he says the movie he's working on next will maintain the genre-blending sensibilities of Get Out. "One thing I know is that this is genre; and playing around with the thriller, horror, action, fun genre of intrigue is my favorite," Peele told THR. "That's my sweet spot. So I think tonally it should resemble Get Out. That said, I want to make a completely different movie. I want to address something different than race in the next one." Universal is the same studio that distributed Peele's social thriller, and he signed a first-look development deal with the company last spring.