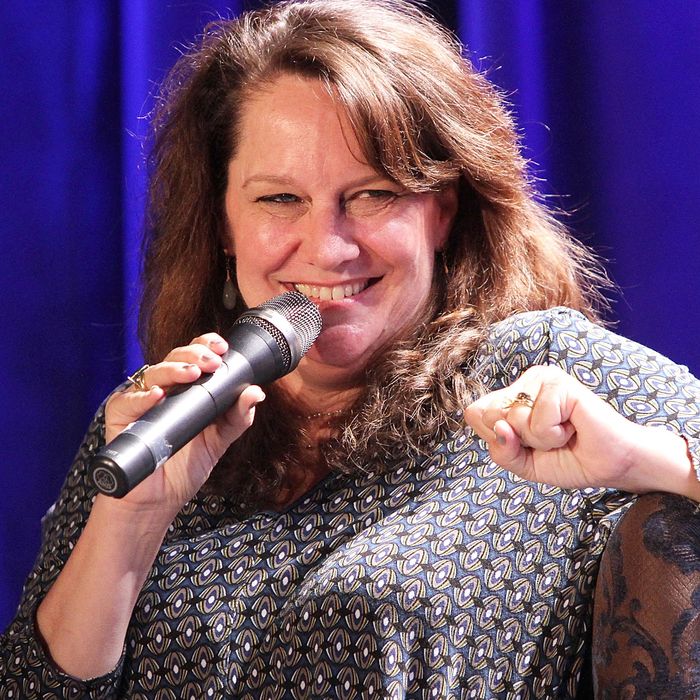 Photo: Maury Phillips/WireImage
For most people, walking the circuitous path of mourning the loss of a parent is challenging. Kelly Carlin has been on a particularly powerful journey over the past almost ten years since the passing of her father George Carlin in June of 2008. She attended the Mark Twain Prize ceremony in Washington DC later that year, where George was the first and only posthumous recipient of that honor. The following year, Kelly accepted the Grammy Award on behalf of her dad for George's last album It's Bad For Ya. And ever since, Kelly has been fearless in sifting through her life and loss via performing her autobiographical one-woman show and her memoir, both entitled A Carlin Home Companion. It's been equal parts embracing of her father's immortal legacy and the need to let go and say goodbye. Last year, Kelly donated her father's vast archives to the National Comedy Center, and now she's preparing to part with one of the last tangible artifacts of his life. His 1996 BMW 850Ci.
As a Carlin, Kelly is naturally predisposed to be thoughtful, analytical, and articulate. Plus, she has a master's degree in Jungian psychology, thus arming her with additional expertise, which has served her well. We spoke by phone the other day, and she reflected back on each phase of her experience since her father's death. "It's a very weird thing to have a famous parent who dies. Your grief is a private thing and yet at the same time you're seeing that the world is grieving this person too. It made me realize, 'Oh, I'm not doing this alone. It's a communal experience on some level.' And yet, of course, no one can understand the grief a child has for his or her parent."
Despite her father's lengthy career, Kelly had no real preparation for a public life. George was actually a very private person who deliberately shielded Kelly and her late mom Brenda from the spotlight. In fact, Kelly experienced her first interactions with many of George's fans and friends in the world of comedy only after he was gone. "It actually helped me during those first few years to connect with other people. It was right when social media was just going crazy, so suddenly I was connecting with strangers all over the world, and it really made it possible to fend off the darkest, most difficult part of my grief, and I could feel lifted up by them and their love of my father. What I didn't realize at the time was that I was delaying, in some way, my own grieving process by letting myself be swept up in this more public George Carlin grief." But of course, Kelly quickly came to understand that the George Carlin most people knew and loved was the comedian. "Everyone else just had this very particular relationship with him, which he curated. He definitely presented only a portion of himself to the rest of the world."
The next phase for Kelly was all about creating a deeper exploration. "The show and the memoir were both an important section of my life, because one of the distinct components of being a child of a well-recognized and regarded person is that you become the keeper of the family secrets on some level, and it can really fuck with your idea of who you're allowed to be in public. And the one thing that my father taught me through his work was a level of truth-telling and a level of authenticity. So I felt that was appropriate and a kind of karmic healing for my family that I got to tell my story and that people got to know my dad as a three-hundred-and-sixty degree human."
By the summer of 2016, Kelly felt that she was done telling her story. She had put her show and her book behind her, and she says that's when she was really able to begin the somewhat purposefully postponed private process of saying goodbye. "I wasn't talking about him in my solo show anymore. I wasn't doing a ton of media. In fact, I went off social media for three months, and when I came back, I asked people to really respect my boundaries around that. And then in the fall of 2016, I made the decision to donate all of my dad's archives… all of his 'stuff'… to the National Comedy Center. And that was a really important part of letting go as well as understanding that my father's legacy is bigger than me… it's even bigger than him… and it needed to be taken care of by an institution. So since then, I finally came to really feel what it's like to really be without my father and begin to heal. Which is fascinating to me, because I actually get to miss my dad now."
Which brings us to the car. Kelly says that she and her husband Bob have "loved and adored" having her father's car, "but it's time." Kelly did say that she does harbor a hope that there is a comedian or a comedy fan who might want it. I joked that any comedian would love to have what drove the single most prolific standup performer of all time. But then, in all sincerity, I suggested to her that perhaps Jerry Seinfeld would want to have it and even use it for an episode of Comedians in Cars Getting Coffee. Seinfeld has always acknowledged Carlin as a touchstone for him and my mind began racing, imagining who might get to sit in the passenger seat alongside Jerry to discuss George's importance as a point of inspiration. That idea intrigued and tickled Kelly, who voiced her sincere appreciation for the tribute Seinfeld wrote for The New York Times about her dad at the time of his passing.
As for Kelly's view of this next significant step, she paused, took a deep breath, and explained: "In psychology and in dream interpretation, which I am a fan of, a person's car in their dreams symbolizes how they move through life. And for a long time before my dad died, I had recurring dreams that I would be trying to drive my dad's car, either in the front seat or from the back seat, and I could never really steer it or operate the brakes properly. And so the letting go of this car, as not only a physical object but also a psychological object, is deep. But it's his vehicle, and I am ready to part with it and find my vehicle."  
Check out the auction for Carlin's BMW here.
Dan Pasternack is a comedy producer and programmer as well as a scribbler and superfan who loves alliterative couplets almost as much as he loves comedy.