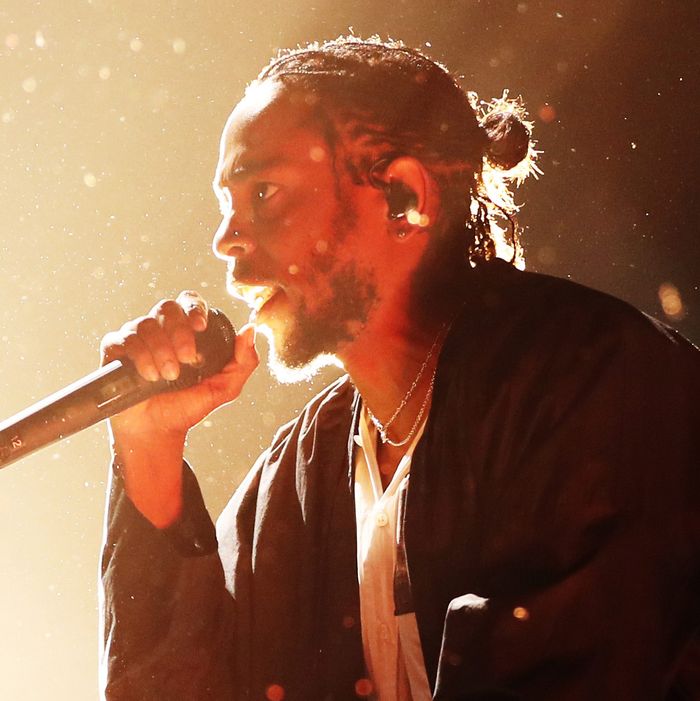 Photo: Christopher Polk/Getty Images
There are years when Kendrick Lamar doesn't release an album, but he never takes a year off: Any listener to his music knows that, however spiritually troubled the artist is, being unable to write lyrics has not been a worry for a very long time. Kendrick's prodigious output and his determination to craft seamless concept albums practically ensure that he'll have plenty of extra verses; the rhymes that didn't make the cut for his elaborate stage directions end up being, in non-album years, helpful contributions to the songs of others.
In 2013, the year after the release of his first major-label album, Kendrick appeared on a goose-bump-raising 34 tracks, chief among them "Control," a Big Sean track Kendrick all but annexed with an extended verse in which he crowned himself the king of New York and the West Coast, declared his rhyme skills a match for Jay-Z, Nas, Eminem, and André 3000, and called out 11 of his contemporaries by threatening to kill them and steal their core audiences. While building up to To Pimp a Butterfly, the 2015 album that would confirm all the boasts, Kendrick still chipped in 15 guest appearances in 2014, a mark he would match in 2016 while also releasing an entire secondary album of leftover Butterfly footage, the superb untitled unmastered.
So far, 2018, another post-album year, shows no sign of Kendrick's presence dimming. He's performed for the national college football championship and at the Grammys. He's lent his voice to every track on a Black Panther soundtrack he curated and co-produced. And now he's resumed paying calls on other artists' tracks. Though overshadowed by last week's rollout of Black Panther: The Album, Kendrick has shown up on three other tracks in the space of four days: with Q-Tip on "Want U 2 Want" on Saturday, then with Cozz on "Hustla's Story" and Nipsey Hussle on "Dedication" yesterday. Different in tone and sensibility, the trio of guest appearances showcases not only Kendrick's ubiquity but his versatility and consideration: the artist's encyclopedic knowledge of hip-hop's past and present joins with a jack-of-all-trades-and-master-of-all musicianship to ensure that every collaboration feels like an organic link.
As the producer and co-lyricist of A Tribe Called Quest, Q-Tip's origins would seem to be drastically different from Kendrick's. Not only does he hail from a different generation, but a different coast. Yet the divergence is only apparent: Both Kendrick and Tribe specialize in integrating jazz into their production, and the lyrical tone of both tends toward a streetwise pacifism whose wry perspective insulates it from cornier tendencies. It's this unity that led to Kendrick's appearance on "Conrad Tokyo" from Tribe's 2016 comeback We Got It from Here … Thank You 4 Your Service as well as on "Want U 2 Want," a groove exercise dominated by a long chorus riffing off a single rhyme where Kendrick's coiling, lovestruck sung rhythm, charged with loose intensity, mirrors Tip's upbeat production, striking a fine balance between tight execution and a generous spirit.
Kendrick's full compatibility with this mode of jazz-spiced boom-bap is more than a tribute to classic Tribe albums: it simultaneously feels lived-in and fresh. But it's also a reminder of how much both artists owe to Phife Dawg, whose everyman wisdom and charm Kendrick must have studied intensively in crafting his own persona. If Kendrick meshes perfectly with Q-Tip, it's because Q-Tip and Phife Dawg were perfect partners; after all, what's Kendrick Lamar if not Phife Dawg with a messiah complex?
Though still developing, Cozz is clearly an artist influenced by Kendrick to the same degree that Kendrick was influenced by Tribe. Six years younger than Kendrick, the South Central L.A. rapper and J Cole affiliate also specializes in making "street" settings and "conscious" perspective seem like halves of a whole: "Selling pills straight out her crib, and break into another home / I understand your circumstance so in their heads, there's nothing wrong / But they don't know what's going on." Given the parallels between their visions and the disparity in their stature, it makes sense for Kendrick to tastefully chip in a secondary hook and refrain that frames Cozz's performance on "Hustla's Story" instead of a full verse that would inevitably eclipse it. "Keep growing, and we'll talk more later" seems to be the implication; it's the correct approach to take, and if it can come off as slightly patronizing, there's no way it could be otherwise. How does one speak on equal terms with a king? It's enough that he hears you out and dispenses a few words with warmth.
Nipsey Hussle is a rather different matter. Two years older than Kendrick, he's a gangster rapper in the classic West Coast mode, a Rollin Sixties Crip who can back up belligerent rhyming with harsh action, if need be. But there's never been much contradiction between banging and being thoughtful. Hussle's also the guy who points out, on his own guest turn on YG's "FDT (Fuck Donald Trump)," how "Reagan sold coke, Obama sold hope, Donald Trump spent his trust fund money on the vote" and how "it wouldn't be the USA without Mexicans." He's the kind of stalwart Kendrick had to learn to look in the eye from very early on, and it's for this reason that his verse, a hefty 24 bars, restates his own gang bona fides, his family history ("Playing Sega, Daddy smoking sherm, Mommy playing spades / Catching vapors, Grandma said I'd get some Jordans for my grades"), the common ground he shares with Nipsey ("I spent my whole life trying to make it, trying to chase it / The cycle of a black man divided, trying to break it").
Not to mention the common ground he means to build: Kendrick cites a close friend, a Blood, who opposes doing a verse with Nipsey on gang grounds, and responds by vouching for Nipsey's message of black economic empowerment and the fortitude he showed during his time spent imprisoned on false charges. The verse finishes with an evocation of Tupac viewing a meeting between Kendrick, Nipsey, Snoop Dogg (a Long Beach Crip), and Kendrick's label boss Top (a Blood). Quelling sectarian violence through cultural reconciliation has always been Kendrick's primary goal, the point where his politics and art converge, and a guest appearance on a Crip's album is a perfect opportunity for him to set forth his grand vision of blue and red united under the blackness of hip-hop.
The power of rap to bridge divides between sets, generations, and geographies is something Kendrick carefully studies and masterfully deploys. His guest appearances mark something more than the usual exchange of core audiences between individual artists, though they are definitely that; they're a chance to enlarge the sensibility of rap itself, to remind himself that, however hard and successfully he strains to be the biggest rapper, rap as a whole is always bigger than he is. Though his biggest hit to date is a solo track focused on being humble, his appearances on others' songs express, more subtly and perhaps more intensely, his belief that inspiration comes most powerfully to those who acknowledge a power greater than their own. Whatever one thinks of Kendrick's more overt religious doctrines, this implicit conception of rap itself as a faith is, for those who hear it, extraordinarily difficult to deny.